Environmental Factors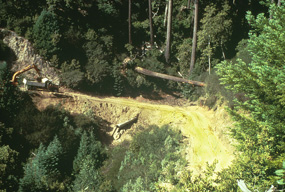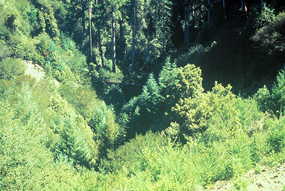 Watershed Restoration
Redwood National and State Parks are engaged in watershed restoration work. If you visit these areas of the parks, you may hear and perhaps see this work in progress.

Restoration work along Redwood Creek includes the removal of several miles of abandoned and eroding logging roads. These roads are remnants of the logging and road building that happened before the parks' establishment. The primary goals are to restore stream channels and hillslopes to the natural conditions that existed prior to road construction. These goals are accomplished by clearing stream channels choked with road fill and logging debris, recontouring hillslopes marred by road networks, and reestablishing natural drainage patterns. In achieving these goals, the unnaturally high erosion and sedimentation rates in Redwood Creek will be reduced and a solid foundation will be recreated for the protection and reestablishment of a healthy ecosystem.
The restoration work is accomplished using large, heavy equipment, primarily bulldozers and excavators. If visiting the Redwood Creek area of the parks, remember to stay well away from work areas due to the danger of heavy equipment and loose slopes.
Click on Watershed Restoration for an 8-page newspaper on the subject in .pdf format.