Legacy Logging Roads
Example Of Logging Road Treatment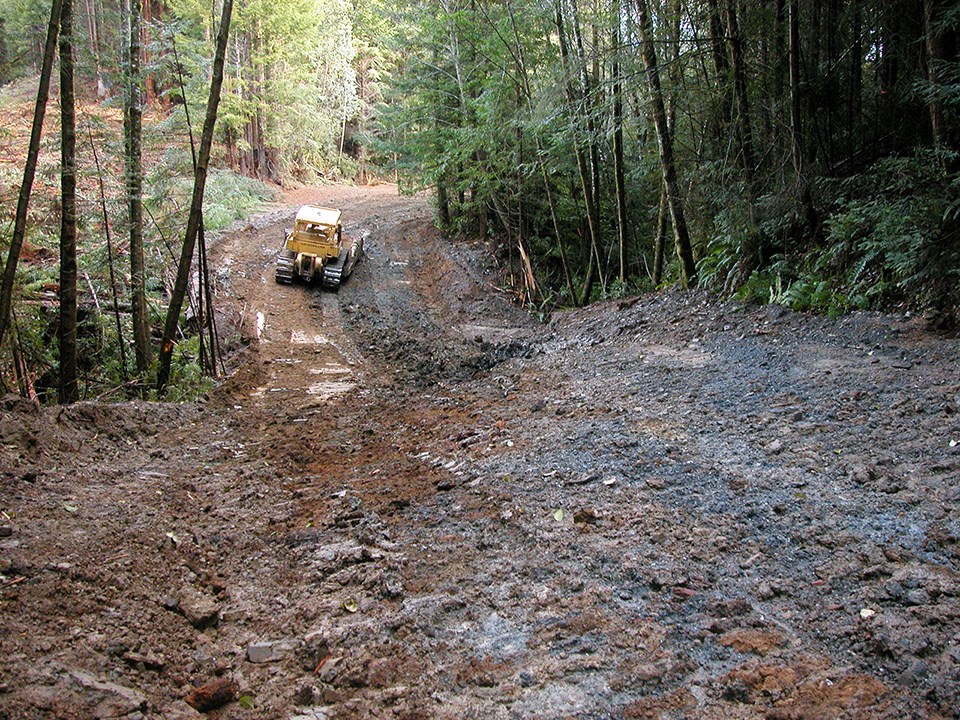 Left image
Machinery starts the process of removing a logging road.
Credit: NPS: N. Youngblood
Right image
The same site three years after road removal.
Credit: NPS: N. Youngblood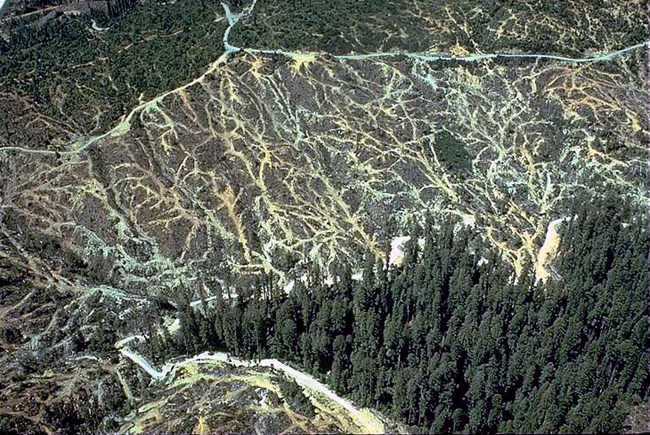 Redwood National Park was expanded in 1978 to include the Redwood Creek watershed, and the Mill Creek watershed was included in Del Norte Coast Redwoods State Park in 2002.
The expansions of the parks' boundaries included hundred of miles of logging roads, and thousands of miles of skid roads that were used to haul trees. These roads are a legacy from logging operations that were common in California last century.
To get logging trucks in and out, temporary bridges were built, streams were blocked, and culverts (drain pipes) were placed to allow water to flow under the roads. These structures do not last forever, and as they fall apart they cause environmental problems to
streams and rivers
.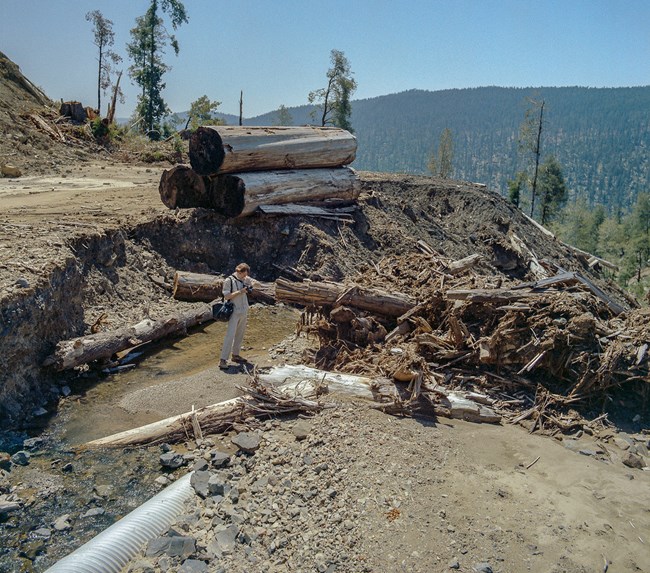 Logging Roads and Erosion
Without tree roots to bind the soil, erosion will happen very quickly after logging occurs. Rain can cause logging roads to collapse and they will erode very quickly. In some places in watersheds now inside the parks' boundaries, this happened within two years of the forests being logged. This photo taken was taken on a spur road near the K and K line road in the Redwood Creek watershed. It shows a logging road that had recently eroded down about six feet and the culvert exposed. Tons of dirt already had been washed downstream into the creeks and rivers below.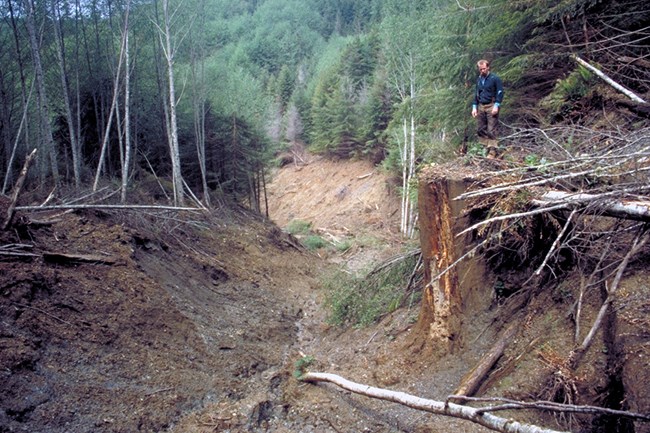 Roads Fail and Habitats Suffer
Logging roads and culverts are not designed to last decades without constant maintenance. Our winter storms can be very powerful, wet, and long lasting. There have been occasional times when these storms have washed away sections of old logging roads where they failed because of rusty culverts, or bad drainage along the seldom use dirt roads. The result of this has been that hillsides have eroded, and the resulting landslides have torn away hundreds of downstream old-growth redwoods, and dumped millions of tons of dirt, debris, and sediment into creeks and rivers. These massive surges in sediment then bury streams, and cause a loss of habitat for many riparian / river species like
coho salmon
.
Old Logging Road Becomes A New Habitat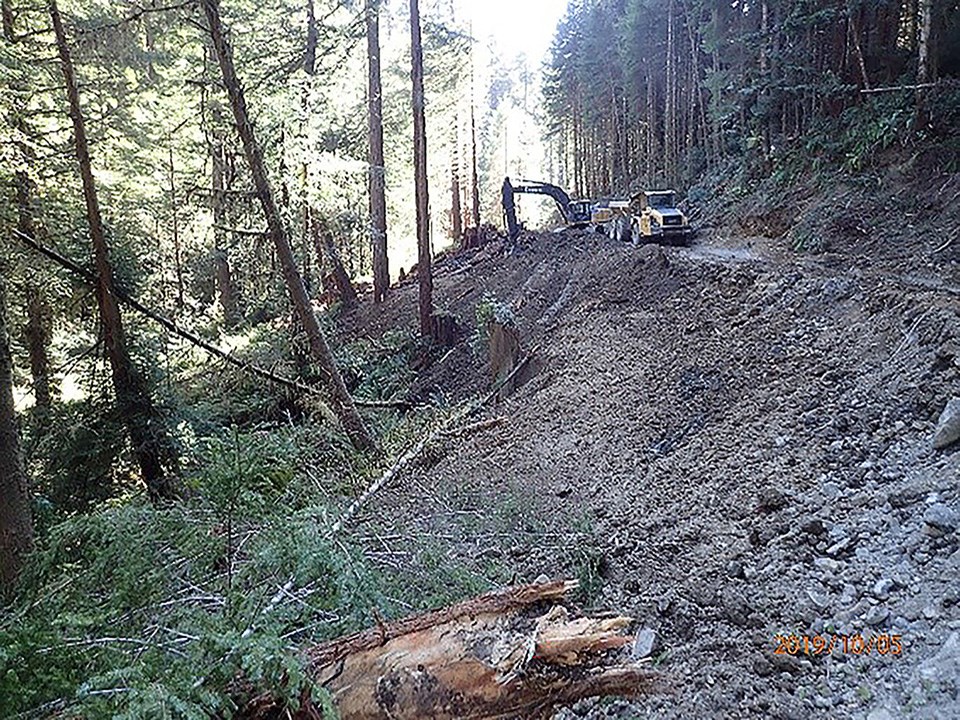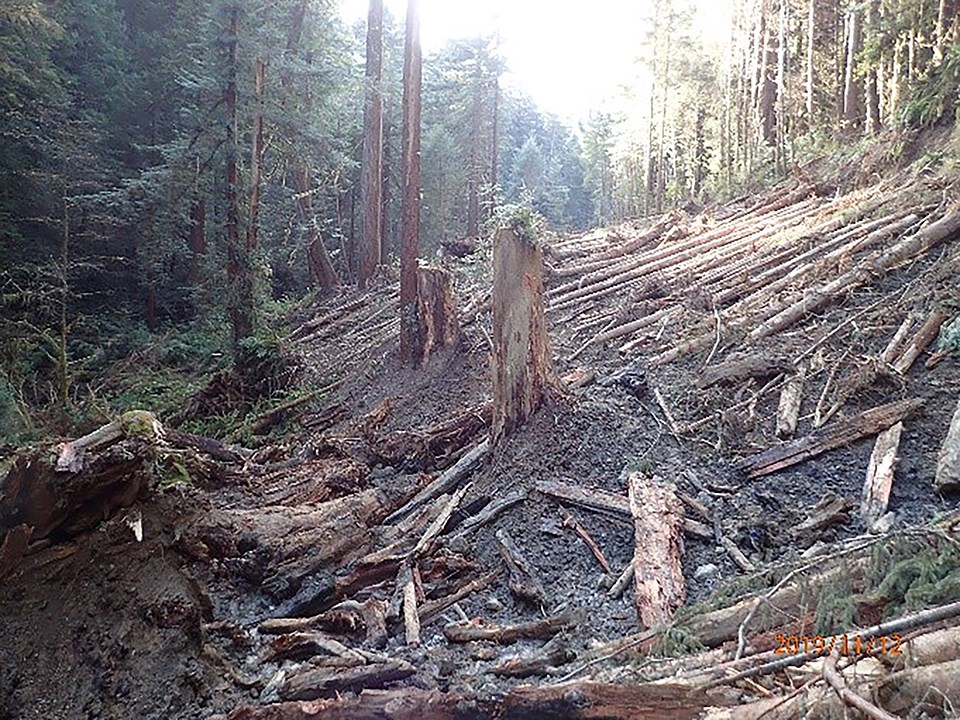 Left image
Heavy equipment is used to reoccupy logging roads.
Credit: NPS N. Youngblood
Right image
Ten feet of dirt was removed to get to the old hillslope, and logs are placed where the road was.
Credit: NPS / Neal Youngblood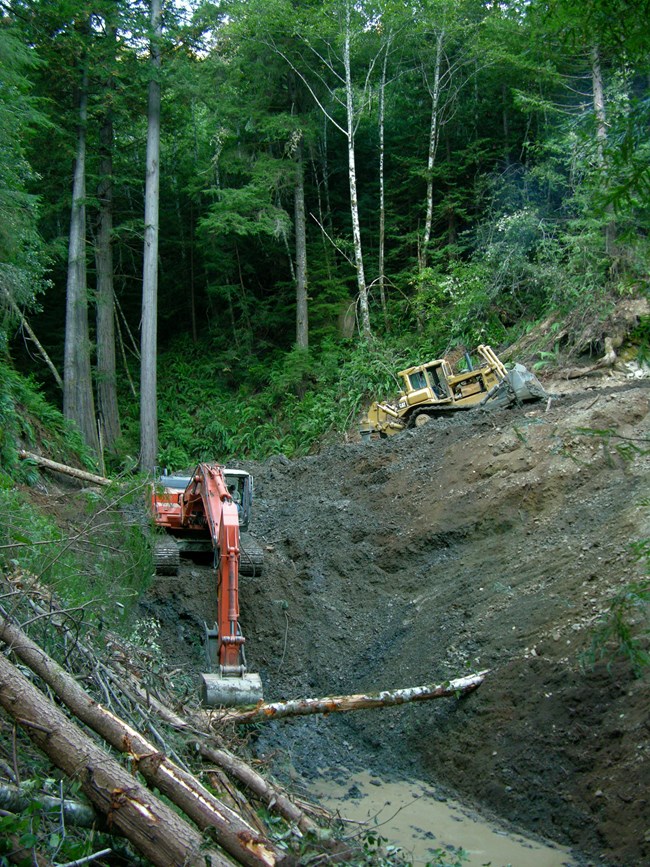 Treating the Roads
Since 1978, Redwood National Park has reoccupied, treated, stabilized and ultimately removed over 250-miles of logging roads, yet about 100-miles of at risk road remain. Del Norte Coast Redwoods State Park also has removed about 70-miles of logging roads, but more than 250-miles of roads are left. However removing old logging roads is costly work. Depending on the landscape, the full re-contouring, removal, and restoration of an old logging road can cost from $80,000 to $400,000 per mile.
In a few places in the parks, removed logging roads have been converted to trails. The
Ah-Pah trail
is a short, pleasant interpretive trail found on the northern end of the Newton B. Drury Scenic Parkway. Miles of removed logging road north of the
Lost Man Creek Trailhead
allow visitors to walk through restored habitats too.
It is more than possible that the Redwoods Rising Restoration Program will allow for additional hike or
bike trails
to be commissioned from old logging roads. But, the process of the parks designating any new trails is a separate process from removing old logging roads.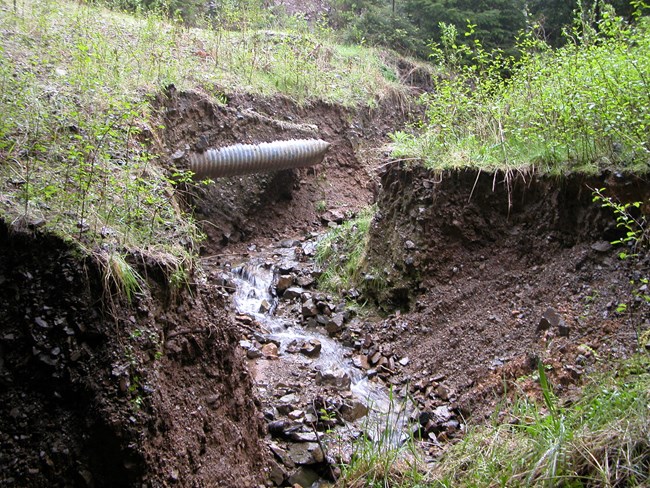 A Shovel-load Of Prevention Stops A Mountain-side Of Pain
We are active in winter to monitor the miles of old logging roads and culverts in the parks. We call this
Storm Patrol.
Our Storm Patrol employees do the simple-but important work of making sure culverts are not blocked, mapping crumbling culverts, identifying sections of road needing maintenance, and reporting back to park managers. The goal is to avoid having any more massive landslides caused by failing culverts and collapsing logging roads.
Road Removal and Creek Restoration in the Redwoods.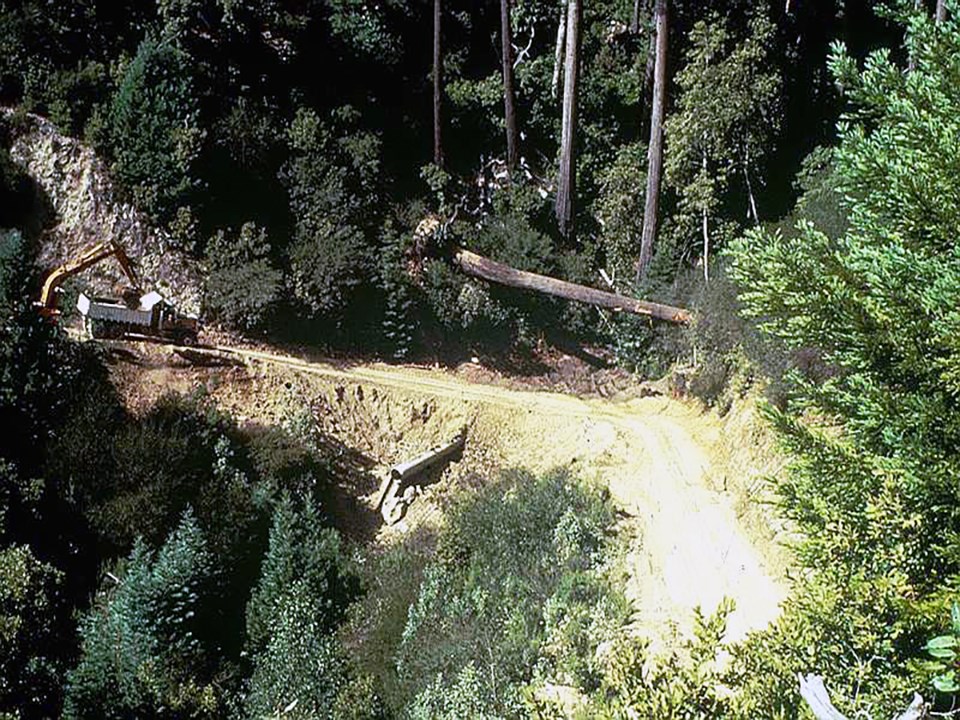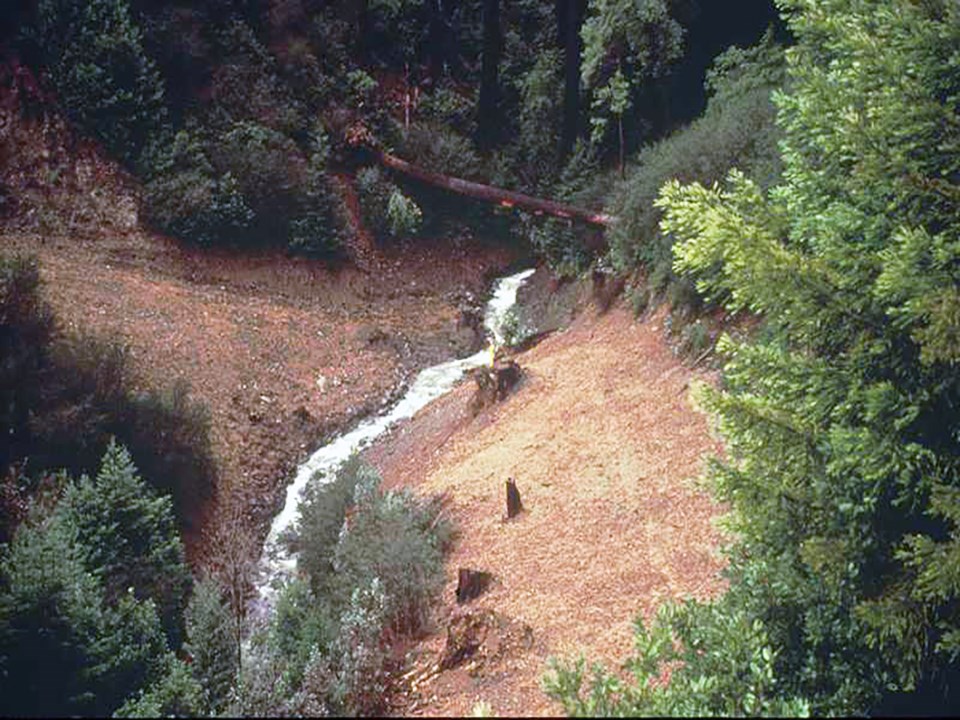 Left image
A legacy logging road before removal in Redwood National Park
Credit: NPS
Right image
The same site days after restoration showing stream flow and revegation
Credit: NPS
Last updated: May 5, 2021