For Teachers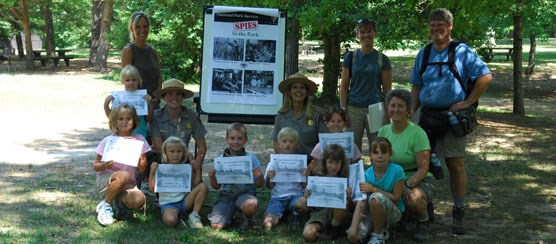 If you're looking for lessons in history or the natural world, educational opportunities abound in Prince William Forest Park. For detailed information on bringing school children to the park, download our Educator's Guide.
Scheduling a Ranger Program
View our list of programs below, then request a program using our Special Program Request form. Email the completed form to: prwi_info@nps.gov.

Organized groups may request a Special Program. We will try to accommodate requests based on ranger availability and time of year. During the summer between Memorial Day and Labor Day we will not be able to accommodate any special program requests on weekends. All rangers will be providing summer programs that are open to everyone. For our summer programs please visit our calendar page.
Requesting a Fee Waiver
If you are a bona-fide accredited educational or scientific institution (this does not include scout or commercial daycare groups) you can request an educational fee waiver for your program in the park.

Here's how to apply for a fee waiver. Please make the request at least two weeks ahead of time. Draft a letter requesting a fee waiver that provides documentation of official recognition of your group as an educational institution by a federal, state or local government entity responsible for education or accreditation. Using official letterhead or attaching a copy of an accreditation letter is generally considered sufficient documentation. The letter must state the purpose of your group's visit to Prince William Forest Park, how your visit directly relates to the resources of the park, and it should state specifically what you will study in the park. Please show how studying these park resources is part of their school curriculum or relates to Virginia or National Standards of Learning. Send this letter along with any additional information to Chief of Interpretation, Prince William Forest Park, 18100 Park Headquarters Road, Triangle, Virginia 22172. If you would like to send it electronically, email prwi_info@nps.gov
Ranger Guided Programs
Pyrite Mine Hike
2.5 hours, 2.5 mile loop
Ages: recommended 12 and up
Location: On-Site only
Group Size: 10 min, 50 max
Learn the history of the park's very own pyrite mine on this moderate, 2.5 mile hike. We will hike to the old mine site, and learn about the reclamation efforts, stroll along the boardwalk, and see several existing foundations and capped off shafts.

Spies in the Park
2 hours, 1.5 miles
Ages: 10 and up
Location: On-Site only
Group Size: 10 min, 50 max
Learn all about the spy training that actually took place here at the park during WWII! Authentic games and activities will keep you guessing.
Home Sweet Home
1 hour, .5 mile loop
Ages: 8 and up
Location: On-Site only
Group Size: 10 min, 30 max
Meet at Pine Grove Pavilion. Where do animals live and why? How are their needs similar to what people need? Are humans and animals so different after all? What habitats does the park offer and who lives in them? A short hike will follow where we will look for some park "residents".

Introduction to Basic Orienteering
1 hour, .5 miles
Ages 10 and up
Location: On-Site, some Off-Site programs may be conducted depending on request
Group Size: 10 min, 25 max
Learn the basics of map and compass use. Maps and compasses are always available at the Visitor Center from 9-5 daily. The course starts at Turkey Run Education Center's main doors. For more information contact park staff.
Going Green
1.5 hours
Ages: 5 to 13
Location: On-site and off-site
Group Size: No Limit
Discover the impact humans have on the environment and ways to minimize our influence over the natural world. Slides and fun activities will help you make leaving a smaller footprint on the earth an easy and inspiring task.

Park History Talk
1 hour
Ages: 10 and up
Location: on and off site
Group Size: No Limit
Learn all of the interesting facts and figures about the history of Prince William Forest Park. The information covered represents various time periods from Native American history to the Great Depression and World War Two.
Cabin Camp History
2 hours
Ages: 10 and up
Location: On-Site only
Group Size: 10 min, 50 max
Built by the Civilian Conservation Corps in the 1930s, the cabin camps at Prince William Forest Park are a window into the history of the Great Depression and World War II eras.
Self Guided Programs
These programs are available to anyone that wants to participate. No special program request form needs to submitted. We do ask that you notify the visitor center in advance so the supplies and materials are available for when you arrive.
Ranger in a Rucksack
1 to 2 hours
Ages: 10 and up
Location: On-Site, Pine Grove Picnic Area
Group Size: No Limit
Identify trees and leaves all on your own with our innovative 'ranger in a rucksack' program. Self-guided activities and informational tools help you be your own ranger. Check the 'rucksack' out daily at the visitor center from 9 am to 5 pm.

Letterboxing
1 to 2 hours
Ages: 4 and up
Location: On-Site only
Group Size: No Limit
Make your very own stamp to take home, and use it to leave your mark here at the park! Follow the clues to find secret boxes hidden along Piedmont Forest and Laurel Loop Trails where you can stamp your book and leave your unique stamp behind, and get another clue!
Special Education Programs
Bridging the Watershed
Ranger and Educator guided
2 to 3 hours
Prince William Forest Park is one of 13 units of the National Park Service that provides high school students with real life scientific field studies. Teacher training provided. Visit the Bridging the Watershed website for more information. Ask about Mine Over Matter, our park specific curriculum that explores the history of the pyrite mine and scientific efforts to reclaim the damaged site. Programs usually run 2 to 3 hours and must be coordinated through the Alison Ferguson Foundation. This program is limited to organized educational institutions.


Last updated: October 4, 2018