Educator's Guide to Prince William Forest Park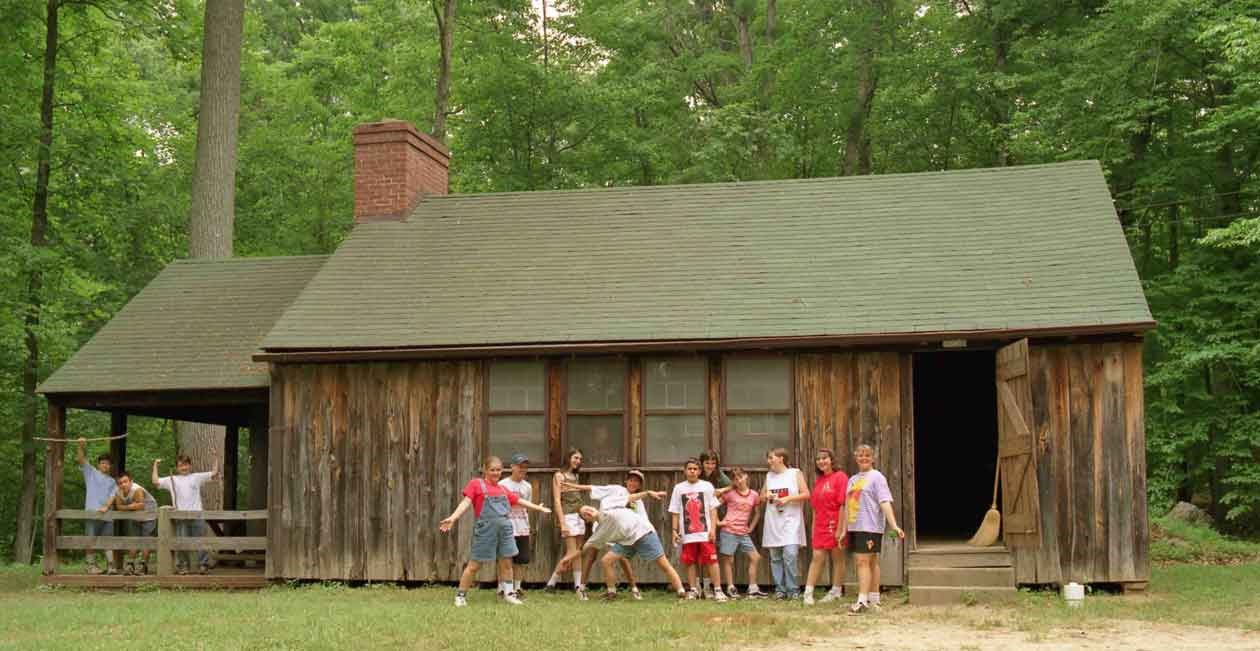 About Prince William Forest Park
Prince William Forest Park has been providing recreation and respite for people, and habitat for plants and animals since its founding in the 1930s. Originally named Chopawamsic Recreational Demonstration Area, Prince William Forest Park was an escape from the city for children and families of the Washington, DC area during the great depression. Over two hundred rustic buildings, arranged into cabin camps, housed these children and their families during summer 'nature' camps. Over 150 of those cabins still stand today within the 15,000 acres of forest-covered park, now the largest protected natural area in the Washington, D.C., metropolitan area.

The park protects the largest example of eastern piedmont forest in the National Park System. Here you will find northern species such as Hemlock along with southern species such as Poplar and Virginia Pine. The park also protects a large portion of the Quantico Creek and its watershed. Scientists have used the Quantico Creek as a benchmark in water quality for the area.

For those interested in history, Prince William Forest Park also protects and interprets a history that stretches from Native Americans and Early Colonial Life to the Great Depression and World War II. Franklin Roosevelt's "Tree Army", the Civilian Conservation Corps (CCC), constructed buildings, roads and lakes here during the 1930's, including the 5 historic cabin camps. From 1942 to 1945, the United States Office of Strategic Services, forerunner to the CIA, used this land exclusively for the training of spies and radio operators. Since World War II, generations of Americans have spent their first night camping under the stars here at Prince William Forest Park.

Today, groups visiting Prince William Forest Park can use its 37 miles of hiking trails and 21 miles of bicycle-accessible roads and trails to experience this unique natural area and learn about the native Virginia plants and animals. Overnight trips can further student connections to this national treasure through group tent and cabin camping. If you're looking for lessons in history or the natural world, educational opportunities abound in Prince William Forest Park.
Special Request Programs
Facilities in the Park
Day-Use Facilities
Overnight Facilities
Getting Your Group To The Park
Visit the park's Directions & Transportation page for detailed directions. You can also check out our Maps page for various maps including the overall park map. If you are visitng a cabin camp, please note that you may enter the park in a different entrance from the main park entrance. Visit the Cabin Camps page for cabin-specific directions.

A Note About Traffic
Please note that the main entrance to Prince William Forest Park is accessible only off of Route 619 - Joplin Road. This leaves the park subject to both morning and evening rush hour traffic problems. Please allow for rush hour traffic when planning your visit as rangers may not be able to extend your program to accomodate a late arrival.
The Park Entrance Fee & Educational Fee Waivers
Prince William Forest Park has an entrance fee for each vehicle entering the park. For more information and current fee prices, visit our Fees & Passes page.
Important Safety Information
For Ranger-led activities, please note the following:

• Ranger activities at Prince William Forest Park take place rain or shine. Please ensure that
your group is dressed for changes in weather.

• Unless separated into small groups by the Park Ranger, students must stay together as a group.

• Rangers will rely upon class instructors and chaperones to provide discipline and control as needed. There must be one adult chaperone for every 10 children. If you are unable to meet this guideline, please contact the Education Coordinator before your visit.

• Students will not be allowed to join a Ranger-led hike without closed-toe shoes.

• It is essential that students bring their own drinking water on any Ranger-led hikes over 1 hour in length. Drink machines are available at the visitor center in an emergency. There are no food machines within the park.
For self-guided activities, please note the following:

• Please bring a well-stocked First-Aid kit with you.

• Cellular phones do not work in all areas of the park. Please bring your cellular phone with you on your visit. However, in case your cellular phone does not work please take the following precautions:
• Always check-in to the park's visitor center upon your arrival. Let them know how many are in your group, where you are going in the park and when you should return.
• Inform someone from your educational institution of your visit to Prince William
Forest Park and instruct them as to what time your expect to return. Give them the
park's Emergency Dispatch telephone number to call in case you do not return within a
reasonable time -1-866-677-6677.

• Any emergencies while conducting a self-guided program should be reported immediately to the National Park Service Emergency Dispatch at 1-866-677-6677 or to 911.

• If you are truly lost, keep all members of your group together. Sit down, relax and wait for someone to contact you.

• Students should be prepared for their time in Prince William Forest Park. Measures include:
• Dressing for weather changes
• Bringing their own drinking water and snacks
• Bringing insect repellant with them.
• Bringing with them any medical necessities (medications etc..)
Ticks are common in Prince William Forest Park. They are usually found in grassy and bushy areas in the Spring, Summer and Autumn. Stay on trail and ensure that students have their parents conduct a "tick check" on their clothes, hairline, ankle and foot area when they go home. Individuals attending the park should use insect or tick repellant as recommended by a medical professional.

Poison Ivy is ever-present in Prince William Forest Park. It has shiny leaves in groups of three and grows either as a shrub or on a fuzzy vine. "Leaves of three, let it be" is good advice for students. Wash with soap and water after contact.

Snakes are an essential part of the Prince William Forest Park ecosystem. Do not purposely approach any snakes within the park. If you encounter a snake on a trail, either go around it at a wide circumference or back-track. Snakes often rest on rocks to enjoy the sun, or hide in cool, damp places to stay cool. Please tell your groups not to reach under logs and rocks unless inspecting the area first.
Protecting The Park During Your Visit
As a unit of the National Park Service, Prince William Forest Park protects natural and historic resources that belong to all generations of Americans. Your groups are an important part of keeping Prince William Forest Park pristine for future generations.
Please take measures to prevent any littering during your groups visit

Any vandalism, graffitti or defacement of the resources within Prince William Forest Park will be prosecuted.

Consider adding volunteering or litter pick-up to your group's visit as a service opportunity!
Bridging The Watershed
Ranger and Educator guided
2 to 3 hours
Prince William Forest Park is one of 13 units of the National Park Service that provides school students with real life scientific field studies. Teacher training provided. Visit the Bridging the Watershed website for more information. Ask about Mine Over Matter, our park specific curriculum that explores the history of the pyrite mine and scientific efforts to reclaim the damaged site. Programs usually run 2 to 3 hours and must be coordinated through the Alison Ferguson Foundation. This program is limited to organized educational institutions.



Last updated: December 10, 2022