Piedmont Forest Trail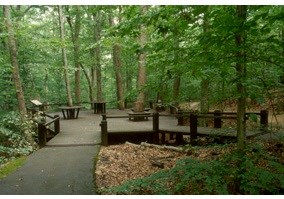 0.2 miles, 0.3 kilometers

Piedmont Forest Trail is a short, loop trail that was made with recycled tires. Follow the green blazes over multiple footbridges and boardwalks.

About half way down the trail, you will come upon a platform with benches that are perfect for a short rest. Follow along the loop and you will end up back near the Pine Grove Picnic Area.
Last updated: September 28, 2017