Science Lectures
Please join Point Reyes National Seashore staff for Science Lectures, 45 minute presentations on scientific research being performed at Point Reyes and elsewhere in the California. Science Lectures are sponsored by the Pacific Coast Science and Learning Center at Point Reyes National Seashore. They usually occur at noon on many Thursdays throughout the year and are normally held at the Red Barn Classroom at Point Reyes National Seashore's Headquarters. All are welcome and admission is free.
To get to the Red Barn Classroom, follow the Directions to get to the Bear Valley Visitor Center. After turning off of Bear Valley Road, proceed up the two-lane, paved driveway toward the Bear Valley Visitor Center. You will see the Red Barn on the left and after about 0.1 miles, there is a brown road sign pointing left to the Red Barn Classroom. Turn left on to the gravel driveway and proceed across the bridge to the parking lot. The Red Barn Classroom is on the end closest to this parking lot.
Upcoming Science Lectures:
There are no upcoming Science Lectures scheduled at this time.
---
Past Lectures
Some of our Science Lectures earlier this year included: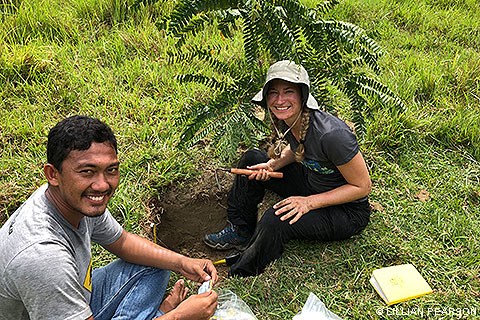 Date: Thursday, January 9, 2020
Title: "Using microfossils to identify tsunamis and hurricanes in the geologic record"
Presenter: Lillian Pearson, Graduate Student at the University of Southern Mississippi and California Academy of Sciences (and a former Point Reyes National Seashore Paleontology Intern)
Summary: As tsunamis and large scale hurricanes can occur on centennial to millennial time scales, observational and historical records generally do not provide sufficient information to determine consistent patterns of event frequency and intensity. Coastal populations have been growing, making it even more important to better understand these coastal hazards and prepare for the future by looking into the past. The geologic record therefore can provide more insight on greater timescale of these coastal hazards. Microfossils such as plankton, that are abruptly found in sand sheets onshore can be indicators of extreme, but short lived marine flooding that would coincide with a tsunami or hurricane. By analyzing the microfossils deposited within coastal sand sheets it is possible to reconstruct the coastal hazard history of a region.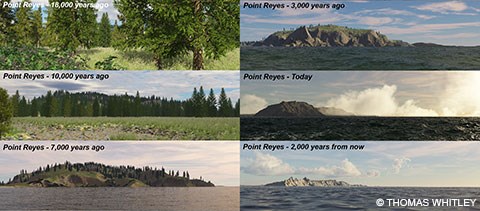 Date: Thursday, January 23, 2020
Title: "Dynamically Visualizing the Past and Future of Shorelines, Ecosystems, and Climate Change, at Point Reyes"
Presenter: Thomas Whitley Ph.D. from the Anthropological Studies Center at Sonoma State University
Last updated: January 24, 2020