Science Lectures
Please join Point Reyes National Seashore staff for Science Lectures, 45 minute presentations on scientific research being performed at Point Reyes and elsewhere in the California. Science Lectures are sponsored by the Pacific Coast Science and Learning Center at Point Reyes National Seashore. They usually occur at noon on many Thursdays throughout the year and are normally held at the Red Barn Classroom at Point Reyes National Seashore's Headquarters. All are welcome and admission is free.
To get to the Red Barn Classroom, follow the Directions to get to the Bear Valley Visitor Center. After turning off of Bear Valley Road, proceed up the two-lane, paved driveway toward the Bear Valley Visitor Center. You will see the Red Barn on the left and after about 0.1 miles, there is a brown road sign pointing left to the Red Barn Classroom. Turn left on to the gravel driveway and proceed across the bridge to the parking lot. The Red Barn Classroom is on the end closest to this parking lot.
Upcoming Science Lectures:
There are no upcoming Science Lectures scheduled at this time.
---
Past Lectures
Some of our Science Lectures earlier this year included: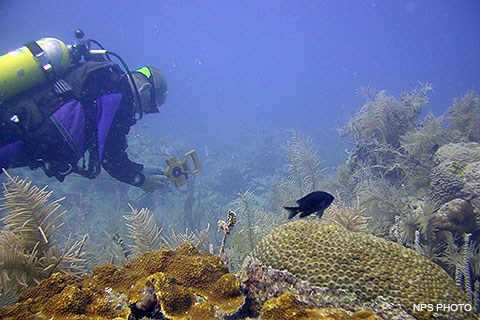 Date: Thursday, April 4, 2019
Title: "Monitoring coral health at Dry Tortugas National Park"
Presenter: Kayla Nimmo, Dry Tortugas National Park
Summary: Warming ocean temperatures, ocean acidification, and coral disease are negatively impacting corals worldwide at an ever-increasing rate. The Florida Reef System is the largest coral reef ecosystem in the continental U.S. Kayla will discuss the importance of coral reefs, the threats these reefs face, coral monitoring programs at Dry Tortugas National Park, and the proposed actions managers may take in response to coral disease outbreaks.
Date: Thursday, May 16, 2019
Title: "Mass mortality, recruitment and genetic change in ochre sea star (Pisaster ochraceus) associated with sea star wasting disease"
Presenter: Dr. Michael Dawson and Lauren Schiebelhut, UC Merced
Summary: Extreme environmental disturbances are expected to increase in frequency and intensity with continuing anthropogenic climate change. However, we know little about what determines resilience or susceptibility to extreme events, or how population dynamics may influence and be influenced by population genomic change. We explore how marine species responded to two mass mortality events using field surveys coupled with genomic data. We describe the population dynamics and genetic consequences of mortality and recovery.
Last updated: May 16, 2019