Science Lectures - 2014
Please join Point Reyes National Seashore staff for Science Lectures, 45 minute presentations on scientific research being performed at Point Reyes and elsewhere in the California. Science Lectures are sponsored by the Pacific Coast Science and Learning Center at Point Reyes National Seashore. They usually occur at noon on many Thursdays throughout the year and are normally held at the Red Barn Classroom at Point Reyes National Seashore's Headquarters. All are welcome and admission is free.
Visit our Science Lectures page to learn about upcoming lectures.
Some of our Brown Bag Lectures in 2014 included: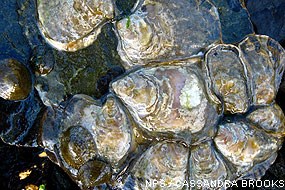 Date: Thursday, January 30, 2014
Title: "Climate Change, Invasions, and a Future for Tomales Bay Olympia Oysters."
Presenter: Brian Cheng, Bodega Marine Lab, UC Davis, and NPS George Melendez Wright Fellow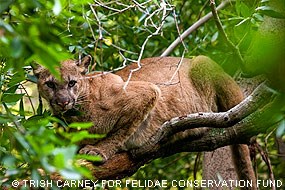 Date: Thursday, February 13, 2014
Title: "Living with Mountain Lions."
Presenter: Zara McDonald, Felidae Conservation Fund
Summary: California-based and globally-working wild cat conservationist Zara McDonald, Executive Director of Felidae Conservation Fund, gave an engaging and inspiring presentation about mountain lions and the work currently underway to study and protect them. Felidae Conservation Fund is a non-profit that aims to advance the conservation of wild cats and their habitats planetwide through a combination of groundbreaking research, compelling education and cutting-edge technology. Felidae's local project is the Bay Area Puma Project—the first large scale research, education and conservation program for mountain lions in and around the San Francisco Bay Area. These keystone predators (also called pumas and cougars) play a critical role in maintaining the health and biodiversity of our ecosystems. However, expansion of human populations is causing increasing encounters and conflicts between humans and pumas, and growing tensions in our local communities. Zara discussed mountain lion ecology and history, the challenges of sharing the habitat with mountain lions, and offered essential tips for living and recreating without fear in puma habitat.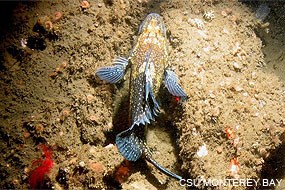 Date: Thursday, March 27, 2014
Title: "Marine Protected Area Monitoring at Point Reyes: Results from baseline remotely operated vehicle surveys"
Presenter: Dirk Rosen, Marine Applied Research (MARe)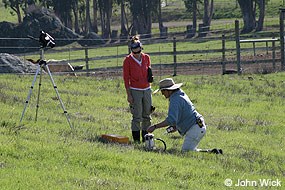 Date: Thursday, April 3, 2014
Title: "The Marin Carbon Project"
Presenter: John Wick, Nicasio Native Grass Ranch and the Marin Carbon Project
Summary: In response to the rapid pace of global climate change, the Marin Carbon Project seeks to enhance carbon sequestration in rangeland, agricultural, and forest soils through applied research, demonstration, and implementation. Their vision is for landowners and land managers of agricultural ecosystems to serve as stewards of soil health and to undertake carbon farming in a manner that can improve on-farm productivity and viability, enhance ecosystem functions, and stop and reverse climate change.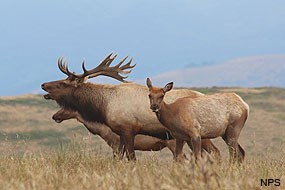 Date: Thursday, April 10, 2014
Title: "History of Tule Elk in Marin County"
Presenter: Frank Binney, Point Reyes Field Institute Instructor and Elk Program Volunteer.
Summary: Tule elk once roamed in the thousands across the hills and grasslands of Marin County and the Point Reyes peninsula. Through photos and personal stories from historic archives, Frank Binney explored the past abundance, near-extinction, and recent revival of the only elk subspecies native exclusively to California. A first-person account by Paul Revere's grandson of hunting elk in the Point Reyes National Seashore pastoral zone in 1846, along with observations by a present-day Coast Miwok, reveal little-known details of the former range and ecology of tule elk in Marin.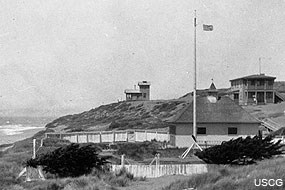 Date: Thursday, May 1, 2014
Title: "Cutting Terrors Out of Fogs: History and Archaeology of the Point Reyes Naval Radio Compass Station NLG"
Presenter: Paul Engel, Archeological Technician, Point Reyes National Seashore
Summary: Established in 1920 along the southern stretch of Point Reyes Beach, the Point Reyes Naval Radio Compass Station represents a revolutionary development in maritime navigational technology. As part of the San Francisco Bay Entrance Group of radio compass stations, it protected sailors in the San Francisco sea lanes from the dangers of shoals and rock, even in the thickest fog or darkest night. Despite the stations achievements in taming the Pacific, bluff erosion and the unrelenting surf have left the station precariously perched at the edge of a coastal bluff, prompting an effort to evaluate and document the site before it is lost. This presentation elaborated on the findings of the site evaluation to discuss the history and technology of the network of radio compass stations, workplace conditions, and behaviors of the radio technicians who operated the station.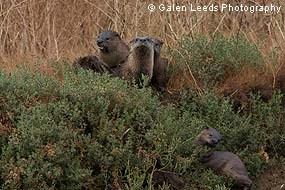 Date: Thursday, September 4, 2014
Title: "River Otters: Back on the Bay Area Map!"
Presenter: Megan Isadore, Executive Director of the River Otter Ecology Project
Summary: Megan Isadore discussed what's known, what needs to be discovered, and just how the River Otter Ecology Project manages to research elusive, secretive mammals who slide into the water and disappear when approached. She showed slides and videos from the River Otter Ecology Project's ottercams, and discussed the project and the role that citizen science plays in this otterly exciting work!
Date: Thursday, October 2, 2014
Title: "Coastal Resources Management in the Context of Climate Change: A Landscape Perspective"
Presenter: Rachel Kamman, a Professional Engineer with Kamman Hydrology & Engineering, Inc.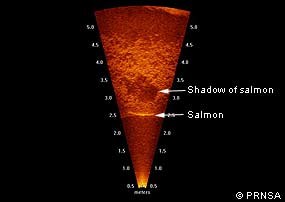 Date: Thursday, October 16, 2014
Title: "Monitoring Coho Salmon with Sound: Lagunitas Creek DIDSON Pilot Project"
Presenter: Ben Atencio, Point Reyes National Seashore Association's Coho Salmon and Steelhead Trout Monitoring Program DIDSON Crew Leader
Summary: In 2012, Lagunitas Creek was selected as a life cycle monitoring station (LCMS) by the California Department of Fish and Wildlife (CDFW). A major component of LCMS is the use of adult counting stations to determine adult coho and steelhead escapement. Dual-frequency identification sonar (DIDSON) technology was identified by CDFW as a potential non-intrusive survey method for meeting the adult counting station requirement. During the winters of 2012–2013 and 2013–2014, a DIDSON camera was installed in Lagunitas Creek by Point Reyes National Seashore Association (PRNSA) staff. Although a 2012–2013 coho escapement estimate could not be calculated using the available DIDSON footage, steelhead escapement estimates of 388 and 395 were calculated for the first time on Lagunitas Creek. In the 2013–2014 season, escapement estimates of 13 and 16 were calculated for chinook; 468 and 377 for coho; and 424 and 512 for steelhead. This talk will feature background information on coho salmon, Lagunitas Creek, and DIDSON technology; the methods used during the pilot project; findings of the project; and DIDSON footage from the project.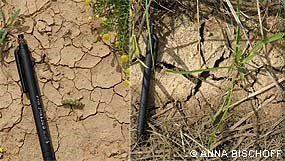 Date: Thursday, October 23, 2014
Title: "Climate and Mechanisms of Soil Carbon Stabilization: Findings from Senior Thesis Research"
Presenter: Anna Bischoff, Point Reyes National Seashore Association
Summary: A change in carbon residence times in soil has huge potential to alter global carbon cycling and atmospheric composition. Therefore, an understanding of how mechanisms of carbon stabilization respond to ecosystem changes is essential for accurately modeling global climate change. Soils as whole ecosystems and specific soil biotic conditions are known to respond to changes in climate. However, the response of specific mechanisms of carbon stabilization to a change in climate is less known. In her undergraduate senior thesis (2012), Anna Bischoff identified how the specific stabilization mechanisms of relative recalcitrance, occlusion in aggregates, and mineral binding are affected by 3 different incubation climates.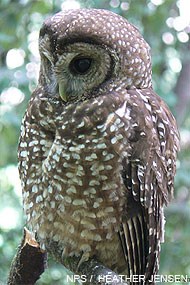 Date: Thursday, November 6, 2014
Title: "Identifying Individual Northern Spotted Owls by Voice at Point Reyes National Seashore"
Presenter: Rick Johnson, PRNS Volunteer
Summary: Rick reports data suggesting individual male Northern Spotted Owls (Strix occidentalis caurina) can be distinguished by characteristics of their Four Note Location Calls (FLC). He recorded owls while accompanying field biologists as they monitoried owls on historic breeding territories, including sites where previously banded owls were re-sighted during the study period (2006–2012). Using spectrograms, he estimated pitch contours, and measured frequency and timing of the calls. Discriminant Analysis matched calls to site with a mean success rate of 96% at four sites. One banded owl was re-sighted over a five year period, and its 17 FLC classify correctly. Graphical analysis and simulation runs suggest that individually identifiable calls may occur at five additional study sites with smaller sample sizes. Discussion topics include need for further study and potential usefulness of acoustic monitoring in situations where Barred Owls also occur since they display individual vocal identity as well.
For more information about the Brown Bag Lectures, contact Ben Becker at 415-464-5187 or by email.
Last updated: December 20, 2018