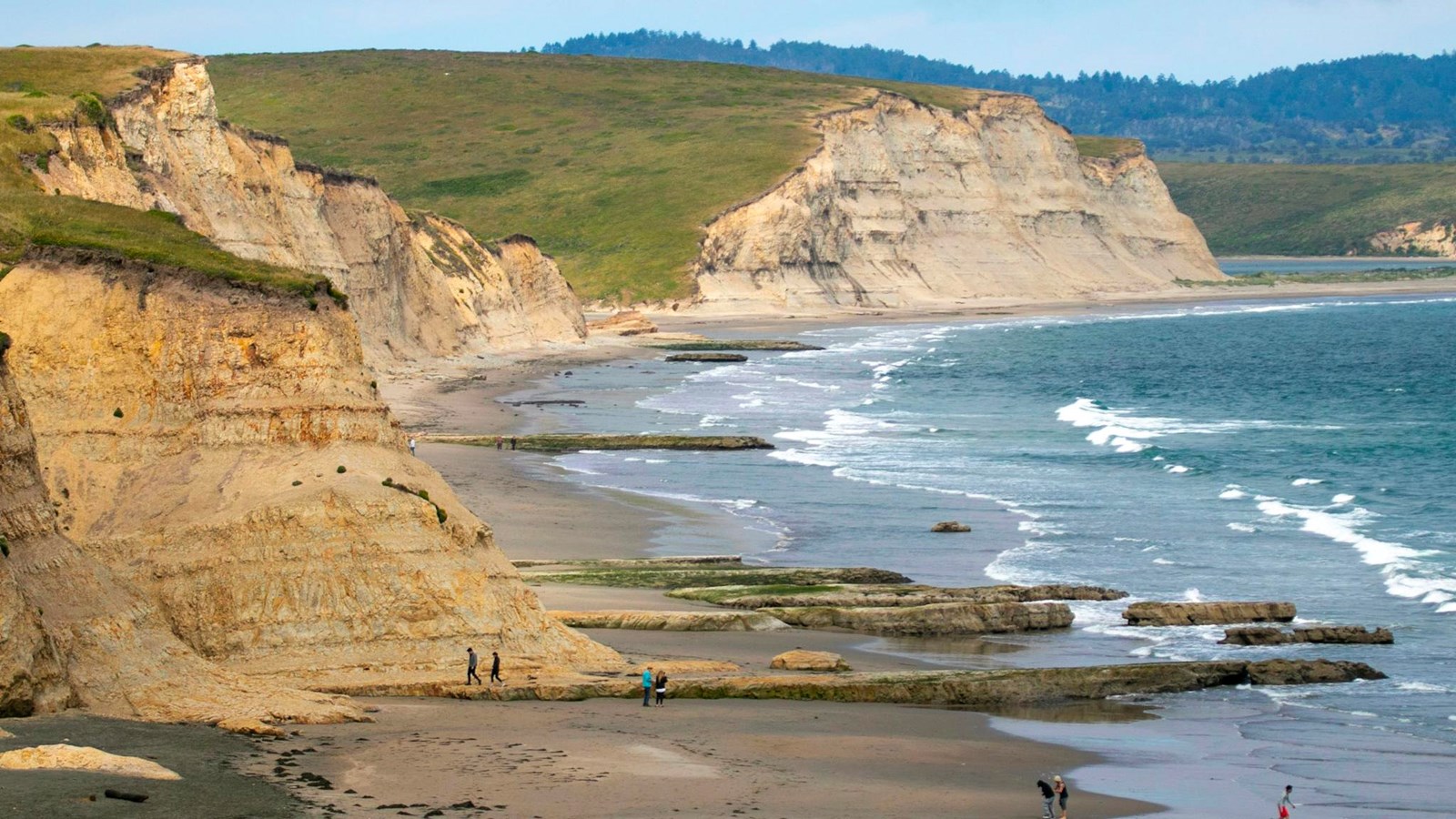 Location:
Drakes Beach, Point Reyes National Seashore. Geo-coordinates: 38.0276, -122.9618
Automated External Defibrillator (AED), Beach/Water Access, Benches/Seating, Bus/Shuttle Stop, Fire Extinguisher, First Aid Kit Available, First Aid/Medical Care Available, Food/Drink - Coffee, Food/Drink - Snacks, Gifts/Souvenirs/Books, Historical/Interpretive Information/Exhibits, Information, Information - Maps Available, Information - Ranger/Staff Member Present, Information Kiosk/Bulletin Board, Parking - Auto, Parking - Bus/RV, Picnic Table, Restroom, Restroom - Accessible, Scenic View/Photo Spot, Toilet - Flush, Trash/Litter Receptacles, Water - Drinking/Potable
A seasonally wide stretch of beach backed by dramatic sandstone cliffs makes Drakes Beach a very popular place, especially among families. The waves of Drakes Bay are usually much smaller than those on the west-facing beaches of Point Reyes, so it's relatively safer for people to play along the water's edge. Easy access to the beach, a bookstore, and a visitor center add to its appeal. Picnic tables are located near the visitor center and along the northern edge of the parking lot.
The sands of the Drakes Bay cliffs were deposited in a shallow sea 10–13 million years ago, compacted, then uplifted. Erosion has revealed the striations of this story in the cliff faces.
Beach Safety
The ocean water may be as low as 10°C (50°F), so those without wetsuits rarely stay in the water for long. Hypothermia, sneaker waves, and rip currents are just a few of the hazards of which visitors should be aware. Please visit our Safety Issues Associated with Beaches page for more information.
Marin County Environmental Health Services (EHS) tests the ocean water at Drakes Beach once a week from April 1 through October 31 for California water quality standards for recreational water contact. For current details, visit EHS's Marin County Ocean and Bay Water Quality Testing Program and Beach Water Quality Information pages.
Beach Closures
Beaches may be closed at various times of the year to better protect northern elephant seals during their pupping seasons or for visitor safety. Please visit our Current Conditions page to learn about any current beach closures.
Glass: Glass containers are prohibited on all Point Reyes Beaches.
Take only pictures; leave only footprints: Almost everything one finds at Point Reyes' beaches is protected by law, including shells, rocks, fossils, flowers, and artifacts.
Wildlife: Do not chase or feed the gulls (or any other birds) and keep your distance from seals and sea lions. Observe elephant seals from a respectfull distance.
Drones: Launching, landing, or operating a drone from or on lands and waters within the boundaries of Point Reyes National Seashore is prohibited.
Metal-detectors: Metal-detectors are prohibited throughout the National Seashore.
Pets: Pets are prohibited at Drakes Beach. Visit our Pets page for more information.
Camping: Camping on Drakes Beach is prohibited. Parking your vehicle overnight at Drakes Beach is prohibited. Visit our Backcountry Camping page for more information on camping at Point Reyes.
Wood fires: A permit is required to have a wood fire at any beach in Point Reyes National Seashore. Visit our Beach Fires page for more information.
Fishing: Fishing is prohibited at Drakes Beach. Please visit our Fishing page for more information.
Visit the park's Beaches of Point Reyes page for more details.
Help Keep Your Beaches Clean
Follow Leave No Trace Principles to reduce your impact on the places we love. Please help protect marine life and keep your park's beaches clean by disposing of refuse in the garbage cans/dumpsters located at beach and trailhead parking lots. If you build any driftwood structures during your visit, please disassemble them before you leave.
Last updated: June 9, 2023