Lake Superior Protected Areas
Interested in visiting another protected area on the shores of Lake Superior, the
greatest
of the Great Lakes? Here's a sampling around the Lake, both in
Canada
and the
United States
, clockwise beginning at the Minnesota/Ontario boundary.
---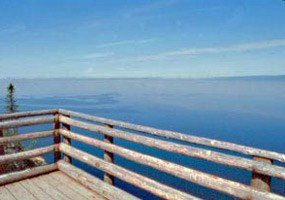 Sleeping Giant Provincial Park, Ontario
On the southern tip of the rugged peninsula near Thunder Bay lies the legendary Sleeping Giant. Venture into its boreal forests to experience the backcountry, or follow its trails to the top of the giant for unbeatable views of Lake Superior.
Look for deer, moose and other large mammals in the park's vast forests and lowlands. Whether you are hiking along lush green paths or gliding over snowy trails, the beauty of this park will leave you spellbound.
more...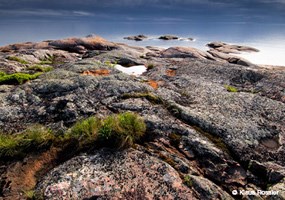 Pukaskwa National Park, Ontario
Pukaskwa National Park's exceptional beauty is revealed in its vistas of Lake Superior and in the rugged, ancient landscape of the Canadian Shield and northern forest. The spirit of the wilderness envelopes those who explore this special place.
The only wilderness national park in Ontario, Pukaskwa was established in 1983 to protect 1878 square km of an ecosystem that features boreal forest and Lake Superior shoreline.
more...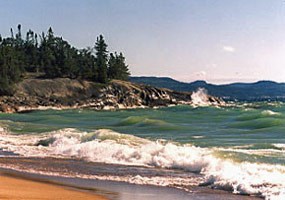 Lake Superior Provincial Park, Ontario
From Lake Superior's rugged coast, this park moves inland over mist-shrouded hills and deep canyons that inspired Canada's Group of Seven artists. The Coastal Trail and part of Highway 17 hug Lake Superior's rugged, rocky coast through this park, offering spectacular, unimpeded views of the legendary moody blue waters.
Along the park's eastern border the Algoma Central Railway snakes through Agawa Canyon. Don't miss the pictographs at Agawa Rock.
more...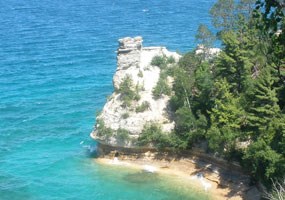 Pictured Rocks National Lakeshore, Michigan

Sandstone cliffs, beaches, sand dunes, waterfalls, lakes, forest, and shoreline beckon you to visit Pictured Rocks National Lakeshore. Hiking, camping, sightseeing, and four season outdoor opportunities abound. The Lakeshore hugs the Lake Superior shoreline for more than 40 miles. Lake Superior is the largest, deepest, coldest, and most pristine of all the Great Lakes.

more...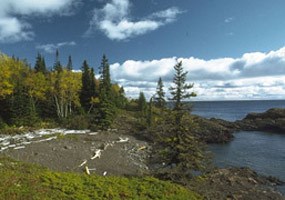 Isle Royale National Park, Michigan

Isle Royale's physical isolation and primitive wilderness challenged human use for centuries; ironically today it has become the Island's main attraction. Accessible only by boat or seaplane, visitors come to experience this island park through hiking its trails, paddling its inland waterways, exploring its rugged coast, or venturing into the depth of its shipwrecks.
more...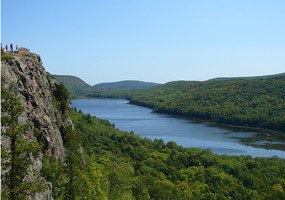 Porcupine Mountains Wilderness State Park, Michigan

As Michigan's largest state park, the 60,000 acres of the Porcupines Mountains comprise one of the few remaining large wilderness areas in the Midwest. Towering virgin timber, secluded lakes, and miles of wild rivers and streams make a visit to the "Porkies" a trip to remember.

more...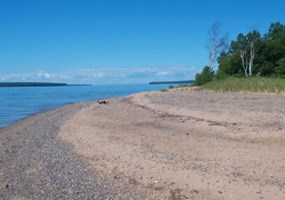 Apostle Islands National Lakeshore, Wisconsin
Along windswept beaches and cliffs, visitors experience where water meets land and sky, culture meets culture, and past meets present. The 21 islands and 12 miles of mainland host a unique blend of cultural and natural resources. Lighthouses shine over Lake Superior and the new wilderness areas. Visitors can hike, paddle, sail, or cruise to experience these Jewels of Lake Superior.
more...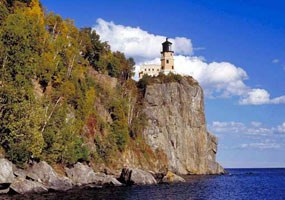 Split Rock Lighthouse State Park, Minnesota

Shipwrecks from a mighty 1905 November gale prompted this rugged landmark's construction. Completed by the U.S. Lighthouse Service in 1910, Split Rock Light Station was soon one of Minnesota's best known landmarks. Restored to its 1920s appearance, the lighthouse offers a glimpse of lighthouse life in this remote and spectacular setting.
more...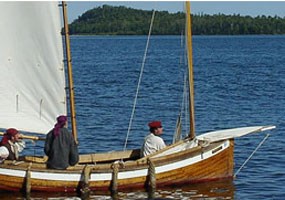 Grand Portage National Monument, Minnesota

Travel into the past to discover the present. Explore the history of Ojibwe people and the North West Company of the North American fur trade. Follow pathways into a distant time. Take in the sights and smells of a bustling depot reconstructed over its original footprint. Listen for the echo of the drum over Grand Portage Bay.

more...
Last updated: March 27, 2018