Operating Hours & Seasons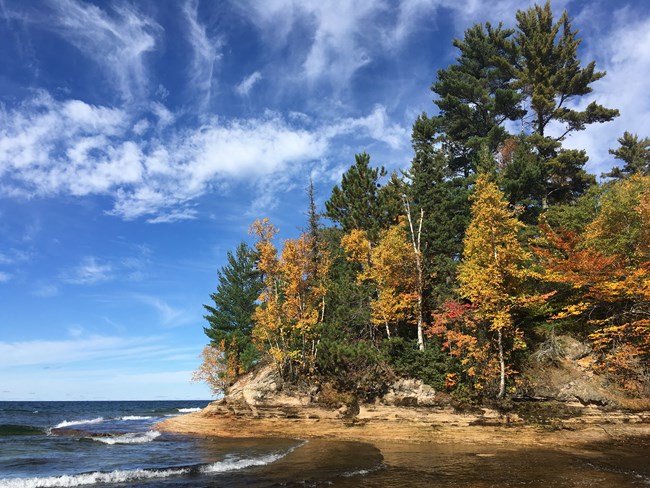 Pictured Rocks National Lakeshore is open year-round, 24 hours a day, though many roads are closed by snow in the winter. There is no entrance fee. Camping is allowed year-round.

Four Seasons to Enjoy
There is no particular "best" season to visit the park for each has its own charm and variety of activities. In the spring, wildflowers bloom in great profusion to add to the beauty of the natural area. Summer brings pleasantly warm weather and abundant sunshine. Autumn boasts a colorful display as the hardwood forest and then the tamaracks change color. A mantle of snow sets the stage for winter enjoyment.
Operating Hours -
Visitor Centers
The
Munising Falls Visitor Center,
on the park's west side, is the national lakeshore's main visitor center. It is open daily, 9 am to 5 pm, from mid May through the end of September. Hours may extend til the end of October as funding and staffing permits. The visitor center is open year-round; however there are reduced days and hours in late fall, winter, and early spring. (906) 387-3700.
The
Grand Sable Visitor Center,
on the park's east side
,
is open daily from the Friday just before Memorial Day through the end of September, 9 am to 5 pm. Closed the rest of the year. (906) 494-2660 (summer only).
The
Au Sable Light Station
and Maritime Museum
are open with guided interpretive tours of the tower from mid-June through the end of September (except Mondays and Tuesdays). The Au Sable Light Station grounds are open year-round. (No phone.)
Last updated: August 14, 2019