Winter Road Closures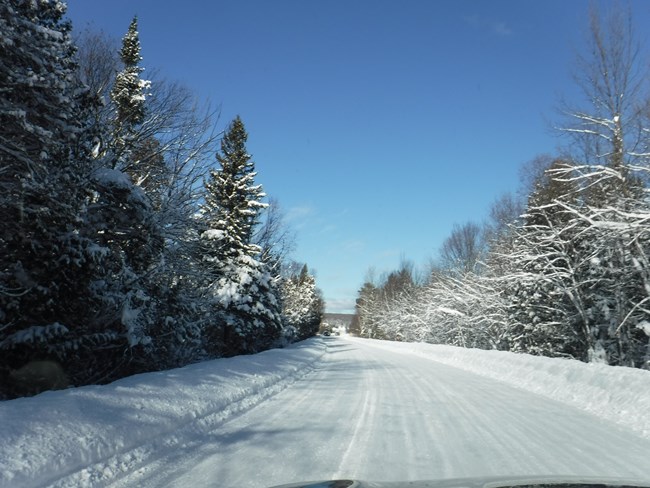 Pictured Rocks receives over 15 feet of snow each winter. The park only plows one road: Sand Point Road. All other park roads remain unplowed. Beginning December 1, these unplowed roads are considered snowmobile trails and are CLOSED to ALL vehicles except snowmobiles.

View and download the park's Winter Road Closure Map (1.1 MB pdf).
Since Sand Point Road is plowed all winter, visitors can easily access Munising Falls and the Sand Point area in regular vehicles.

Alger County Road H-58 runs adjacent and through the park. H-58 is only plowed from Munising heading east to Adams Trail. From Adams Trail to Grand Marais, H-58 is not plowed and is only open to snowmobiles.
NOTE: There is minimal plowed access a short distance on H-58 for cars going to the Grand Marais Ski Trail parking area at the Grand Sable Visitor Center. Cars can follow Newberg Road (Rt. 772) west from M-77 (just south of the town of Grand Marais) and then follow H-58 west about 1/2 mile to the ski trailhead parking lot.
In conformance with state laws, roads that are considered snowmobile trails in winter are CLOSED to all other vehicles. Please do not attempt to drive on these closed roads. Vehicles can tear up the trails, as well as easily get stuck. Fines and towing charges can add up to a substantial amount of money.

Roads reopen only when snow melts in spring. In fall and spring, before heading out and driving on these roads, check with the visitor center for road closure updates.
Last updated: October 17, 2022