Getting Around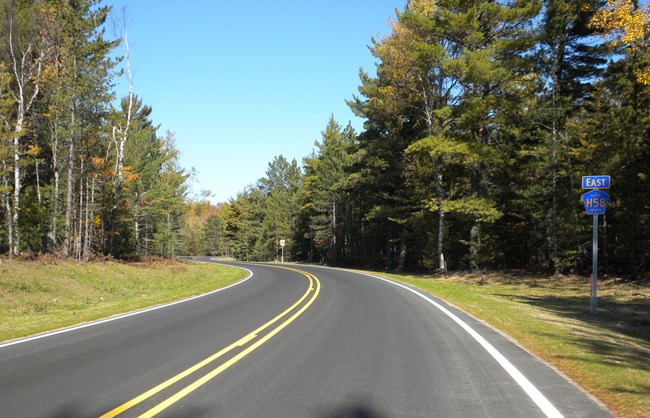 The main road that travels through the national lakeshore is Alger County Road H-58. Other access roads (some unpaved) that lead to lakeshore sites such as campgrounds, day use areas, scenic views, and trailheads are clearly marked on the park map. Please stay on H-58 and these official roads.

(For winter road closure information click here.)

Avoid narrow dirt roads, two-tracks, and potential dead end roads where you might get stuck, resulting in very costly towing fees. Use the park map instead of relying on GPS, Google Maps, or other apps which do not work well here.

H-58 is suitable for vehicles of all sizes. Some park roads have size restrictions and others are not recommended for large recreational vehicles, busses, and vehicles with trailers. Click here for more information about size restrictions.

Bicyclists should be aware that long sections of H-58 have very little shoulder or no shoulder at all. Also be aware that H-58 is used by large logging trucks and many types of ORVs. Use care while cycling on this curvy road.

After decades as a dirt and gravel road, H-58 was fulled paved in 2010. It was engineered to be a scenic, leisure drive. For your safety and the safety of others, PLEASE:
-- Take care around curves and watch for bicycles and pedestrians.
-- Use the vehicle turnout lanes if you wish to stop and take a photo.
-- Obey all no passing zones.
-- Watch for motorcycles and ATVs.
-- Report all accidents to a park ranger, national lakeshore employee or visitor center.
-- Drive at a leisurely speed, keeping in mind that the journey is important, not just the destination.

Enjoy the scenic drive at your own pace, but if you notice traffic backing up behind you please pull over to let them by to help avoid unsafe passes.
ORV and ATV
ORVs and ATVs are prohibited in park campgrounds, as well as driving or parking on road shoulders, and NO off road travel. Outside of campgrounds, ORVs and ATVs must park in designated vehicle parking lots.
Last updated: October 14, 2022