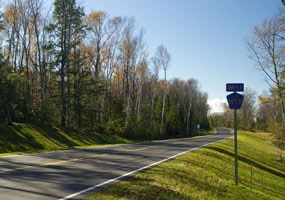 After decades as a sand and gravel road then five years of construction, Alger County H-58 between Grand Marais and Munising was completely paved in 2010, creating one of the most beautiful drives in the Great Lakes region. The road has been engineered as a slow speed, scenic drive through the lakeshore, accessing such popular sites as Sable Falls, Log Slide, Hurricane River, and Twelvemile Beach.

Help us make your and others vacation one to write home about. While driving on H58:
-- Take care around curves and watch for bicycles and pedestrians.
-- Use the vehicle turnout lanes if you wish to stop and take a photo.
-- Obey all no passing zones.
-- Watch for motorcycles and ATVs.
-- Report all accidents to a park ranger, national lakeshore employee or visitor center.
-- Drive at a leisurely speed, keeping in mind that the journey is important, not just the destination.

Enjoy the scenic drive at your own pace, but if you notice traffic backing up behind you please pull over to let them by to help avoid unsafe passes.

Also, please stay on H-58 and the main roads that access park destinations while you are here. Avoid narrow dirt roads, two-tracks, and potential dead-end roads where you might get stuck, resulting in very costly towing fees. Using the official park map, which shows the major roads of the area, is usually better than relying on GPS.