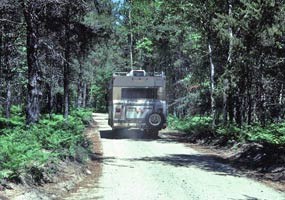 "Recreation vehicles" come in all shapes and sizes. With the 2010 completion of the reconstruction and paving of Alger County Road H-58, the interest in touring the park in larger vehicles has increased.

H-58 itself provides for a wonderful scenic drive, suitable for all sizes of motor homes when the road is open in spring, summer and fall. (During the winter, H-58 between the Grand Sable Visitor Center and Kingston Corner is not plowed and serves as a snowmobile trail.) The road is quite curvy in places, so slow down, keep your eyes on the road and enjoy the drive.

However, the national lakeshore's campgrounds and several side roads are not well suited for large RVs and motor homes. Travelers should do their homework and exercise caution before traveling down any of these roads.

The Little Beaver Lake Road (which leads to the Little Beaver Lake Campground) has formal size restrictions. Single units in excess of 36 feet and vehicle/trailer combinations in excess of 42 feet are prohibited on this road.

For information about the parking pad size in the lakeshore's campgrounds (including photos), please visit the Drive-in Camping page.

Users of large RVs should consider camping at one of the commercial/municipal campgrounds in the lakeshore's gateway communities of Grand Marais and Munising.