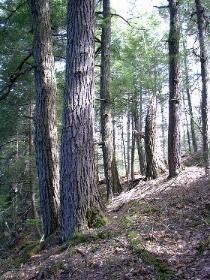 Pictured Rocks National Lakeshore is primarily a forested park, and visitors will notice several different forest types and a variety of tree species as they drive through the park or hike in the backcountry. The national lakeshore lies within the northern hardwood/hemlock/white pine region of the eastern deciduous forest, but it also overlaps with the southern edge of the great coniferous boreal forest to the north and contains trees species of both biomes.

About 80 percent of the lakeshore is upland northern hardwoods dominated by American beech, sugar and red maple, yellow birch, hemlock, and white pine. Coarse outwash and coastal sands (about 10 percent of the lakeshore) support red, white, and jack pine, plus other species that prefer drier conditions. Successional stands on these soils and younger woodlands contain considerable amounts of paper birch, striped maple, and aspen.

Wetter habitat (about 10 percent of the lakeshore) found in small patches on upland benches and in poorly drained lowlands contain boreal forest species such as black spruce, white spruce, white cedar, and larch (tamarack). Larger white cedar glades within the national lakeshore are located southwest of Grand Sable Lake, south of Au Sable Point, along the southern and western edges of Beaver Basin, and east and south of Miners Basin. Visitors who walk the one mile trail from Miners Castle down to Miners Beach will notice how the forest changes with elevation and soil type.

Shrubs add color to the forest and dunes through their spring blossoms, which then become vibrant fruits in summer and fall. Common shrubs in the lakeshore include sand cherry, balsam poplar, Canada yew, several species of serviceberry, lowbush blueberry, and winterberry (Michigan holly). Currants, gooseberry, thimbleberry, dewberry, and chokecherry are other shrubs important as food sources for wildlife.

Historic fire and logging events have played a large role in shaping the present Pictured Rocks forests, although the lakeshore's cool, moist climate has generally prevented large, modern-day wildfires. Most mature trees found in the park are only about 100-120 years old, having grown up after the logging heyday of the region ended. Old growth forest stands are few and far between, and are represented primarily by the white cedar wetlands found in the Beaver Basin Wilderness.

Other human impacts include the introduction of invasive species and tree diseases. Many large elm groves have been killed by Dutch elm disease, and red maple has become more common. Beech bark disease, first detected in the park in 2001, has killed most of the park's mature American beech.