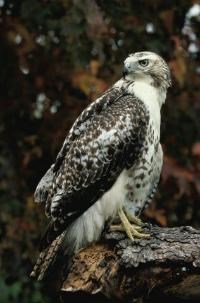 Eagles, hawks, falcons, owls, and other raptors (birds of prey) are top predators on the food chain. They play a vital role in keeping the park's small animal populations in check, which helps maintain balanced ecosystems and ensure healthy plant communities. Raptors have excellent vision for locating prey animals, long sharp talons for grabbing and holding them, and powerful sharp beaks for tearing them apart. Raptor prey includes other birds, small mammals, reptiles, amphibians, fish, and insects. In most species female raptors are larger than the males, and therefore able to catch larger prey.

Twenty-three species of raptors have been identified at Pictured Rocks, including nine species of owls, eight kinds of hawks and three types of falcons. Several, like red-tailed hawks and long-eared owls, are year-round residents that nest in the park where habitat is suitable. Other species come only for summer nesting or are observed briefly when migrating through. Heavily feathered rough-legged hawks and snowy owls are occasional winter visitors, as are great grey and northern hawk owls.

Some raptors such as broad-wing hawks are found in hardwood forests; others like the northern goshawk prefer mixed woodlands. Northern harriers may be seen soaring over dunes and open fields searching for prey. Eagles are especially visible when they perch in tall trees on the cliffs. Peregrine falcons nest on rock ledges above Lake Superior where they have little disturbance from other species.

Birds of prey are also good environmental barometers. They are especially sensitive to pollutants and their presence is an important indicator when assessing the health of park ecosystems. Park biologists have been studying raptors intensively for the past few years to gain inventory data of populations throughout the lakeshore. Staff search for nests and keep track of young. Recent data show that several species of raptors, including eagles and state-endangered peregrine falcons, successfully fledge young each year in the park. The national lakeshore is especially interested in how the loss of beech trees, due to beech bark disease, will affect raptors.

Keep Your Distance
Raptors, like many birds, are easily disturbed by human intrusion. Keep your distance from nesting birds and from trees that contain nests. Even your presence near the base of a tall tree is enough to disturb birds nesting high up in the crown. Keep boats far back from bird nesting sites on the cliffs. Respect any nesting closure areas designated by park staff.