Lakes and Ponds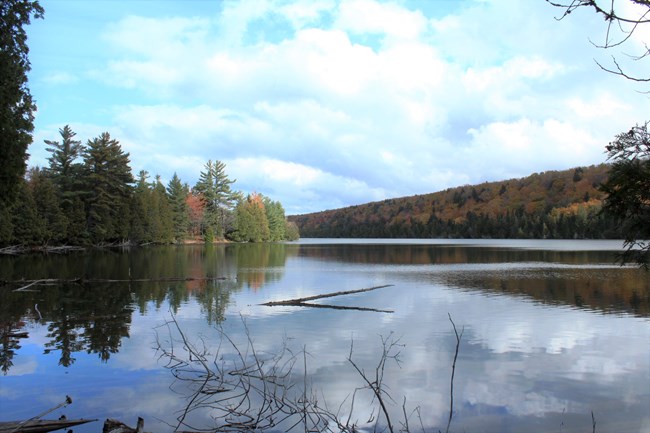 Although Lake Superior is the major water body in the area, the national lakeshore contains many important inland lakes. The more prominent ones are Grand Sable, Beaver, Little Beaver, Chapel, Little Chapel, Miners, Trappers, Legion, Kingston, and the Shoe Lakes. These lakes range in size from 762-acre Beaver Lake to 10-acre Miners Lake. Most of the inland lakes, with the exception of Grand Sable Lake and Chapel Lake, are quite shallow (10 to 20 feet in average depth), but have lengthy flow-through rate times.

Many of the lakes are mesotrophic, meaning they have a moderate amount of plant growth, and they have Secchi disk (water visibility) readings between 6 and 15 feet (2 to 5 meters). Logging and recurrent fires in years past may have caused erosion and nutrient deposition in the lakes. Miners Lake and Little Chapel Lake exhibit the greatest trend toward eutrophication, or an overabundance of plants due to high amounts of nutrients. The most oligotrophic (nutrient poor) lakes are Legion Lake, the Shoe Lakes, and Grand Sable Lake. The inland lakes vary considerably in their water chemistry, but many can be classified as productive, brown, alkaline water lakes. Water quality monitoring is done on the major inland lakes each year.

Although Legion, the Shoe, Kingston, and Trappers Lakes are alike in that they are closed basin lakes with no streams flowing in or out, they were formed in different ways. Kingston, Legion, and the Shoe Lakes are kettle lakes, formed by the melting of a block of ice that separated from the retreating glacier about 10,000 years ago. In particular, Legion Lake and the Shoe Lakes lie high on the watershed divide between Lake Superior and Lake Michigan and receive very little groundwater input of elements like calcium, magnesium, and silica. They are acidic (pH 4.8-5.1), poorly buffered, and have high Secchi disk readings of 15 to 27 feet (5 to 9 meters).

Trappers, Beaver, and Little Beaver Lakes are located in Beaver Basin, which was an embayment of Lake Superior when the lake level was considerably higher. As the lake level dropped, sandy beach ridges separated the lakes from Lake Superior, creating these relict lakes. Miners Lake lies along the Miners River in Miners Basin, which was also an embayment of Lake Superior during higher lake levels approximately 5,000 years ago.

Chapel Lake is elongate and was likely formed by a large plunge pool in a glacial meltwater channel. Its southern basin is about 140 feet deep, extending into the Jacobsville sandstone, and is shallow toward the northern end where rooted aquatic plants emerge at the surface. Chapel Lake is meromictic; the deepest layer of water does not mix with the upper lakewater during spring and fall turnovers. The water below approximately 60 feet is cold and dense with extremely limited dissolved oxygen.


Last updated: August 15, 2020