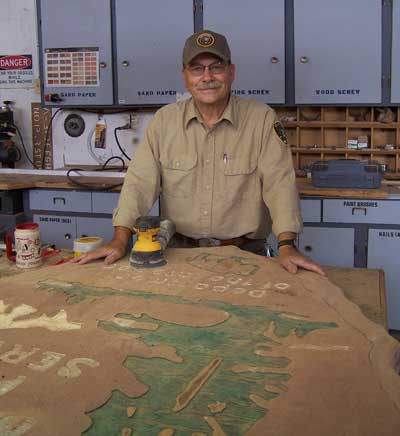 News Release Date:
August 16, 2006
Contact: Lyn Carranza, (928) 524-6228 ext.245
Petrified Forest National Park Honors Volunteer Accomplishments
Petrified Forest, AZ - Volunteers play an important role in assisting national parks to fulfill their mission. Many dedicated people of all ages and backgrounds give their time and expertise so everyone may enjoy America's national parks. The volunteers at Petrified Forest National Park are no exception. Although too many to mention separately the following people are representative of the kind volunteers that help at Petrified Forest.
Volunteer Paul Cox is restoring the six foot tall wooden arrowhead plaques found at the entrances of the park and at the visitor centers. The arrowhead is the most recognizable symbol of the National Park Service. Many years of weathering have made the etched lettering and pictures less distinct. "When they first asked me I didn't know if I could do it. I've never worked on anything this big." But his woodworking experience has proven more than enough to make these plaques look like new.