LIBERATION — Guam Remembers
A Golden Salute for the 50th anniversary of the Liberation of Guam
---
Agueda Iglesias Johnston: Patriot
In February 1942, two months after Guam was invaded and captured, Japanese officials introduced classes to educate island children and adults about the Japanese culture and language as well as mathematics and reading.
The first classes were held at George Washington High School, then located in Agana and just five years old. And chosen to lead the school was someone eminently qualified to do so - the high school's principal and perhaps the island's leading educator, Agueda Iglesias Johnston.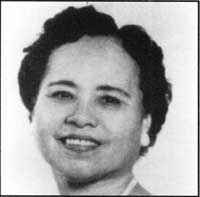 Agueda Johnston.
Mrs. Johnston was the wife of William G. Johnston, who was sent to a prisoner-of-war camp in Japan in January 1942 along with about 500 other Americans living on the island at the time; she was left to alone care for their children. The tragic events of the time made her a single parent, decades before the term was even in use.
But the young woman also took on another responsibility - as an island leader, as a patriot.
As the occupation continued, Mrs. Johnston helped raise the morale of Chamorros through her communication of the progress of the war. Much of the information was obtained by radios, kept hidden from the Japanese military occupying forces. Messages were sometimes passed inside the wrappers around the bars of soap made by her family. The soap was given to Chamorros, sometimes under the very eyes of Japanese guards.
She was also involved in the efforts to help Navy radioman George Tweed evade capture by the Japanese. Mrs. Johnston provided food, clothing, and reading materials for Tweed. When the Japanese began to suspect her involvement, she was interrogated about his hiding place. She was beaten and whipped before she was freed.
During the occupation, she received a note from Japanese authorities. Written in Chamorro, the note informed her of the death of her husband William in a POW camp in Kobe, Japan. A part of her life gone and her heartbroken, Mrs. Johnston continued on, caring for her family and eventually helping them safely reach Manengon, a concentration camp for Chamorros established by the Japanese prior to the Liberation.
Mrs. Johnston, her family, and the others in the Manengon camp were freed by American forces. A year later, she was back to being a principal, the head of the new George Washington High School, a school made of canvas and tin and running on materials - paper, chalk, and pencils - donated by the U.S. military.
Born in 1892, the lifelong educator passed away in 1977. But her place in Guam history, as an educator, as a community leader, as a patriot lives on. To recognize her memory and her courage, the people of Guam renamed George Washington Junior High School in Ordot in her honor. The school is now Agueda I. Johnston Middle School.