LIBERATION — Guam Remembers
A Golden Salute for the 50th anniversary of the Liberation of Guam
---
The soldier who did not surrender
Compiled by PAUL J. BORJA AND JOSEPH SANTO TOMAS
In February 1943, Shoichi Yokoi arrived on Guam from Manchuria, a 28-year-old sergeant assigned to the Japanese naval garrison defending the island.
In February 1972, Yokoi departed from Guam, 56 years old and in all likelihood the Emperor's last soldier of World War II.
After U.S. forces liberated the island in July 1944, Yokoi lived the next 28 years as a straggler and recluse. Hiding in the island jungles, first evading American Marines and soldiers and then the Chamorros serving in the Combat Patrol, Yokoi systematically and calmly re-established his life.
A native of Aichi prefecture, in Nagoya, Japan, Yokoi became an unregistered resident of Talofofo, living for 25 years in the hills and recesses of the Talofofo River basin. Apparently the first three years of his life as a straggler were spent on the run, his hideout at different locations around the island.
Yokoi was not the first straggler from Guam to be found in the island's jungles. Two other men, Minagawa and Ito, were repatriated to Japan in 1960. Bunzo Minegawa was found by two local men harvesting breadfruit and captured; a few days later, the Japanese man would help officials persuade Ito to come out of hiding. The two stragglers lived in the Talofofo area as did Yokoi, but apparently had no knowledge of him.
When Yokoi was "captured" in late January 1972, his captors weren't soldiers or Marines on patrol - they were villagers from Talofofo hunting in the area near Yokoi's hideout, a cave he had dug near a creek's banks. Apprehending Yokoi, and instantly making him a legend in Guam and Japan, were Jesus M. Duenas and Manuel D. Garcia.
The men initially thought that the thin man they saw by the creek's banks was a boy that often strayed from the village. Yokoi was along the creek's edge, checking a fish trap that he had made from bamboo. After seeing the villagers, Yokoi dropped the trap and then rushed them in attack, Duenas told the press later.
The men overpowered the slight man, his hair long and matted and with a scraggly beard. They then took him to Agana to police headquarters.
Yokoi's habitat was inspected thoroughly, its contents both shocking and intriguing. Initial investigations were put on hold to safely move a bomb found in the back of the cave. Later, authorities found ingeniously made shrimp traps, simple handmade tools and weapons from the war that were rusted beyond use.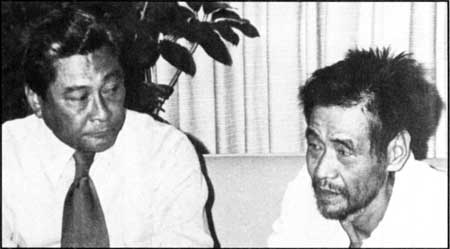 In a January 1972 press conference hosted by then Guam Gov. Carlos Camacho, at left, World War II soldier Shoichi Yokoi talks about his experiences as a straggler. He spent nearly 28 years in Guam jungles.
A tailor in Japan before the war, Yokoi had no trouble clothing himself. He wove a simple, yet quality wardrobe from old burlap sacks, coconut and pago fibers and other materials gathered from the jungle. His needles were handmade; his buttons for his suits made from discarded plastic and the various utensils used for his daily life as a hermit were handmade as well.
He made fire by rubbing sticks between calloused hands, and kept himself clean by bathing in the Talofofo River to avoid infections and sicknesses.
Yokoi's capture captivated people all over the world, particularly in Japan, where his loyalty to the Emperor was lauded. A simple man was thrust into the spotlight after 28 years of solitude.
Not used to the attention, he later said through an interpreter, "You know, I wish I didn't cause so much trouble to everyone. I should have just stayed in my cave until I died."
In meetings with the press, he noted that he knew that the war was over but was afraid that he would be killed by Chamorros or the military if he surrendered.
One of Yokoi's desires after his capture was to pay respects to the families of two men, also stragglers, who had died in Guam. Shichi Mikio, a soldier, and Nakabata Satow, a civilian worker for a labor battalion, apparently died of poisoning after eating federico nuts and toads. Both are poisonous if improperly cooked and prepared, and food was apparently scarce at the time because of the devastation of Guam by Typhoon Karen in November 1962.
Having never traveled aboard aircraft, Yokoi was astounded and unbelieving when he was told that he could travel from Guam to Japan in three hours. In a touching moment before the media, Yokoi cried when he heard the tape-recorded voices of relatives from Japan. Not at all familiar with the technology, he conversed with his relatives, asking them questions.
Commending his treatment by Guam officials and then Governor Carlos G. Camacho, Yokoi returned to Japan on Feb. 2, 1972, as a hero and symbol of enduring loyalty.
On March 30, 1972, in a celebration noted by all in Japan, Yokoi celebrated his 57th birthday.
15 August 1945
In a radio broadcast which was the first public speech by a Japanese emperor, Emperor Hirohito announces the surrender of Japan.