LIBERATION — Guam Remembers
A Golden Salute for the 50th anniversary of the Liberation of Guam
---
Sgambelluri's secret life
Compiled by RAJ SOOD
He must have been a unique man and quite a character, the late Adolfo Camacho Sgambelluri.
The son of a Navy man, Sgambelluri was a policeman in pre-war Guam and then a police official for the Japanese occupation authorities, a role which did not endear him to island residents.
Nevertheless, his record as a policeman and then as an investigator was sterling in pre-war Guam, and his abilities must have appealed to the efficiency-conscious Japanese authorities during the occupation.
Marine Capt. Charles S. Todd, the chief of police of Guam when World War II erupted, said Sgambelluri and fellow policemen Juan Taitano and Juan Roberto were "outstanding" staff. "Roberto and Sgambelluri were the detectives who investigated all the incidents involving the local people, and I don't recall their leaving any case uncleared. They were feared, but highly respected. In many instances, they assisted in other cases involving naval personnel and their dependents," Todd said.
The chief also tasked Sgambelluri with responsibilities that helped the policeman develop skills that would prove invaluable to American officials in the post-war period. "...they were also assigned as intelligence officers collecting information considered adverse to the military and United States government. They collected information and prepared profiles on all Japanese, German and other foreigners considered not friendly to the United States," Todd said.
During the Japanese occupation, Sgambelluri was a policeman of sorts, acting as a liaison between island residents and military authorities. His work brought him into close contact with Japanese officials. As a result, he was able to warn Chamorros about investigations and searches. The policeman was invaluable in particular in helping people move George Tweed, the sailor who was able to evade Japanese authorities for the 31 months of the occupation, whenever officials intensified efforts to locate the Navy man.
After the Liberation, Sgambelluri was incarcerated along with others accused of aiding or sympathizing with the Japanese. Because of that, he carried a certain stigma and his arrest was viewed by some as justice.
However, his incarceration was voluntary. Sgambelluri asked to be put in the stockade and, using the skills he gained while as an intelligence officer in pre-war Guam, he was able to obtain information that assisted prosecutors in their cases against people accused of war crimes and of assistance to the enemy.
His efforts, not only during the post-war era but also during the occupation when he helped circumvent Japanese investigations of Chamorros and their activities, were recognized and lauded by U.S. officials, including USMC Maj. General Henry L. Larson, Island Commander in the time immediately after Liberation, and Col. Teller Ammons, U.S. Army Judge Advocate, Military Commission of Guam.
"I personally appreciate all the assistance you have given, and you have rendered an exceedingly patriotic service to your people on Guam and the Government of the United States. Now I am sure you have a complete satisfaction that you served in the best interests of the people of Guam," Ammons wrote Sgambelluri.
Once jeered as an enemy sympathizer, Sgambelluri died at age 73 on Dec. 12, 1985, and he was buried with honors for outstanding service to his country.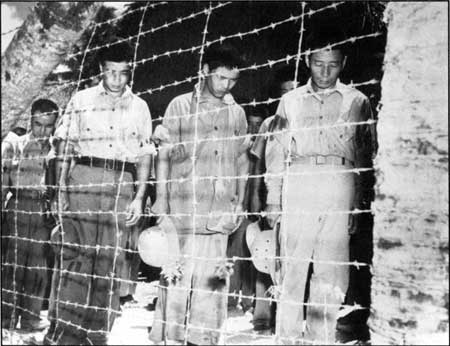 In a camp in Guam, prisoners of war bow their heads as they hear a radio broadcast of Japanese Emperor Hirohito announcing the surrender of Japan in World War II.
2 September 1945
The Japanese formally surrender to the Allied powers in a ceremony aboard the U.S. battleship Missouri in Tokyo Bay.