LIBERATION — Guam Remembers
A Golden Salute for the 50th anniversary of the Liberation of Guam
---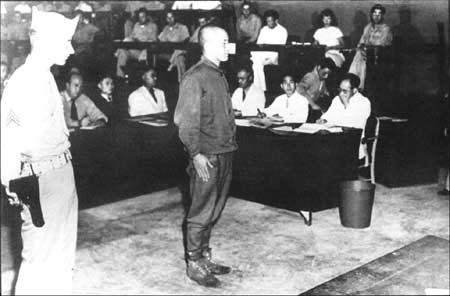 Four charges of cannibalism upon American prisoners brought a death sentence by hanging to Major Sueo Matoba, shown here on trial. War trials and 13 executions by hanging were held in Guam after the war.
Guam site of Pacific war trials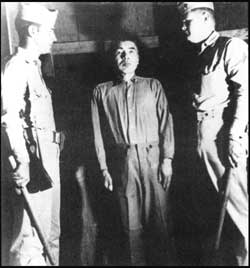 Closely guarded by two Marines, vice Admiral Koso Abe awaits trial in Guam. He was accused of beheading nine American prisoners-of-war.
On the crest of Nimitz Hill, within Fleet Admiral Nimitz's Pacific Command Headquarters complex, there once existed a large quonset hut in which the Military Commission for Japanese War Crimes held its Pacific region trials. Of the 144 military and civilian war criminals, 136 were found guilty. Of these 136, 111 were convicted of murder in addition to other offenses. Five were found guilty of permitting subordinates to commit atrocities against prisoners of war; 14 were convicted of torture, cruelty or maltreatment of prisoners; two were convicted of cannibalism and several others of the mutilation of dead prisoners of war.
Among those convicted of war crimes were two lieutenant generals, two rear admirals, five vice admirals and the commanding officers of the Marshalls, Marianas, Gilbert, Bonin, Palau and Wake Islands.
Thirty-six death sentences were handed out — 20 of which were commuted to life imprisonment and one to 16-year sentence. Sixteen life sentences were passed out. Twenty-four individuals were sentenced to 10-15 years of hard labor, and the remaining 60 were sentenced to less than five years in prison.
Thirteen death sentences were actually carried out by hanging, inside a quonset hut constructed for that purpose. The gallows site is located on what is now the Federal Aviation Administration complex adjacent to the Navy Computer and Telecommunications Area Master Station. Those sentenced to life imprisonment were transferred to Sugamo Prison in Tokyo.
Editor's note: Navy Capt. Joseph Commette provided information for this article.