LIBERATION — Guam Remembers
A Golden Salute for the 50th anniversary of the Liberation of Guam
---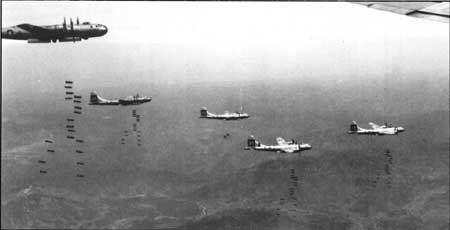 After the capture of the Marianas, Japanese cites became targets of B-29 bombers. A March 9-10 raid was the war's most destructive air attack - the fire bombs of 334 B-29s killed 83,793 people, wounded 41,000 and destroyed 267,171 buildings.
Investigators view occupation
By RAJ SOOD
Aside from continuing to press the war against Japan and helping the civilian community of Guam get back on its feet, military officials also began to investigate the occupation of Guam under the Japanese.
Helping with that task was Capt. Nicholas Savage, who was in the headquarters of the 3rd Marine Amphibious Corps. His duties involved counter-intelligence and the responsibility for identifying collaborators and subversives.
"I was assigned essentially to bring some rhyme and reason to this very, very motley crowd of Saipanese, Chamorros, Japanese, petty officials that had to do with civilian operations, Okinawan fishermen, part Japanese and those suspected of being Japanese collaborators, most of whom had accumulated in stockades during the actual landing. Most of them had turned themselves in voluntarily, along with women and children."
"We had essentially the civilian elements of the Japanese occupation from Japan, Saipan, and those members of the local people who were thought to have been possibly implicated (for collaboration with the enemy)," Savage said. "We had a cumbersome, awkward and slow procedure but finally they were released. Only a very few were shipped back to Saipan."
Others imprisoned in U.S. stockades were captured or surrendered Japanese military personnel.
"There were also a number of women, the so-called comfort troops. They were a pathetic lot, totally unaware of what their rights were. They were later sent to Hawaii prisoner-of-war camps," he said.
According to Savage, investigating these cases, gathering information and evidence of war crimes, collecting intelligence, these activities were most demanding and vital. "This is where Sgamby (Adolfo C. Sgambelluri, late father of the current Chief of Police A.P. Sgambelluri) played an absolutely critical role."
As part of his job, Adolfo C. Sgambelluri requested to be put in the stockade with the POW's where he was treated as just another prisoner, subject to all the indignities, so that he could gather information and intelligence.
"His role was entirely in keeping with his work during the occupation, risking his life in the service of his people," Savage said.
It was not until 40 years later, in 1985, that Sgambelluri's dedication to duty could be openly recognized and his undercover work freely discussed. All those years, he stoically bore the undeserved stigma of being labeled as a Japanese sympathizer. His work cleared many. And others received appropriate measures of justice at the hands of the War Crimes Tribunal because of evidence collected by Sgambelluri.
There were interesting moments for Savage and his staff, moments of history for Guam and the world. For example, Savage's unit maintained a well-equipped darkroom. One day, a military photographer came in from Iwo Jima requesting permission to process a few rolls of film. One of the prints he produced was one of the most famous photographs of World War II - Marines raising the Stars and Stripes on Mt. Surabachi in Iwo Jima.
And then there were other moments that were very satisfying for him. Savage recalled one regarding the Dejima family, a Nisei family who had called Guam home for many years.
The family, realizing in late 1941 that the Japanese attack was imminent, had collected all their cash and buried it. This location was known only to them and Mr. Thomas Tanaka (Sr.), family friend and associate. In due course, Savage, Tanaka Sr., and a colleague dug out the money and deposited back into the Dejima bank account. "That was very satisfying, knowing that it is safe and back in the hands of its rightful owners."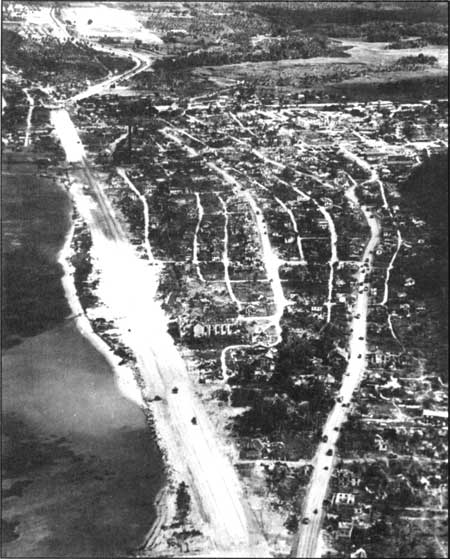 After the Liberation, the Seabees took to heart their unofficial motto, "Can Do." The sailors built a devastated island into a staging area from which U.S. forces could continue the war against Japan. In one 90-day period, the men of the Navy's construction battalions took a short look at the island's coral and soil, then proceeded to carve out and surface 100 miles of road. A year after the Liberation, Marine Drive is just a baby (above).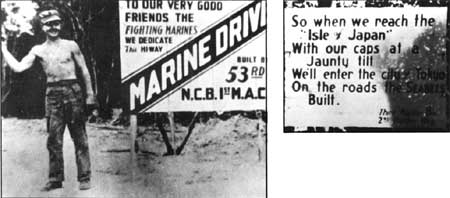 Below, at left, a humorous soul poses near a sign by the Seabees dedicating Guam's leeward coastal road to the Marines. Below, right, the Marines return the favor and thank the Seabees for paving the way to Tokyo.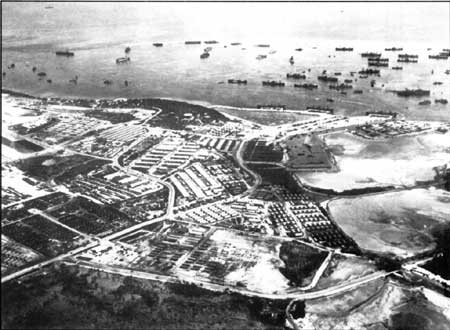 One can see the massive military buildup of Guam in this 1945 photo of Apra Harbor and what is now the Naval Station. By August 1945, more than 220,000 people called Guam home, but only 22,000 or so of those were Guamanians. The rest - 65,000 Army, 78,000 sailors, 59,000 Marines. The code name for the Liberation of Guam was Operation Stevedore, a clue to the island's future role in the war. Apra Harbor became one of the world's busiest parts, operating as a major conduit in the supply of U.S. forces pressing the attack on the outlying and home islands of Japan.
Bombers approach North Field, now called Andersen Air Force Base, to land. The airfield and those in Tinian and in Saipan were home to more than 1,000 B-29 bombers, all of them setting their bombsights on targets in Japan. In Tinian, the Seabees' mark was indelible. The Navy construction battalions built the world's largest bomber base comprised of six mile-and-a-half airstrips and support facilities. In the process, the Seabees moved more than 11 million cubic yards of soil, rock and coral.