LIBERATION — Guam Remembers
A Golden Salute for the 50th anniversary of the Liberation of Guam
---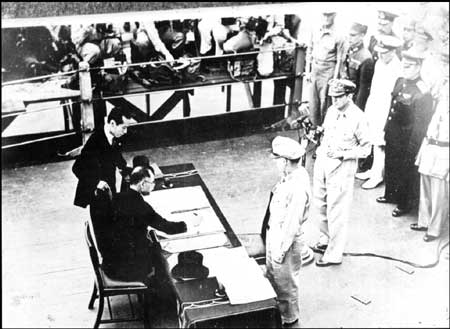 At 9:04 a.m. on Sept. 2,1945, aboard the battleship USS Missouri in Tokyo Bay, World War II ended. Above, signing on behalf of Japanese Emperor Hirohito is Foreign Minister Mamoru Shigemitsu. Conducting the ceremony and standing behind the microphone is General Douglas MacArthur, Supreme Commander for the Allied Powers. Standing near table with MacArthur is Admiral Chester W. Nimitz, Commander-in-chief, Pacific and Pacific Ocean Areas. Nimitz would sign the surrender document as the representative of the United States. Also signing were representatives of the Japanese military, and the Allied powers from the Republic of China, United Kingdom, the Union of Soviet Socialist Republics, Commonwealth of Australia, the Dominion of Canada, the provisional government of France, the Kingdom of the Netherlands, and the Dominion of New Zealand. Witnessing the historic event were two Chamorro sailors, Ramon White and Frank B. Manibusan, both members of Nimitz's staff.
The War in the Pacific Ends
In the surrender ceremony, Gen. Douglas MacArthur, representing the Allied Powers, expressed a hope for the world: "It is my earnest hope - indeed the hope of all mankind - that from this solemn occasion a better world shall emerge out of the blood and carnage of the past, a world founded upon faith and understanding, a world dedicated to the dignity of man and the fulfillment of his most cherished wish for freedom, tolerance, and justice."
In representing the United States at the ceremony, Admiral Chester W. Nimitz remembered the great sacrifice of those who died in the war in the Pacific.
"They fought together as brothers in aims; they died together and now they sleep side by side.
"To them, we have a solemn obligation - the obligation to ensure that their sacrifice will help make this a better and safer world in which to live."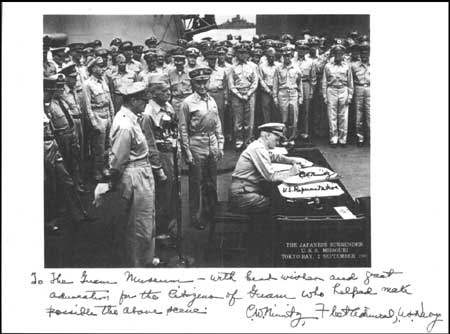 In this autographed photograph to the people of Guam, Admiral Chester W. Nimitz signs the document formalizing the surrender of Japan in World War II. Nimitz, whose fleet headquarters was in Guam, represented the United States at the ceremony aboard the battleship USS Missouri on Sept. 2, 1945, in Tokyo Bay. Immediately behind Admiral Nimitz are, front to back, General Douglas MacArthur, Supreme Commander of the Allied Powers in the Pacific; Admiral William "Bull" Halsey; and Admiral Raymond Spruance.