LIBERATION — Guam Remembers
A Golden Salute for the 50th anniversary of the Liberation of Guam
---
45 Chamorros caught in Wake invasion
By TINA D. AGUON
Before the outbreak of World War II, 45 Chamorro men were employed by Pan American Airways at the company's facilities in Wake Island, one of the stops on the Pan Am Clipper transPacific air service initiated in 1935.
The men worked as kitchen helpers, hotel service attendants, and laborers. But the peaceful life on Wake was shattered Dec. 8, 1941, when Japanese aircraft bombed the island, killing five men from Guam and wounding five others.
A day later, those wounded died when a bomb destroyed their hospital. The remaining Chamorros joined the island's garrison, asked by Wake's American military commander to help fortify and defend the island.
The defenders repulsed on Dec. 11 the initial landing force of the Japanese, and for 12 more days the defenders held out. But the inevitable happened. Supported by the arrival of additional ships and aircraft, some of which participated in the Dec. 7 attack on Pearl Harbor, Japanese troops stormed ashore and on Dec. 23, Wake fell.
Garrison members, including the 35 surviving Chamorros, were taken as prisoners of war, tortured and then incarcerated in a camp in Shanghai, China, where two men from Guam were later killed.
The remaining 33 Chamorros were eventually transferred to a POW camp in Osaka, Kobe, Japan where they were imprisoned for the war's duration.
Today, of the original 45 Wake Island defenders from Guam, there are only four remaining survivors: Sergio Maanao Mendiola, Antonio Mendiola Peredo, Alfonso Meno Camacho, and Francisco Chaco Carbullido.
On Jan. 22, 1982, under Public Law 95-202, Congress granted the Guamanian Wake Island Defenders veteran status under the Navy. On POW-MIA Day in 1988, the surviving Wake Island defenders from Guam were officially awarded their POW medals.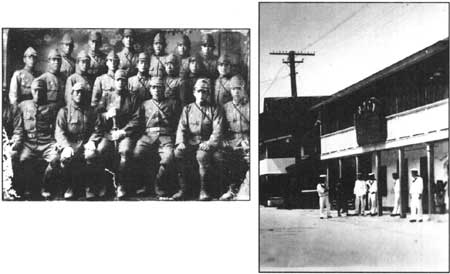 Japanese soldiers pose for a group photograph. The men were to serve in Guam as reinforcements to Japanese defenders, but while their gear and personal effects arrived on island, they did not. At the time of their scheduled deployment to Guam, the U.S. Navy effectively blockaded resupply and reinforcement of the island, stranding the garrison (left). At right, in Agana, Japanese naval militia take a break from their duties.
30 March 1942
President Roosevelt appoints MacArthur as Supreme Commander Southwest Pacific Area and Admiral Chester W. Nimitz as Commander-in-chief Pacific Ocean Area.