---

Confinement and Ethnicity:

An Overview of World War II
Japanese American Relocation Sites

by J. Burton, M. Farrell, F. Lord, and R. Lord

---

Chapter 7
Jerome Relocation Center
The Jerome Relocation Center was located in Chicot and Drew Counties, Arkansas, 18 miles south of McGehee and 120 miles southeast of Little Rock. It was one of two relocation centers in Arkansas — 27 miles north was the Rohwer Relocation Center. The relocation center was named after the town of Jerome, which was located one-half mile south. However, the official post office designation for the center was Denson.
The relocation center site is located in the Mississippi River delta region about 12 miles west of the river. At an elevation of 130 feet, the area is laced with cut-off meanders and bayous. Big and Crooked Bayous flow from north to south in the central and eastern part of the former relocation center reserve. Today the forests that once covered the area are now mostly gone, replaced by rice and soybean fields and fish farms.
The relocation center reserve encompassed 10,000 acres of tax-delinquent lands purchased through a trust agreement in the late 1930s by the Farm Security Administration (Figure 7.1). Plans had been to develop the lands by clearing trees and draining swampy areas so that they could provide subsistence for low-income farm families (Bearden 1989).
The roughly 500-acre central area of the relocation center was on the western edge of the reserve along U.S. Highway 165. Construction by A.J. Rife Construction Company of Dallas, Texas, began July 15, 1942, and the center was ready for use on October 6, 1942. The maximum population, reached in November 1942, was 8,497. Internees were from California and Hawaii. Jerome was the last of the relocation centers to open and, in June 1944, the first to close.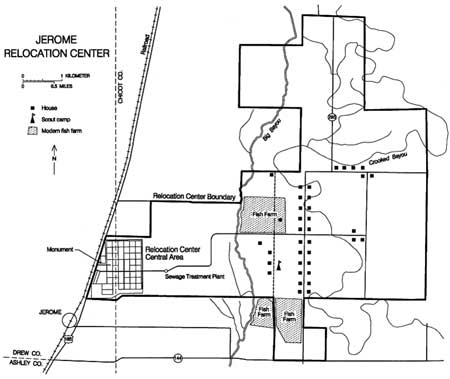 Figure 7.1. Jerome Relocation Center.
(click image for larger size (~60K) )
The closure of the Jerome Relocation Center was cited as a sign of the WRA's success in placing Japanese Americans in jobs and homes outside of the West Coast restricted zone. The overall population of the ten relocation centers declined in 1944 as over 18,000 evacuees moved out through the WRA leave process. Jerome was chosen for closure for three reasons: it was the least developed of the relocation centers, it had one of the smallest populations, and the nearby Rohwer Relocation Center could absorb most of the Jerome residents reducing the amount of transportation needed.
While across the country there were several instances of military police shooting relocation center residents, Jerome was the site of the only known shooting of evacuees by local civilians. A tenant farmer on horseback on his way home from deer hunting came across three Japanese Americans on a work detail in the woods. Thinking the Japanese Americans were trying to escape, he fired one round of buckshot, wounding two of them. Referring to the fact that a Caucasian engineer supervisor was present, the farmer explained he thought the supervisor was trying to aid the escape (Denison Tribune Communiqué 11/17/42).
Continued