---
MENU
---
---

Jerome
---
---
---

Confinement and Ethnicity:

An Overview of World War II
Japanese American Relocation Sites

by J. Burton, M. Farrell, F. Lord, and R. Lord

---

Chapter 7 (continued)
Jerome Relocation Center
The relocation center was divided into 50 blocks surrounded by a barbed wire fence (Figures 7.2 and 7.3), a patrol road, and seven watch towers (Figure 7.4). The only entrances were from the main highway on the west and on the backside (east) of the central area. Only the residential blocks were consistent in size, but all of the blocks were on a north-south grid, except for the warehouse block which was aligned with the adjacent Missouri Pacific railroad.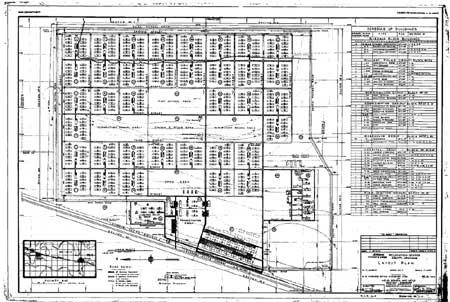 Figure 7.2. Jerome Relocation Center.
(click image for larger size (~168K) )



Figure 7.3. Panorama view of the Jerome Relocation Center from the southwest.
(Hikaru Iwasaki photograph, Bancroft Library, University of California, Berkeley)
(click image for larger size (~115K) )
There were over 610 buildings at the center. The military police compound (designated Block 26), located north of the main entrance, included 12 buildings (Figure 7.5). The administration area (Blocks 24, 25 and 37) had 18 buildings; four of these, listed on the WRA blueprints as "relocated houses," were likely used for staff housing. The warehouse area (Block 37) had 21 buildings, and the hospital (Blocks 47 and 49) had 16 buildings. Block 50, east of the hospital, had four "relocated barns." Block 48, south of the warehouses, was used for coal storage.

Figure 7.4. Jerome watch tower.
(Charles E. Mace photograph, Bancroft Library, University of California, Berkeley)

Figure 7.5. Military police compound at Jerome.
(Charles E. Mace photograph, Bancroft Library, University of California, Berkeley)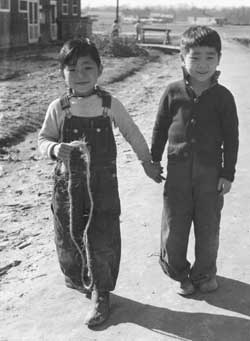 Figure 7.8. Young children at Jerome.
(Gretchen Van Tassel photograph, Bancroft Library, University of California, Berkeley

The 36 residential blocks were located east of the military police and administration areas (Figures 7.6-7.8). They lay within a rectangle six blocks east-west by eight blocks north-south. The easternmost row was noted as "wooded." Each residential block had twelve 20 foot by 120 foot barracks, a recreation building, a mess hall, and a combined bathroom and laundry building. Well houses were located in Blocks 23 and 39.

Three blocks (10, 21, 22, and 34) were set aside for a high school and elementary schools. However, it appears that no school buildings were ever built in these areas. Instead, one of more residential bocks were likely used for schools. The caption of a June 1944 photograph of a general-purpose auditorium indicates it was only recently completed (Figure 7.9). On WRA blueprints Block 22 is labeled as the "church and store area," but the buildings listed there include only a fire house, a pumping station, and a water storage tank.

The sewage treatment plant was located about one-half mile east of the residential area. A 1943 WRA blueprint shows a cemetery just inside the perimeter fence in the southwest corner of the relocation center, but reportedly the cemetery was never used.

Outside the fenced central area the evacuees cleared land for farming, dug ditches, and built bridges (Figures 7.10 and 7.11). Many of the trees cleared were put to use: between July 1943 and February 1944, Jerome produced over 280,000 board feet of lumber and over 6,000 cords of firewood (Figure 7.12).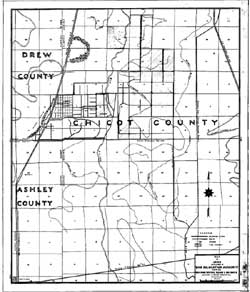 Figure 7.10. Evacuee-constructed ditches at the Jerome Relocation Center.
(click image for larger size (~76K) )


The Jerome and Rohwer relocation centers grew 85 percent of their own vegetables (Figure 7.13; Bearden 1989). In 1943, 630 acres were put under cultivation at Jerome. In 1944, 718 acres were under cultivation, 200 additional acres were cleared but not farmed, and several hundred more acres were partially cleared (Denson Tribune Communiqué 2/22/44).

Over 1,200 hogs were raised by the evacuees for consumption at the center. The hog farm location is not known, but it likely utilized an existing farm within the relocation center reserve. A map in the Denson Tribune Communiqué (3/9/43) shows 37 houses within the reserve, most east of Big Bayou along a north-south road(now State Highway 293).

Four miles east of the residential area the evacuees built a 45-acre scout campsite. Three five-room buildings near the camp site were used as a scout headquarters and field houses.

After the relocation center was closed in 1944 it was converted into a Prisoner of War camp for Germans, although the POWs were confined to the central area and did not work the surrounding fields. All of Block 1 was occupied by a German general captured at the Battle of the Bulge and his orderlies. Another block was isolated from the rest of the camp to house SS troops. Two German POWs who escaped later turned themselves in (John Ellington, personal communication, 1994).


Photo Album
Continued