---
MENU
---
---

Rohwer
---
---
---

Confinement and Ethnicity:

An Overview of World War II
Japanese American Relocation Sites

by J. Burton, M. Farrell, F. Lord, and R. Lord

---

Chapter 11
Rohwer Relocation Center
The Rohwer Relocation Center was located in Desha County, Arkansas, 11 miles north of McGehee and 110 miles southeast of Little Rock. It was one of two relocation centers in Arkansas — 27 miles south was the Jerome Relocation Center. The relocation center was named after the community of Rohwer, which was located one-half mile south.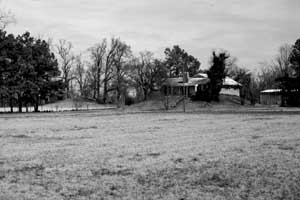 Figure 11.1. Residence south of Rohwer on top of a suspected Indian mound (another Indian mound is to the left of the house).

Five miles west of the Mississippi River and at an elevation of 140 feet, the relocation center area is intertwined with canals, bayous, creeks, and swampy areas. The forests that once covered the area are now gone, replaced with rice, soybean, and cotton fields and dispersed housing. About 1 mile south of the relocation center, on the east side of State Highway 1, there are Indian mounds, one with a residence on it (Figure 11.1).

Several sources indicate the relocation center reserve encompassed 10,161 acres, but a boundary map for the entire reserve could not be located for this report. However, the central area layout plan includes a vicinity map which may provide clues to the boundary. Twenty full sections and four partial sections around the central area are numbered on the map, whereas the other sections depicted on the map are not numbered. While the total area of these sections exceeds the reported 10,161 acre figure, the relocation center reserve was likely limited to lands within these sections (Figure 11.2).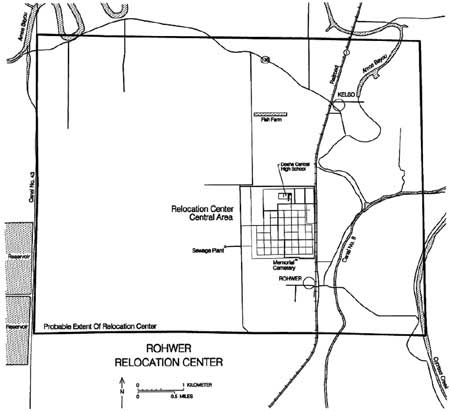 Figure 11.2. Rohwer Relocation Center.
(click image for larger size (~70K) )
According to Bearden (1989), half of the relocation center reserve remained under swampy bayou water during the spring. The reserve was mostly on public land meant for subsistence homesteads under the Farm Security Administration; the balance was purchased from local farmers.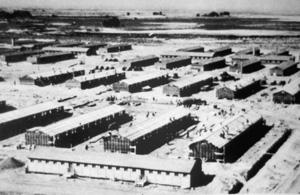 Figure 11.3. Construction underway at the Rohwer Relocation Center.
(WRA photograph, National Archives)

The roughly 500-acre central area of the relocation center was along the west side of State Highway 1 and the adjacent Missouri Pacific Railroad. Construction by the Linebarger- Senne Construction Company of Little Rock, Arkansas, began July 1, 1942, and the center was ready for use on September 18, 1942 (Figure 11.3). The maximum population, reached in November 1942, was 8,475. Evacuees were from California, who endured a three-day train ride from the assembly centers to reach Arkansas. The center closed November 30, 1945.

Rosalie Gould, the former Mayor of McGehee, grew up in the area, and recounts that the Arkansas relocation centers were located in very poverty-stricken areas, probably, she believes, at the insistence of some influential Arkansas senator. In spite of local expectations, the centers did not bring prosperity. Hence, as difficult as conditions were within the relocation center, some local residents envied the evacuees' access to regular meals and health care.

Continued