---
MENU
---
---

Add'l Facilities
---
---
---

Confinement and Ethnicity:

An Overview of World War II
Japanese American Relocation Sites

by J. Burton, M. Farrell, F. Lord, and R. Lord

---

Chapter 15 (continued)
Additional War Relocation Authority Facilities
Antelope Springs, Utah
Antelope Springs, a WRA recreation area for the evacuees at the Topaz Relocation Center (Figure 15.1), was originally the Antelope Springs CCC Camp (designated DG-29), established in the summer of 1935 at the foot of Swasey Peak. The CCC enrollees built range improvements such as roads, fences, and cattle tanks. According to Kelsey (1997) the CCC camp included 20 buildings (Figures 15.2-15.4). Along the main road were an Army office, a truck shed and motor pool, and another building. North of the road were a dispensary and first aid building, a grazing service building (office and quarters), and an Army officers' quarters. South of the road were four barracks, a recreation hall, a mess hall and commissary, two toilets, a shower building, a cement vault, a supply building, and two other buildings. The camp was closed in late 1939 or early 1940 when the enrollees and most of the buildings were moved to a CCC camp at Black Rock, Utah (Kelsey 1997). It is not known how many buildings remained at the camp after the closure. However, in 1942 two buildings were moved from the Antelope Springs camp to the Topaz Relocation Center for use as churches.


Figure 15.1. Composite photograph of Japanese American children at Antelope Springs.
(Bancroft Library, University of California, Berkeley)
Upon its conversion to a WRA recreation area Antelope Springs provided a respite from the alkali flats of the Topaz Relocation Center, 90 miles east. Youth groups from the relocation center such as boy scouts and girl scouts enjoyed camping, swimming, and hiking at Antelope Springs, which was located in a sparse pinyon and juniper forest at an elevation of 7,400 feet. Evacuees could also get passes to roam the mountains which extended up to 9669 feet at Swasey Peak (Tunnell and Chilcoat 1996).
Today the Antelope Springs site is on public land administered by the Bureau of Land Management (BLM). There is a large commercial trilobite quarry ("U Dig It") and numerous smaller fossil quarries less than 1 mile southeast on State land along the way to Antelope Springs. A dirt road from the main graded road to a working water faucet provides easy access to the site.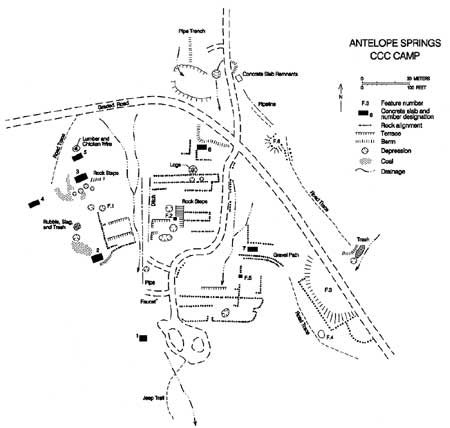 Figure 15.7. Sketch map of the Antelope Springs CCC Camp.
(click image for larger size (~80K) )
No features or artifacts specifically from the Japanese American use of the site are apparent. The location of a swimming hole at Antelope Springs in WRA photographs archived at the Bancroft Library (see Figure 15.1) could not be positively identified. However, numerous remains of the CCC camp are still present (Figure 15.5). The most obvious is a small 6-ft-high adobe-walled building used as the cement vault (Figure 15.6). There are also six other concrete slab foundations, three of which appear to have been for toilet buildings and one for a shower building (Figure 15.7 and 15.8). Concrete and rock walls at one of the toilet building foundations look like they were added after the original building was removed (Figure 15.9). Other features at the site include a small trash-filled depression (Feature 1 on Figure 15.7), two 2-ft-square concrete slabs (Features 2 and 5), a retaining wall and building pad at the former truck shed and motor pool location (Feature 3), a structure pad at a former water tank (Feature 6), and a pecked inscription on a boulder reading "july 14, 1936/jimmie gissom/ columbia, ky" (Feature 5; Figure 15.10). Other remains include concrete slab remnants at the location of the CCC-era Army officers' quarters, small holes and depressions, building pads, terraces, rock steps, rock alignments, and a gravel walkway.
Artifacts seen at the site include scattered glass fragments (including "Coke" bottle fragments and a bottle base with an Obear-Nester Glass Company hallmark [post 1915]), plain and decorated white ware ceramic fragments (one with a Limoges China Co., Sebring, Ohio, hallmark [1900-1955]), sanitary seal cans, lumber, and chicken wire (Figure 15.11). In the northwest portion of the site there are small amounts of coal, slag, and building rubble. There is a small area of early- to mid-twentieth century trash east of the site, some or all of which may relate to the historical use of the Antelope Springs camp.
Continued