Date: November 18, 2015
Contact: Investigative Services Branch, (202) 379-4761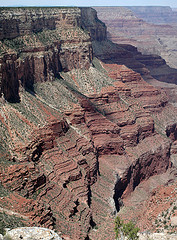 Voyeurism suspect who fled to Grand Canyon will serve four years and register as a sex offender
ISB Special Agents helped intervene in a possible suicide attempt at Grand Canyon National Park in May. The agents worked with a team of park rangers to move a man to safety from the precipitous viewpoint known as the Abyss.
Rangers were alerted by Ohio law enforcement to be on the lookout for the man after a warrant was issued for his arrest on voyeurism charges. They believed the man, Paul M. Strebler, was suicidal and on his way to the park.
Rangers quickly located Strebler along the canyon's edge. After a three-hour negotiation, the agents and rangers took him into custody and transported him to the nearby town of Flagstaff for psychiatric evaluation.
Strebler was extradited from Arizona back to Ohio in May, and was indicted in July for felony voyeurism and illegal use of a minor in nudity-oriented material. Investigators found evidence indicating Strebler used a hidden camera to film female employees in the restroom of the Ohio restaurant where he worked.
Strebler was sentenced to four years imprisonment on November 18. He pleaded guilty in September to two second-degree felonies as well as seven misdemeanor counts of voyeurism. He must also register as a Tier II sex offender for 25 years.
ISB Special Agents and other NPS law enforcement personnel regularly collaborate with officers of other agencies across the nation. They are dedicated to the support of victims and witnesses of crimes.
ISB is on the web at www.nps.gov/isb 
Home | What We Do | News | Tip Line | Jobs | Internships and Details | Contact Us