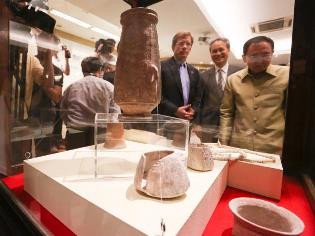 News Release Date: November 23, 2014

Contact: Investigative Services Branch, (202) 379-4761
Undercover investigation results in the return of stolen ancient artifacts to Thailand
Hundreds of ancient artifacts looted from a 5,000 year old UNESCO World Heritage archeological site were returned to Thailand in November, 2014.
The collection of artifacts were recovered during a raid on the Bowers Museum in Santa Ana, California. Their discovery and subsequent return were the result of a five-year undercover, multi-agency federal investigation led by the National Park Service's Investigative Services Branch (ISB).
The Bowers Museum reached an agreement with the US District Attorney to return the artifacts and avoid prosecution.
Two suspects were indicted on felony charges, one of whom was scheduled to go to trial in the spring of 2015.
ISB is on the web at www.nps.gov/isb 
Home | What We Do | News | Tip Line | Jobs | Internships and Details | Contact Us