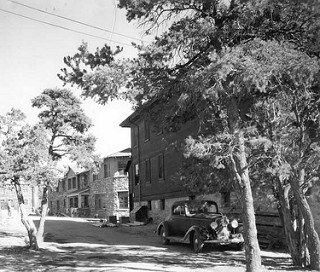 News Release Date: October 19, 2015

Contact: Investigative Services Branch, (202) 379-4761
A man who pleaded guilty to trespassing charges will serve three years of probation, pay restitution, and is banned from Grand Canyon National Park. His sentence was handed down in federal district court on October 6.
The charges stemmed from the night of May 29, 2015. Grand Canyon rangers responded to Colter Hall, a concessioner-employee dormitory, for a report of a man who had climbed up a fire escape ladder and through a window into a dorm room. Once inside the room, the man began to disrobe. When the dorm room's occupant began to scream, the man left quickly, climbing back down the fire escape and running away.
The investigation by US Park Rangers and ISB Special Agents led to the arrest of Jerel Keith Keehongva, a concessions employee and resident of the Grand Canyon Village.
Keehongva pleaded guilty to Criminal Trespass in the First Degree, a Class E Felony under Arizona Law. While he serves probation, Keehongva may not contact the victim nor enter the park.
NPS rangers and special agents are dedicated to supporting victims and witnesses of crimes, and to protecting park visitors and residents. If you see something suspicious in a national park site, stay safe and tell us about it by calling our toll-free Tip Line at 888-653-0009. Remember - if you need to report an emergency, dial 9-1-1.
ISB is on the web at www.nps.gov/isb
Home | What We Do  | News | Tip Line | Jobs | Internships and Details | Contact Us