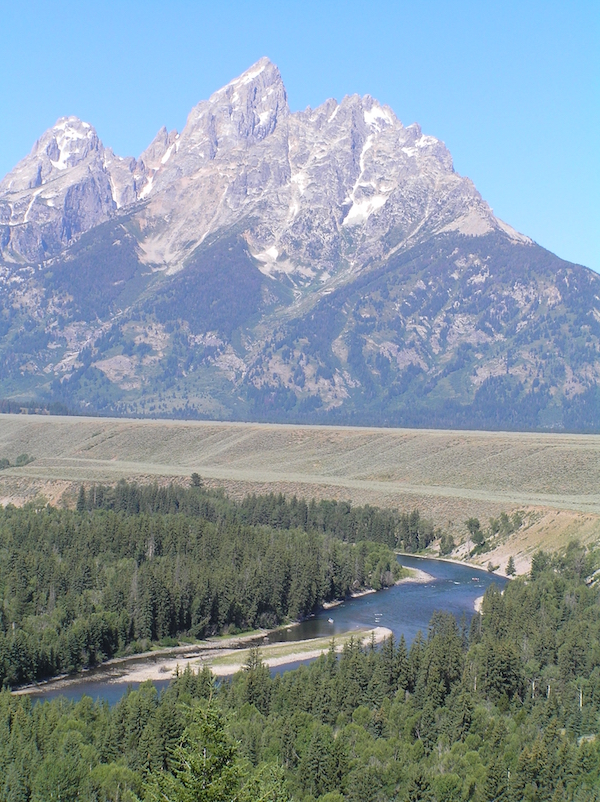 News Release Date: August 6, 2016

Contact: NPS Investigative Services Branch, (202) 379-4761
Update: Missing teen found safe in Grand Teton National Park
Searchers found missing teen Fauna Jackson inside the park at about 8 a.m. this morning, Saturday, August 6. She was uninjured and was taken to a local hospital for a welfare check. Jackson is currently in the care of Teton County Sheriff's Office.
Teton Interagency Dispatch Center received a report of a possible sighting of Jackson Friday evening. Additional possible sightings of her and follow-up activities by park law enforcement rangers and officers with Teton County Sheriff's Saturday morning successfully located Jackson. She was found near the Snake River Overlook, approximately 3-4 miles from the point she was last seen. An early morning flight by the Wyoming Civil Air Patrol contributed to finding Jackson.
Jackson changed her appearance by cutting and dying her hair, was wearing different clothes than when last seen, and when approached by law enforcement officials she fled. ISB Special Agents will continue the investigation into the details of the incident.
Grand Teton National Park Superintendent David Vela said, "We are relieved and very grateful that Fauna has been found." Vela commends all the individuals that contributed their time and talent in the great effort to find Jackson and the investigative work of the incident. Vela said, "Our deepest appreciation goes to our partners that assisted, including Teton County Sheriff's Office, Teton County Search and Rescue, Teton County Emergency Management, Bridger-Teton National Forest, Federal Bureau of Investigation, volunteers, and the amazing park staff.
Vela also thanks Grand Teton Association and Teton County Search and Rescue Foundation for supplying food and drink for incident personnel.
Previous news release - August 5:
Update: Missing person investigation and search continues for 16-year-old in Grand Teton National Park
ISB Special Agents and US Park Rangers of Grand Teton National Park ask your help in finding a missing 16-year-old girl.
Fauna Jackson was last seen on Thursday, August 4 at about 8:45 a.m. on the east side of US Hwy 89 southwest of Triangle-X Ranch inside the park. She is a member of a Groundwork USA team working on a service project in the park. According to statements made by her coworkers, Jackson did not return from a short bathroom break.
Jackson is 5'06" tall, weighs 120 pounds, has blonde hair and brown eyes. She was last seen wearing a white hat, tan pants, and a long-sleeve green shirt that says "Find Your Park" and "Groundwork USA." She may also have a purple backpack.
US Park Rangers immediately searched the area and the park activated ground search crews, aerial reconnaissance by an interagency helicopter, dog search teams, and vehicle and engine road patrols. Missing person posters have been distributed throughout the area. The Wyoming Civil Air Patrol assisted with aerial patrols on Thursday night, and additional search crews arrived Friday morning to assist with ground and vehicle searches.
Search crews found a hiking boot in the search area, and it has been confirmed the boot belongs to Jackson. It is not believed she was wearing the boot at the time she went missing. Investigators will continue to evaluate additional clues gathered during the search efforts, and information provided by the public via the incident phone number. Any and all scenarios are being considered and investigated.
After two days of extensive search activities and investigative work, Saturday's search activities will be focused on lands managed by the Bridger-Teton National Forest. This search area will include the Shadow Mountain area and terrain along the Toppings Lake Road. Areas of the park will continue to be included with the search activities. The search operations will include ground crews, aerial flights, mounted and ATV patrols, and assistance from Wyoming Civil Air Patrol.
More than 115 people with Grand Teton National Park, the Bridger-Teton National Forest, Teton County Search and Rescue, and Teton County Sheriff's Office are involved in search management and activities. On Saturday the incident will be jointly managed by Grand Teton National Park and Teton County Search and Rescue, an organization of Teton County Sheriff's Office. Teton County has primary search and rescue responsibilities for lands managed by the Bridger-Teton National Forest in Teton County.
If you've seen Jackson or have any information about her, please contact us! You don't have to tell us who you are, but please tell us what you know:
Call Grand Teton National Park at 307-739-3517 or the ISB Tip Line

at

888-653-0009
Send us a Message on Facebook
ISB: the Investigative Services Branch of the National Park Service