Date: October 16, 2015
Contact: Investigative Services Branch, (202) 379-4761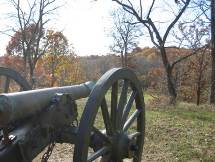 An ISB Special Agent helps honor a fallen Civil War soldier
The remains of an unidentified Civil War soldier that were illegally removed from Wilson's Creek National Battlefield in 2011 were reinterred in Springfield National Cemetery in October.
The soldier's remains were discovered in an area protected as part of the battlefield when two men went canoeing along Wilson's Creek to look for archeological artifacts. Recent heavy rains eroded parts of the riverbank, revealing what turned out to be a human bone.
In violation of the Archeological Resources Protection Act (ARPA), the men removed several bones - damaging them and the embankment in the process - and took them home.
The ensuing investigation led by an ISB Special Agent identified Coy Matthew Hamilton of Springfield, MO as responsible for the crime. Due to the illegal excavation and removal, the NPS conducted an emergency restoration and repair of the site. NPS archeologists recovered additional remains and clothing items found with the unidentified soldier.
Hamilton could have faced up to two years imprisonment and $20,000 in fines. However, the US Attorney's Office consulted with the NPS and, based upon the investigation, opted for a pretrial diversion program. Hamilton accepted responsibility for his actions, completed 20 hours of community service, and paid $4,623 for the restoration and repair of the archeological site.
The US Department of Veterans Affairs (VA) and the NPS conducted a committal service of the unidentified Civil War soldier's remains in October at the Springfield National Cemetery. The service began at the cemetery rostrum and continued to Grave No. 286, Section 1 South. The gravesite was marked with a headstone that indicates the soldier's identity is unknown. Attendees included veterans, Civil War re-enactors, members of the general public, and local, state, and federal partners. The service featured remarks by officials from the cemetery and Wilson's Creek National Battlefield, and included funeral honors.
ISB is on the web at www.nps.gov/isb 
Home | What We Do | News | Tip Line | Jobs | Internships and Details | Contact Us