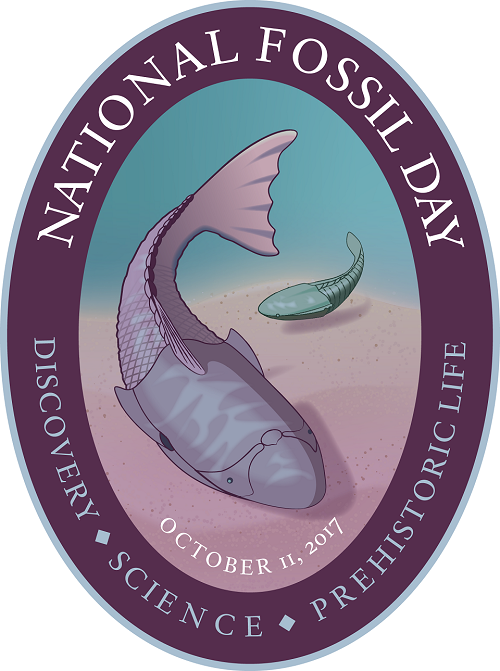 News Release Date: October 4, 2017

Contact: Victoria Stauffenberg, 202-208-6843
WASHINGTON - Step into the shoes of paleontologists on October 11 for National Fossil Day to discover how these scientists piece together the ancient past. The National Park Service and partner organizations throughout the country will celebrate with events and programs that promote public awareness and stewardship of fossils.

"From remote badlands to people's backyards, it's truly amazing where one can find fossils," said Acting Director Michael T. Reynolds. "National Fossil Day showcases partnerships with museums, educational institutions, and communities who work together to preserve these pieces of the past for future generations.."

National Fossil Day was started in 2010 by the National Park Service and the American Geological Institute. This year, more than 300 partners, including museums, federal and state agencies, fossil sites, science and education organizations, avocational groups, and national parks including Glen Canyon National Recreation Area, Cuyahoga Valley National Park. and Petrified Forest National Park will sponsor special events. Find an event at a park or museum near you. Here are a few other ways to join in the fun:

Art Contest: Show off your artistic skills and creativity in the annual National Fossil Day Art Contest, which has the theme "The Future of Fossils: People Studying and Caring for Our Fossil Heritage" for 2017. Artists of all ages and skill levels are encouraged to submit an entry before the October 5 deadline. Winning art will be displayed online starting October 11.

National Fossil Day Celebration on the National Mall: People of all ages and school groups are invited to join paleontologists from National Fossil Day partners, including the National Park Service, Smithsonian Institution, American Geosciences Institute, and Maryland Dinosaur Park, for a special marquee event in the nation's capital. Explore prehistoric life in the Smithsonian's National Museum of Natural History's "The Last American Dinosaurs" exhibit and Q?rius lab, sift for fossils with paleontologists, travel through time in an interactive photo booth, and more. The event takes place on the National Mall between 9th and 12th Streets from 10 a.m. to 2 p.m.

Earth Science Week: National Fossil Day is an official focus day of Earth Science Week! Educators can schedule a field trip at a park or museum or download lesson plans. National parks that have in-park fossil field trip opportunities or in-class projects include Grand Canyon National Park, Curecanti National Recreational Area, and Cumberland Island National Seashore.

Junior Paleontologist Program: Earn a Junior Paleontologist badge by downloading a book and completing fun fossil activities. Books are also available at many National Park Service sites that have fossil resources.

Share your experience: Inspire others to learn more about fossils by posting your National Fossil Day experience on social media using "#NationalFossilDay". Share something you learned, a picture of your favorite fossil or fossil site, or your meeting with a paleontologist.

About the image: A new prehistoric creature is chosen for the logo each year to represent the diverse fossil record over time. The 2017 artwork depicts a primitive group of fish known as heterostracans, or "different shields." Learn more about the 2017 logo.
About the National Park Service. More than 20,000 National Park Service employees care for America's 417 national parks and work with communities across the nation to help preserve local history and create close-to-home recreational opportunities. Visit us at 
http://www.nps.gov
, on Facebook 
www.facebook.com/nationalparkservice
, Twitter 
www.twitter.com/natlparkservice
, and YouTube
www.youtube.com/nationalparkservice
.