Visiting the Hoh Rain Forest


Overview
Throughout the winter season, rain falls frequently in the Hoh Rain Forest, contributing to the yearly average of 140 inches (3.55 meters) of precipitation each year. The result is a lush, green canopy of both coniferous and deciduous species. Mosses and ferns that blanket the surfaces add another dimension to the enchantment of the rainforest.
The Hoh Rain Forest is located in the stretch of the Pacific Northwest rainforest which once spanned the Pacific coast from southeastern Alaska to the central coast of California. The Hoh is one of the finest remaining examples of temperate rainforest in the United States and is one of the park's most popular destinations.
The Hoh lies on the west side of Olympic National Park, about a two-hour drive from Port Angeles and under an hour from Forks. The Hoh Rain Forest is accessed by the Upper Hoh Road, off of Highway 101 (directions).
A general map and information regarding facilities, picnic areas, camping, and regulations can be found on the park's Hoh Rain Forest brochure.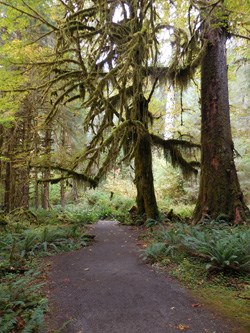 Places to Stay
The Hoh Rain Forest has a campground that is open year round, with 88 sites located in the old growth forest along the river.
There are also places to stay just outside the park boundary, and in the town of Forks, less than a one-hour drive by car.
Information about lodging can be found through the Forks Chamber of Commerce website.
Recreation
The Hoh Rain Forest Visitor Center, located at the end of the Upper Hoh Road, is a great place to start. The staff there can give you ideas for your visit and exhibits will help explain what makes this area so special. The visitor center is open daily during the summer, closed January through early March, and generally open Friday through Sunday during the spring and fall seasons (hours may vary according to season).
Two short nature trails loop through the forest near the Visitor Center -- the Hall of Mosses Trail (.8 miles/ 1.2 km), and the Spruce Nature Trail (1.2 miles/ 1.9 km).
The Hoh's major hiking trail is the Hoh River trail, which leads 17.3 miles (27.8 km) to Glacier Meadows, on the shoulder of Mount Olympus. The Hoh Lake trail branches off from the Hoh River trail just after the ranger station and ascends to Bogachiel Peak between the Hoh and the Sol Duc Valley.

Pets are not allowed on trails in the Hoh Rain Forest. Visit our Pets page for more information on where you can take your pet in the park.
Nearby Areas
Several coastal areas within Olympic National Park, as well as the town of Forks, can be reached in less than one hour by car from the Hoh. Before you come, make sure to visit the Getting Around page for mileages to different park destinations.
Visit the Hoh Rainforest Photo Gallery on Flickr
Last updated: November 10, 2019