Directions and Transportation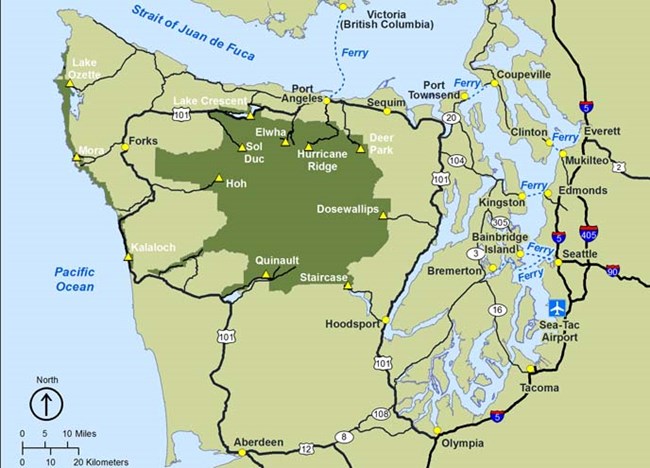 How will you get here? Whether you are flying, driving, taking a bus or a ferry, the information on this page will help guide your way.
As you plan your trip, keep in mind that Olympic National Park is very big! Planning to explore the mountains of Hurricane Ridge or the waterfalls of Sol Duc? You may want to make your home base in Port Angeles, Washington, or near Lake Crescent. Want to stroll through the lush Hoh Rain Forest or tidepool along the coast? Consider a home base in the Forks, Washington, area. Want to get closer to nature? Explore our
campgrounds
! Don't feel like roughing it? There are also
several lodging options
within the park.
Once you've decided how you'll get here and where you'll stay, use our Getting Around page linked below to see transportation times between the places you'd like to visit. Plan ahead to make the most of your time in this breathtaking national park! And be sure to check road conditions before you go - especially if you're planning your visit in fall or winter!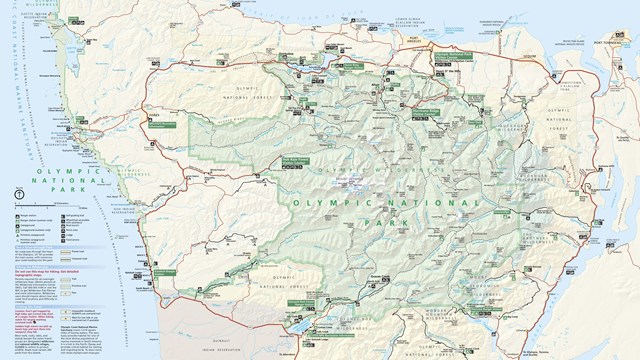 Maps
Maps to help you find your way and plan your trip to Olympic.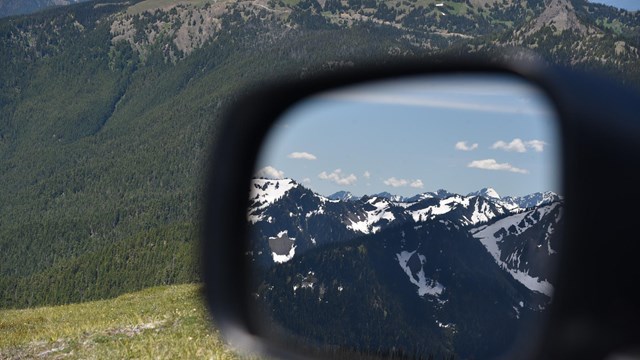 Getting Around
Find information about distances between locations in the park and how to travel around Olympic National Park.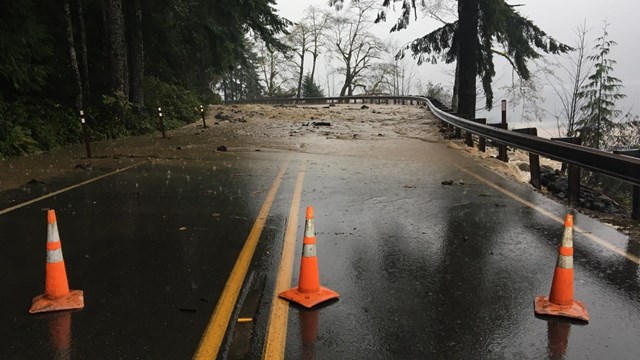 Current Road Conditions
Find information about current road conditions.
Directions
Click on a link below to open the location in Google Maps and get directions to the site.

Traveling by Car
You can reach Olympic National Park via the I-5 corridor or by any one of the quieter state roadways. Once you arrive on the Olympic Peninsula connect to Hwy 101 to reach any destinations in and around Olympic National Park.
From Olympia Take I-5 to Hwy 101
From Tacoma Take State Route 16 to Bremerton; take State Route 3 north from Bremerton to State Route 104; be aware that State Route 104 crosses the Hood Canal Bridge Which Closes periodically for boat traffic.
From Washington/Oregon Coast connect to Hwy 101 in Aberdeen.

Traveling by Ferry
The Washington State Ferries system has a number of routes which access the Olympic Peninsula via Puget Sound. There are several port destinations that will get you across the sound and onto the peninsula and on your way to Olympic National Park.

Arriving Port Townsend access Hwy 101 from State Route 20.
Arriving Kingston access Hwy 101 from State Route 104.
Arriving Bainbridge Island access Hwy 101 from State Routes 305, 7 and 104. Be aware that State Route 104 crosses the Hood Canal Bridge which closes periodically for boat traffic.

Victoria, BC can be reached via the Coho Ferry, operated by Black Ball Ferry Line. This ferry provides a scenic voyage daily between Port Angeles and Victoria, BC with wonderful views of the Olympic Mountains.

Traveling by Bus
Dungeness Bus Line, operated by Olympic Bus Lines is a commercial bus line serving the Greater Puget Sound area. The Dungeness Bus line provides service from Seattle-Tacoma International Airport to Kingston, Edmonds, Discovery Bay, Sequim and Port Angeles.

Clallam Transit System runs a bus line in and around Clallam County servicing Port Angeles, Sequim and Forks as well as popular Olympic National Park destinations along the northern section of Hwy 101.

Traveling by Air
The Greater Puget Sound area is served by Sea-Tac International Airport and Victoria International Airport


Last updated: September 3, 2022