Visiting the Sol Duc Valley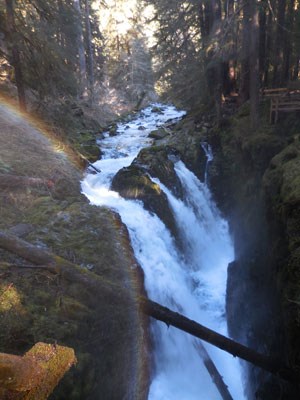 Old-growth forest, subalpine lakes, and snowy peaks populate the Sol Duc landscape, while the Sol Duc River serves as a key highway for coho salmon, running through the valley and ascending to the lakes and headwaters in the surrounding mountains.
The Sol Duc Valley is located in the northwest region of the park. Just 40 minutes west of Port Angeles, the Sol Duc is accessed by turning off Highway 101 onto the Sol Duc Road (directions). Always check the road conditions or call the recorded Road & Weather line for updates at 360-565-3131.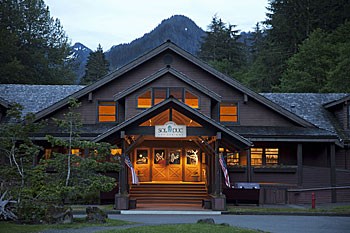 Places to Stay
The concession-operated Sol Duc Hot Springs Resort includes the Sol Duc campground with 82 sites in old-growth forest, right along the river. Reservations can be made online at recreation.gov.
The resort also provides lodging and an RV campground; reservations are advised. The Resort is generally open late March through the last weekend in October. Lodging is also available in nearby Port Angeles or Forks.
Recreation
For those looking to spend anywhere from a few hours to an entire day in the Sol Duc, there are a number of shorter hikes that may be suitable. From the parking lot, the walk through old-growth forest to the Sol Duc Falls overlook is just a mile. Lover's Lane (6 mile loop) and the climb to Mink Lake (5.2 miles roundtrip) can also be done in just a few hours.
The Sol Duc Valley has a number of longer hiking trails which explore both the valleys and the mountains. The High Divide Loop that passes through Seven Lakes Basin is a popular 2-3 day hike. The views of Mount Olympus are astounding on a clear day.
The Sol Duc Hot Springs Resort has a variety of activities, including mineral pool bathing, massage, and dining.
The Salmon Cascades overlook is another popular destination during late October/early November. About 5 miles down the Sol Duc Road, visitors come to watch the determined coho salmon leap over the falls on their way to spawn upstream in the Sol Duc River.
Make sure to check the park's fishing regulations!
Nearby Areas
Just 20 miles north of the Sol Duc Valley is Lake Crescent. Both Heart O' the Hills and the Elwha Valley can be reached in about an hour. Make sure to check out the Getting Around page for mileages to other park destinations.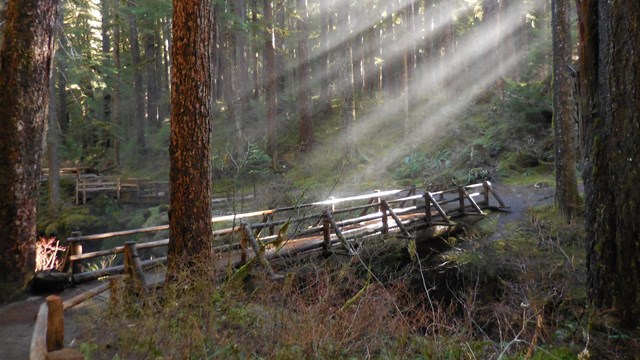 Learn more about the Sol Duc Valley
See a general map and find more information regarding facilities, camping, picnic areas, and regulations.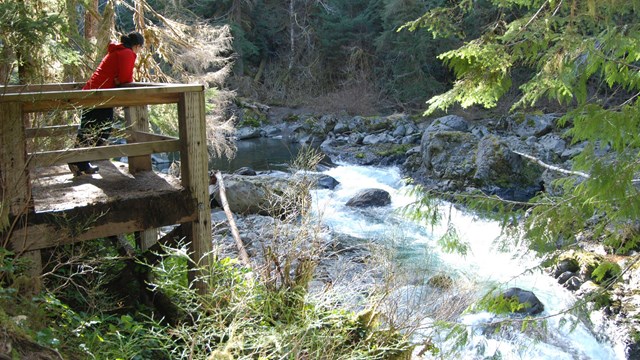 Watch for salmon
In the fall and spring, watch for salmon leaping upstream at the Sol Duc Valley's Salmon Cascades viewing platform!
Last updated: November 8, 2022