Plan for Your Safety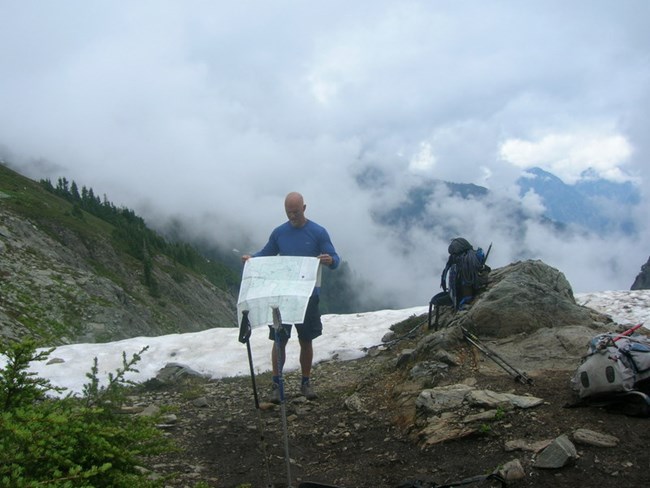 Plan for Changes in Weather
Although the North Cascades frequently enjoy a summer drought with warm dry conditions, cool rainy weather is a possibility year round, and higher elevations are colder. Snow is possible in any month, especially at the higher elevations and early or late season. Check the forecast before leaving home, but remember that the weather in the North Cascades can change quickly. Even in the summer, warm layers and good rain gear are a necessity, and a hat and gloves are often welcome. Dress in layers so you can regulate your body temperature by adding or removing insulation. Avoid cotton clothing—it is cold and does not insulate well when wet. Instead, bring wool, fleece or other synthetics, which perform much better in wet or cool conditions.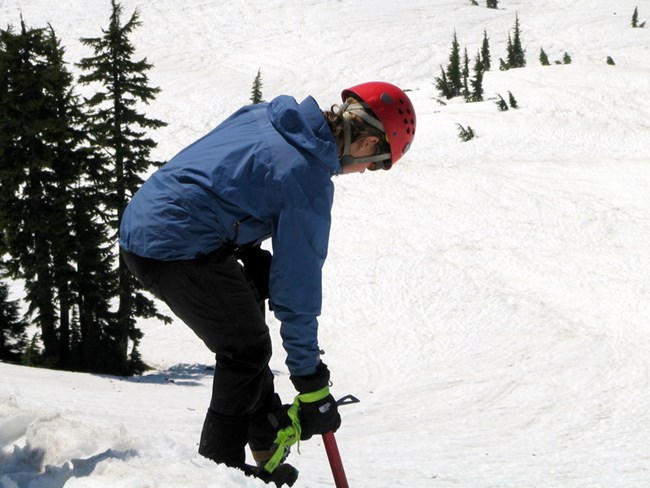 Safety in the Subalpine Environment
With a few notable exceptions, most trails typically follow valley bottoms to high passes, as the terrain is usually too steep to follow high ridges. Trails over alpine passes tend to be quite steep, so plan your daily mileage estimates with this in mind. If you are looking for alpine views, remember to factor in potential snow cover in the highcountry as late as July or even August. Travel over steep snow requires sturdy boots, an ice axe and knowledge of how to self-arrest on steep slopes. There are no trail markers or blazes, so snow cover can make route-finding a challenge. If you are not prepared and knowledgeable about traveling over steep snow, ask a ranger for alternative ideas for your hike.
Stream Crossings
Most major stream crossings are bridged, but not all. High water or bridge damage can also mean encountering unexpected or difficult stream crossings. Scout for the best crossing. Look for wider, shallower areas with safe downstream conditions. Cross in the morning before snowmelt swells the water level. Unbuckle your pack straps, wear secure footwear, and angle your travel across the current. Never tie yourself in while you cross. Never attempt an unsafe crossing—if in doubt, turn back or wait for help.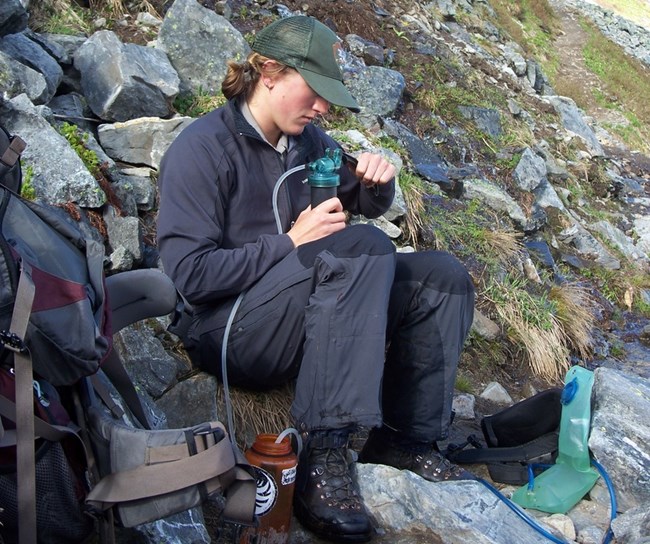 Treat Drinking Water
Giardia lamblia and other water-borne contaminants are a possibility. To protect yourself, purify your drinking water by using a water filter, purifying tablets, or boiling fully.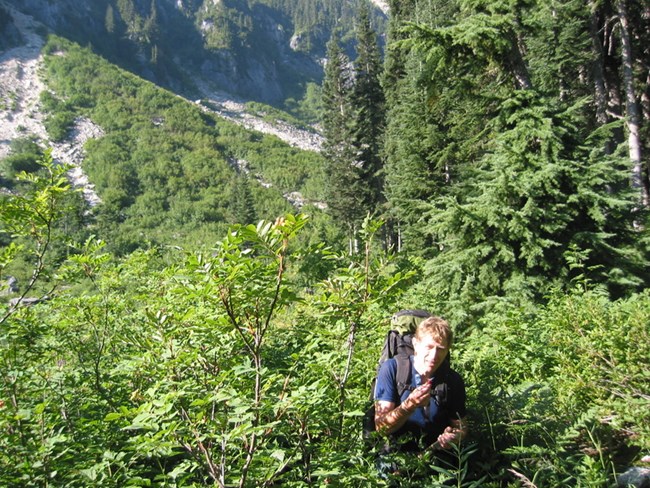 Cross-country Travel
Leaving the trail can be an exhilarating and very wild experience. If you have not traveled cross-country in the Cascades, however, ask an experienced ranger for advice on your intended route. Most cross-country travel is undertaken by mountaineers with climbing objectives. Some routes or lakes might look "easy" or close on the map, but thick brush and very steep terrain can quickly turn an off-trail adventure into an unintended epic, with hours required to travel even very short distances. Cross-country "shortcuts" can be very time consuming or even dangerous. Plan a realistic trip.
Mountaineering Safety
The numerous peaks and glaciers of the North Cascades present a variety of challenges and rewards for the mountaineer: classic mixed mountaineering routes, glacier travel, technical rock climbing, and scrambling, all within a premier wilderness setting. If you are new to the sport, join a club or take a class to learn more about the challenges, risks, and rewards of this activity, including proper instruction on the equipment and skills you need to stay safe. The Wilderness Information Center has climbing rangers on hand to assist you in planning your climb, and this and other stations maintain a voluntary climbing register that climbers may use as an added layer of protection in the event of an emergency. Climbers completing the register agree to sign in upon their return, so as to avoid an unnecessary or expensive search.
If you are planning a climb in the North Cascades, check out the climbing pages for more information.
In Case of Emergency
Leave an itinerary with someone at home, including: trip route, location of your vehicle, and when you plan to return. This information can be critical in initiating a search or rescue. If you get lost, the best thing you can do is stay put and wait. Keep yourself as comfortable as possible, and make yourself noticeable using a whistle, bright clothing, or a signal mirror. If injured, treat the injury using your first aid supplies, make the person as warm and dry as possible, and send for help. Keep in mind that a rescue effort could take hours or days, depending on the weather and terrain.
Cell Phones?
If you bring a cell phone for emergencies, be aware that tree cover and steep mountain walls block most coverage. Some climbers at high elevations have used cell phones to successfully report an emergency, but never rely on a cell as your sole emergency evacuation plan. If calling via cell, state your name and phone number up front, in case the connection is lost. Cell calls from wilderness areas often reach dispatch centers far from your location, sometimes in Canada, and it may take hours for the logical responding agency to receive the information. Ask a ranger for the best phone number to call for emergencies in the park.
For search and rescue and emergency operations as it relates to climbers, check out the Climb Safely page.
Backcountry Trip Essentials
The following items are useful or necessary for safe and comfortable backcountry travel in the North Cascades.
Navigation tools (map and compass)
Sun protection for skin and eyes (especially for snow travel)
Protection from weather (extra clothing layers, good raingear, hat and gloves)
Shelter from weather or insects (tent, bivy)
Sleeping bag and pad
Sturdy boots
Headlamp with extra batteries
Lightweight campstove and adequate fuel
Adequate low-odor food, plus extra for emergencies
Bear canister or 50 feet (15 m) of cord + weatherproof food bag
Water treatment (portable filter, treatment tablets, or fuel to boil water)
First aid kit
Emergency signaling device (whistle or mirror) + fire starter
Repair kit (duct tape, pocket knife, etc.)
Depending on the type of trip you are planning, you may also need or want:
Ice axe (essential for steep snow crossing)
Blue bags / human waste pack out system (snow or glacier camping)
Trowel for human waste disposal (where no toilets are provided)
Camp / water shoes (for comfortable camp wear or stream crossing)
Insect protection (long-sleeve clothes, headnet, bug repellent)
Collapsible water jug (to minimize trips to a water source)
GPS and/or altimeter
Last updated: October 27, 2022