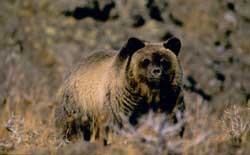 North Cascades National Park, Lake Chelan National Recreation Area, and Ross Lake National Recreation Area encompass some of the wildest areas in the contiguous United States. The rugged mountains provide wonderful habitat for black and grizzly bears.
Bears add an intimidating and exciting element to the North Cascades experience. They are animals to respect, but not fear. The steps necessary to travel safely in bear country begin before you arrive. Learning about bears before your visit can help you have a safer and more enjoyable experience. Your help and cooperation is necessary to protect the North Cascades experience, the bears, and everyone's safety at this amazing place.

Black bears and grizzly bears have many things in common. They are intelligent, curious, and individualistic. They begin to hibernate in the fall and emerge from their dens in the spring. During hibernation, bears do not eat, drink, defecate, or urinate and may lose one quarter to one third of their body weight. To survive hibernation, bears must eat a year's worth of food in six months or less and their diet is extremely varied. Each species can climb trees, although black bears are much more agile climbers compared to grizzlies. They have good eyesight and an excellent sense of smell. They are powerful, fast, and protective of their cubs.
These characteristics allow bears to make a living in numerous habitats. Bears use every habitat in the park. They are even occasionally seen on glaciers and barren mountain peaks. You could encounter a bear even on a short hike. Bears are individuals, each behaving differently in different circumstances. There are no precise rules about what to do if you encounter a bear, but there are steps you can take to reduce the risk of a stressful bear encounter.