Climb Safely
Search and Rescue
North Cascades National Park and the local County Sheriff's Office are responsible for rescues in the North Cascades National Park Service Complex. Volunteer Mountain Rescue units also work with the agencies.
If a member of your party is injured, good information from the reporting party is critical in evaluating the situation. Be prepared to tell rescuers:
Location of the injured party
Extent of injuries (as much information as possible)
When the accident occurred
How the party was injured
Terrain at the site where the injured party is currently located
Cell phones
If you are calling from a cell phone, first state your name, phone number, location and if you are requesting an emergency response. State this information first, so that if the connection is lost park dispatchers can call you back. Only a few years ago, the benefits and drawbacks of taking a cell phone into Wilderness were hotly debated. Current thought is this: While cell service is far from completely reliable in such remote and rugged terrain, cell reception is possible in many locations, particularly from higher elevations. Thus, a cell phone call may be the best and quickest method of activating a response in an emergency in the mountains. Never forget, however, that many locations do not get cell service, and you may still need to get yourself to a location with reception. Never rely on a cell phone as your sole emergency evacuation plan.
Emergency Numbers
Skagit County Sheriff's Office dispatch 360-336-9450
Whatcom County Sheriff's Office dispatch 360-384-5390
You can also call 911 and the appropriate agency will be contacted. Calling 911 will always trigger a response, but cell calls from wilderness areas often reach dispatch centers far from your location, and hours may pass before the logical responding agency receives the information.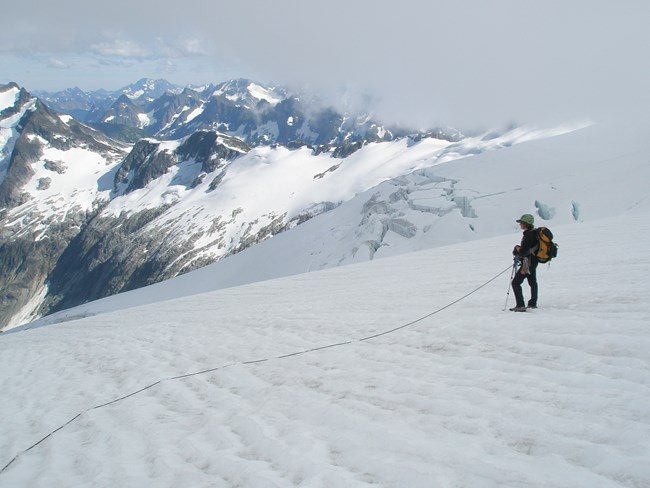 Weather
Weather can be volatile in the North Cascades, and experience has shown that even forecasters can frequently be wrong. The extreme elevational gradients and the lay of mountain ranges can cause unforeseen micro-weather patterns, for better or for worse. Nevertheless, checking the "expert guess" official forecast is always wise, and weather patterns can be stable for weeks, especially in summer months, allowing for a safe and visually stunning climb. But it is wiser still to plan for weather extremes, and always keep an eye on the sky for systems moving in quickly.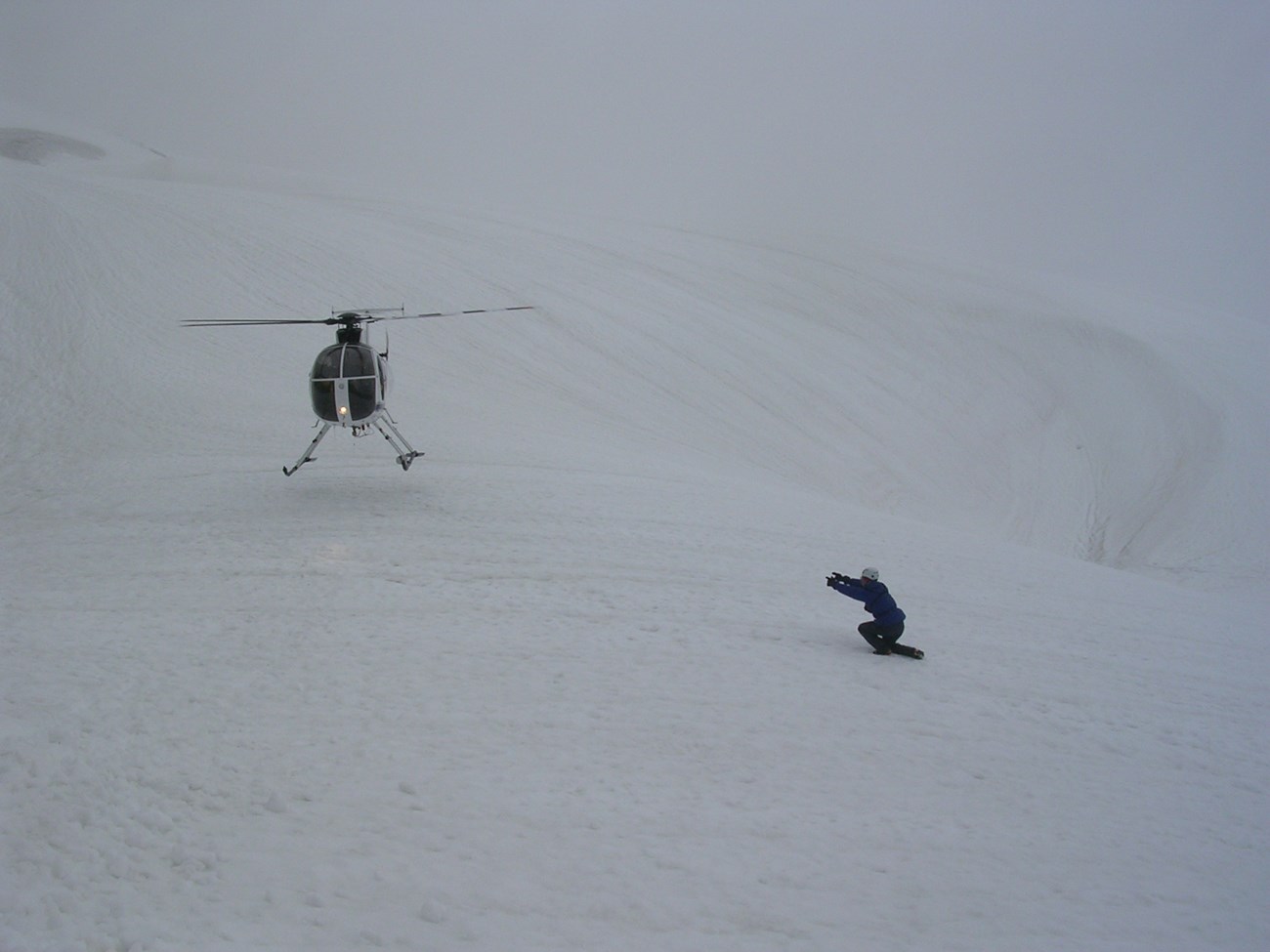 Climbing is Dangerous - Understand the Risks!
Climbing and off-trail hiking can involve traveling on steep snow, ice and rocks, and other hazards. Proper equipment--as well as the training required for its safe and appropriate use--is essential.
Traveling on Steep Snow and Ice
Although the hazards associated with rock climbing are well recognized, more climbers have been injured or killed in accidents involving snow and ice. An ice axe, crampons, ropes and pickets are the basic tools climbers use to protect themselves and their climbing partners from uncontrolled slides and falls while ascending, descending or traversing steep snow slopes. Crevasses must also be taken into account when traveling on glaciers. Snow conditions can change rapidly from day to day and even throughout the day. Hard, crusty snow in the morning can turn into soft mush by mid-day, and then become icy again as the sun goes down. On many routes one can easily kick steps in early- or mid-season, but by August those same routes may melt out, exposing hard blue ice. For descriptions of conditions on some of the more popular routes in the park complex please check the "Current Conditions" blog.
Rockfall Hazard and Ways to Mitigate the Risks
The North Cascades are notorious for their varied geology. Within one cirque, such as Boston Basin, a climber will encounter solid granitic rocks on Forbidden Peak or fractured and loose rocks on Boston Peak. No matter where one climbs one should always be concerned with rock and/or ice fall. Standard safety protocols, established over many years of hard and sometimes tragic lessons, should always be followed.
Scout in advance your ascent and descent route with a critical eye to potential rockfall hazards. Mentally project and ask yourself, "What potential rockfall exists at this location?"
Be aware of anyone climbing or rappelling above you and be particularly concerned if you are in a gully or in a place where your escape routes are limited.
Test each hold by carefully tapping on it with the palm of your hand. If it moves, vibrates or sounds hollow be suspicious and either avoid it or proceed with great caution. If climbing chossy rock, move gently and delicately. This is the time you want to pay great attention to your foot work!
If you trigger rocks or ice to fall, shout "ROCK! ROCK! ROCK!" to warn anyone below you.
If rock should fall from above you, don't look up. Protect your spine with your hand cupped to the back of your neck. Minimize your profile – hug the cliff or use available natural protection for cover and safety.
Avoid routes with high rockfall potential when possible. This often requires planning ahead, including being prepared with a backup plan. As an example, a very popular route on Mt Shuksan is the central gully of the summit pyramid. This route is also known for its high rockfall hazard. When there is a party climbing the central gully another option is to take the southeast ridge route. Although a little more technically challenging, the southeast ridge is less prone to rockfall hazards. In order to tackle this route, the climbing party needs to be prepared in advance by bringing additional rock climbing gear and have the skills for the technical challenges.
Using Technology Appropriately
Climbing is a high risk activity and at times, no matter how careful one might be, accidents can happen. Your party's level of fitness and preparation, and your ability to be self-sufficient until help arrives can have critical implications for how well the incident turns out. Cell phones, satellite phones and Personal Locator Beacons (PLB) are all in common usage these days, and can be a useful tool in an emergency, but they should not be solely relied upon. Each device has its own advantages and limitations. Cell phone coverage in the North Cascades is limited or nonexistent. Satellite phone coverage is also rather spotty. However, both of these devices have been used with success from remote areas, particularly at high elevations. In an emergency, if you have it, try it! Personal Locator Beacons, which are gaining in popularity, are experiencing rapid technological advancement and are becoming more affordable, compact, and lightweight. Some have the capability to send and receive text messages. Research your options and find a device and/or subscription plan that fits your needs and budget. Keep in mind that a device that provides two-way communication is the most efficient and effective means of getting timely help should you need it. And always be prepared for the possibility that a rescue response may take hours or days, depending on weather and terrain. If rescue were delayed, would you have the equipment and gear to survive until help arrives?
However, simply buying the latest and best technology and equipment is no substitute for proper training, knowledge, and experience! If you are new to mountaineering, always go out with a trusted and experienced friend, or utilize one of the many local hiking and climbing clubs, or a professional guide service. All of these organizations can get you started on the right track to having a long, safe—and fun!—climbing career in the North Cascades. Happy climbing!
Last updated: March 3, 2023