Boat-In Camping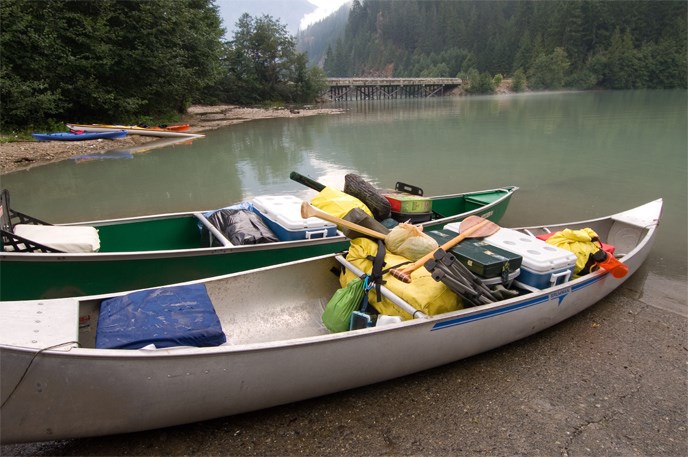 Seclusion, scenery, and still water. Twenty-five boat-in camps dot the backcountry shorelines of North Cascades National Park Complex. On Lake Chelan, explore the shoreline of a water pathway used by human travelers for thousands of years. In the Skagit Valley along State Route 20, visit the hidden coves, islands, and bays of Diablo and and Ross Lakes, both reservoirs created by the dams on the Skagit Hydroelectric Project. Whether you spend a night or a week, boat-in camping within the park complex is a unique experience.

Camping options for each lake are listed below. Also visit the backcountry permits and Wilderness Trip Planner page, or call a ranger station to help you plan your visit.
Lake Chelan Boat-In Camps
These sites are accessed from the
Stehekin
region. Lake Chelan can experience strong winds and cold water: be prepared. All sites are first-come, first-serve. No reservations are available. A
federal dock permit
is required May 1 to October 31 at these camps for motorboats.
Lake levels are lowest from December to May and camps may not be accessible by boat when lake levels
are below 1,096 feet
. All camps have vault toilets and bear-proof food-storage lockers. Water should be drawn from the lake and filtered or boiled before drinking.
Weaver Point
Weaver Point is across from Stehekin Landing by boat. It is also accessible by the 3.5 mile Stehekin River Trail, connecting mid-Stehekin Valley with Weaver Point. There are 16 sites with picnic tables. No backcountry permit is required. Please Note: Due to low lake levels in the winter and spring, the dock is removed each fall and is re-installed early each summer once lake levels reach 1,096 feet. If visiting in late spring or early summer, call the Golden West Visitor Center at 509-699-2080 ex 14 to check on current conditions. Lake levels can also be checked with
Chelan County PUD
.
Flick Creek
Flick Creek Camp is located 3.5 miles from Stehekin Landing along the northeast shore of Lake Chelan. There are 2 sites, including a large shelter. Flick Creek is also along the Lakeshore Trail. Hikers may also camp overnight at Flick Creek. No backcountry permit is required.
Manly Wham
Manly Wham is located approximately 3 miles from Stehekin Landing and has one site. The camp is located on the southwest shore of Lake Chelan near Bridal Veil Falls. No trails connect to Manly Wham. No backcountry permit is required.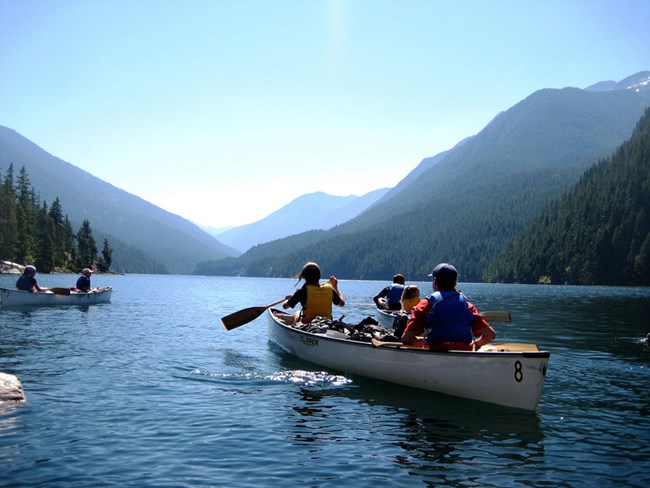 Ross Lake Boat-In Camps
Refer to
Boating on Ross Lake
for information on access, special regulations and tips for the backcountry. Ross Lake can be very windy - be prepared. All boat-in camps on Ross Lake require a
backcountry permit
for camping.
Camp
Miles (km) From Ross Dam
Miles (km)
From Hozomeen
Number
of Sites

Group
Sites

Trail
Access

Boat
Dock
Green Point

0.8 (1.3)

21.2 (33.9)

5

X

X

X

Cougar Island

2.4 (3.9)

19.6 (31.4)

2

X

Roland Point

3.5 (5.6)

18.5 (29.6)

1

McMillan

4 (6.4)

18 (28.8)

3

X

X

Spencer's

4.3 (6.9)

17.7 (28.3)

2

X

Big Beaver

4.6 (7.4)

17.4 (27.8)

7

X

X

X

May Creek

5 (8)

17 (27.2)

1

X

X

Rainbow Point

6 (9.6)

16 (25.6)

3

X

X

Devil's Junction

9 (14.4)

13 (20.8)

1

X

X

Ten Mile Island

10 (16)

12 (19.2)

3

Dry Creek

10.4 (16.7)

11.6 (18.6)

4

Ponderosa

11 (17.6)

11 (17.6)

2

X

Lodgepole

11.4 (18.4)

10.6 (17)

3

X

X

Lightning Creek Stock Camp

11.8 (18.9)

10.2 (16.3)

2

X

X

Lightning Creek Boat Camp

12 (19.3)

10 (16)

5

X

X

X

Cat Island

13 (20.8)

9 (14.4)

4

X

X

Little Beaver

15 (24)

7 (11.2)

5

X

X

X

Boundry Bay

16.5 (26.5)

5.5 (8.8)

3

X

X

Silver Creek

20 (32)

2 (3.2)

2

X

X

Hozomeen

22 (35)

-------

Drive in campground
Diablo Lake Boat-in Camps
The three boat-in sites on Diablo Lake are some of the most accessible boat-in camping, with a boat launch located at Colonial Creek Campground on State Route 20 providing easy access. The waters of Diablo Lake are especially cold, given the glacial meltwater that spills into the lake. Waters can also be very windy - be prepared. All boat-in camping on Diablo Lake requires a backcountry permit.
Camp
Miles (km) From
Colonial Creek
Campground
Number
of Sites
Boat
Dock
Buster Brown

2.8 (4.7)

3

X

Hidden Cove

2.6 (4.3)

1

X

Thunder Point

2.0 (3.3)

3

X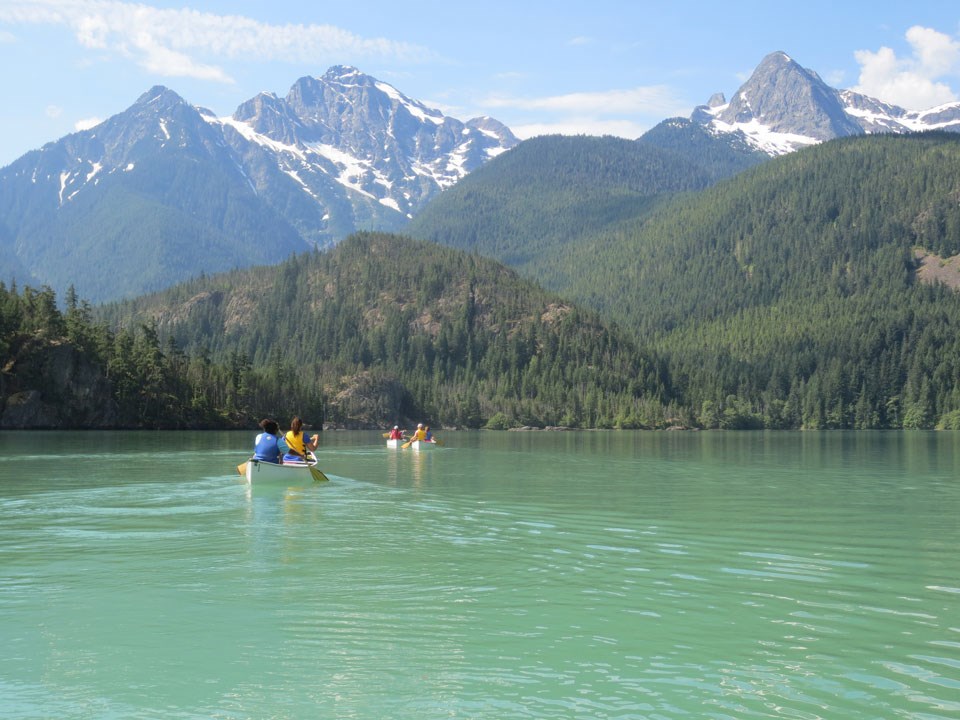 Last updated: March 15, 2022