Climbing Conditions - Eldorado Area
August 25, 2019
Eldorado Conditions
The approach route is in normal condition. Look for the cairn on Cascade River Road for the most manageable creek crossing. Cross the creek on downed logs. Parties have reported bear sightings close to the boulder field. Please refrain from camping in Eldorado Basin and Hammered Ridge to preserve alpine vegetation. Follow cairns to drop into Roush Creek Basinand up to the toe of the Eldorado glacier. The lower Eldorado glacier is becoming more crevassed and is currently in its late season stage. Parties have been roping up for the approach to the East ridge bivy sites. At the East ridge bivy sites please store food properly as there have been increased rodent issues. The composting toilet is in great shape.
July 10, 2019
Eldorado / Inspiration Glacier / Austera Peak / Klawatti Glacier
Approach to Eldorado is in standard condition with patchy snow starting just below the ridge between Eldorado Creek and Rouse Creek Basins. Toilet at Eldorado is in good working condition. Please only TP and feces in the toilet. Many parties are going up the Eldorado glacier and East Ridge of Eldorado without any issues. Traversing the Klawatti Glacier and Inspiration Glacier to Austera Peak is in more or less typical condition for this time of year.
June 15, 2019
Starting from El Dorado trailhead, river can be forded about 15-20 feet from original log crossing. Use caution while fording! Crossing might be safer than "log jam" crossing down river. Ford is below knee height.

The toilet at the bivy site is melted out, please do not put trash in composting toilet.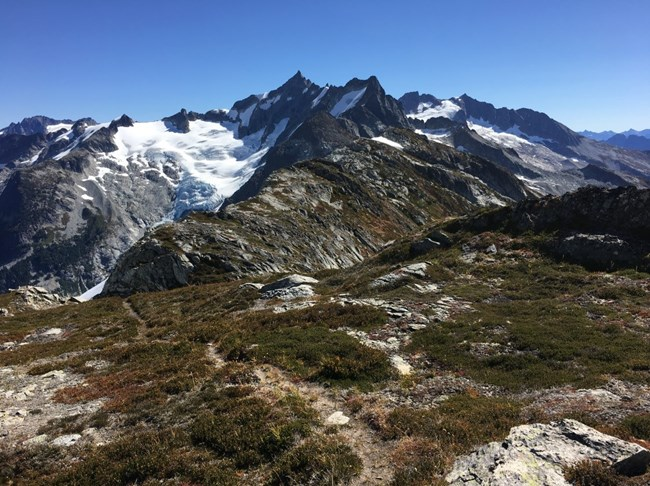 From June 1 to November 15, Interagency Grizzly Bear Commitee approved food canisters are required for camping below the vegetation line in
Boston Basin
,
El Dorado
, and
Sulphide Glacier
cross-country zones.
For old climbing conditions blog posts, check out the links below.
Last updated: August 28, 2019