Climbing Conditions - Boston Basin Area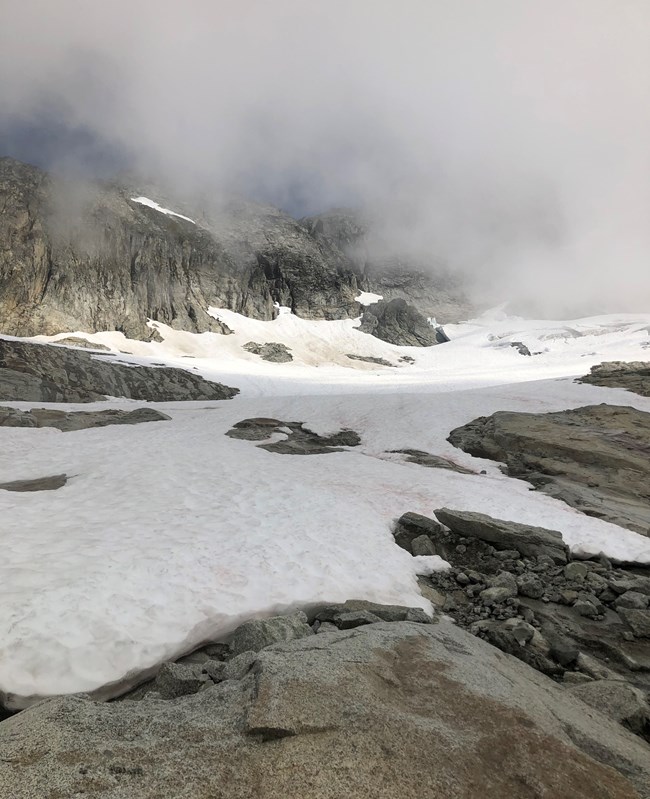 September 6th, 2020
Boston Basin Conditions and West Ridge of Forbidden
The climber's route into Boston Basin is in standard condition (steep dirt gullies, with roots and many downed trees). We observed a bear near the climber's route below the Upper Bivy site. The bear was acting normally and was not aggressive. Above the upper bivy site, climbers attempting the West Ridge of Forbidden will encounter and ascend dry granite slabs to a moderately steep snow slope.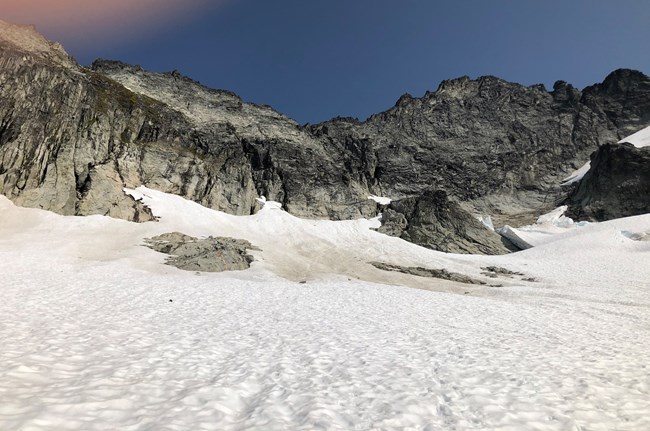 An ice axe and crampons are recommended for this short snow climb. Climb moderately steep snow to below a short gully, approximately one rope length below the Cat Scratch Gully. Caution is recommended in this short gully as the snow bridges are thin, the moat is getting larger, and many loose rocks are present.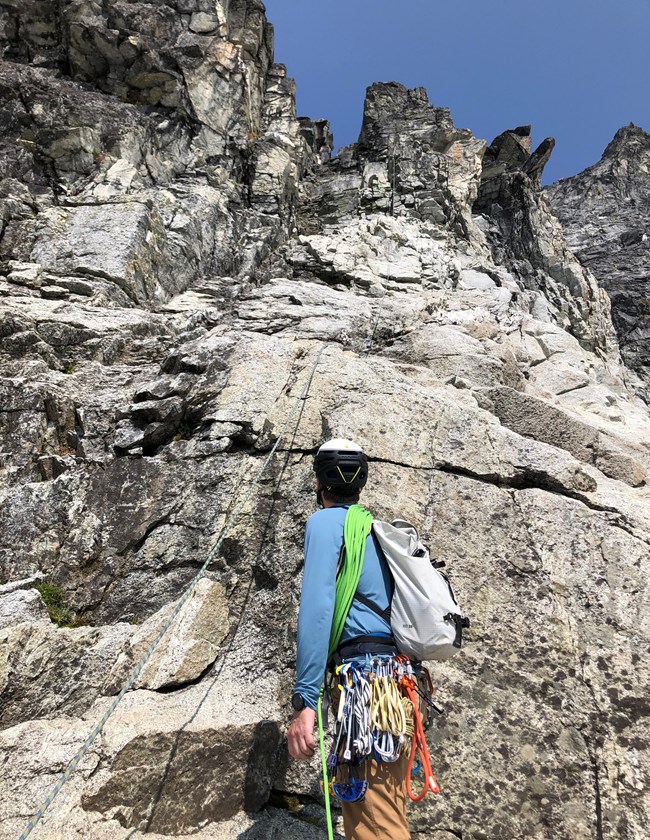 A fixed, 60 meter in length, dynamic climbing rope was found on the first "pitch" in the Cat Scratch gully. This rope was removed by a Climbing Ranger; do not fix climbing ropes or store climbing equipment in North Cascades National Park. Contact the North Cascades NP Wilderness Information Center if this rope belongs to you. Rappel anchors in the Cat Scratch gully are in good condition, but always check the anchors before rappelling and carry extra webbing to backup the anchor if needed.
There are a variety of rock camp sites at the upper bivy area in Boston Basin and plenty of running water from snow patches. Please remember to use the composting toilets and carry blue bags! Do not deposit blue bags into composting toilets. You never know when you're going to need to go! Lastly, bear canisters or Ursacks are required for all overnight visitors to the Boston Basin area.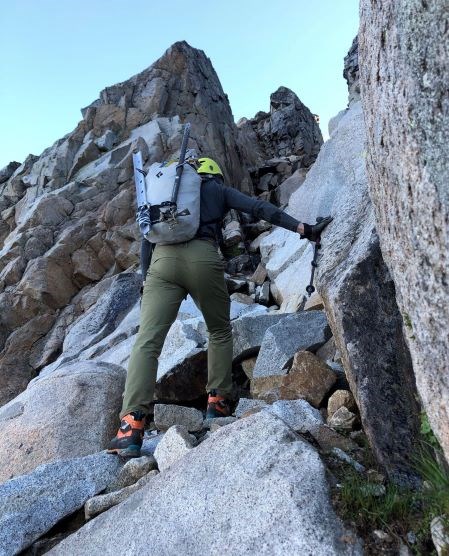 August 23rd, 2020
Boston Basin and Sharkfin Conditions
The popular climbs accessed from Boston Basin are in good late season condition, however more crevasses are appearing, and moats are growing larger. North Cascades climbing rangers patrolled the standard route on Sharkfin Tower and observed that the lower approach gully is snow free and mostly dry, be prepared to ascend 3rd class terrain with numerous loose rocks and a few patches of wet rock.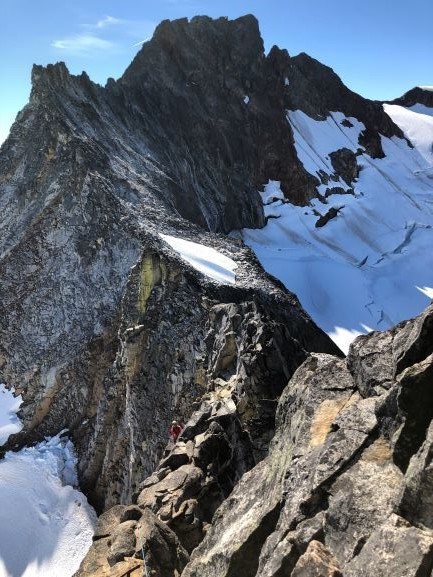 Once above the approach gully climber will encounter some firm neve and crampons may be required on this moderately steep snow slope to approach the base of the technical climbing. The notch on the south side of Shark Fin is snow free. Rappel anchors are in mostly good condition, however please remember to remove old and weathered webbing if adding a sling to an anchor, as the climbing rangers removed multiple pieces of faded and worn webbing on the descent.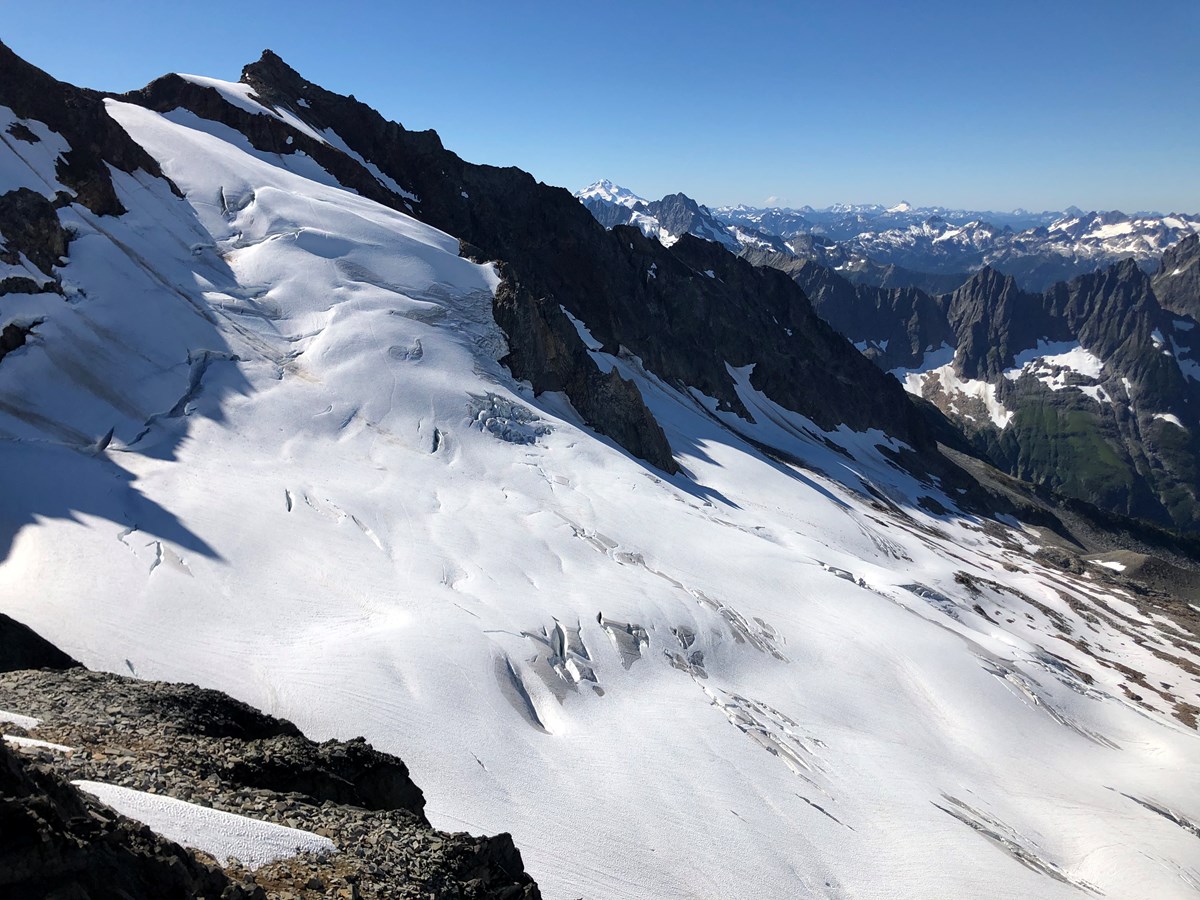 The climbing rangers also observed several large crevasses forming on the Quien Sabe glacier, requiring climbing parties to climb around several large crevasses. We also observed a few bare ice patches forming on the glacier.
Please use the composting toilets in Boston Basin, however do not place blue bags or food in the composting toilet! Unfortunately, we observed one blue bag in the upper Boston Basin composting toilet; removing blue bags from the composting toilet is difficult and unpleasant for staff.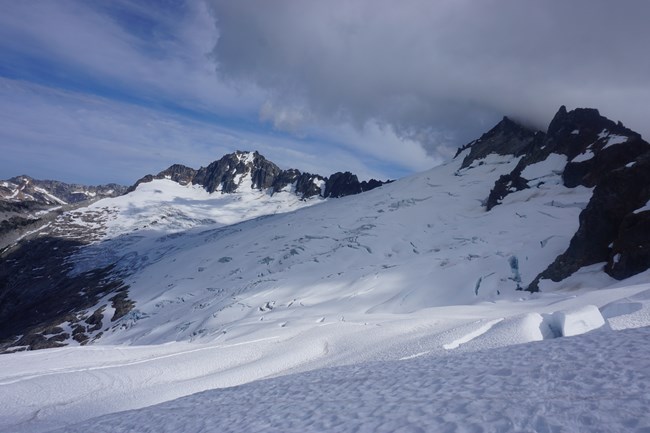 August 4, 2020
Boston Basin and the North Ridge of Forbidden Peak
The Quien Sabe Glacier is still in early season condition, but the lower icefall and the upper cravasses are quickly emerging, plan on some route finding on the way to the Boston/Sahale Saddle. The Shark-Fin col rappells are still easily accessed via the right-slanting snow couloir. About 2/3 of the way up to couloir turn left up a 4th class step to reach a short scramble to the upper notch. Two single-rope raps easily reach the Boston Glacier. The Boston Glacier is still in good shape with only short and minor route-finding problems, remember to double-check any snow-bridges, even if a previous party crossed safely, there's no guarentee its still strong enough to hold you!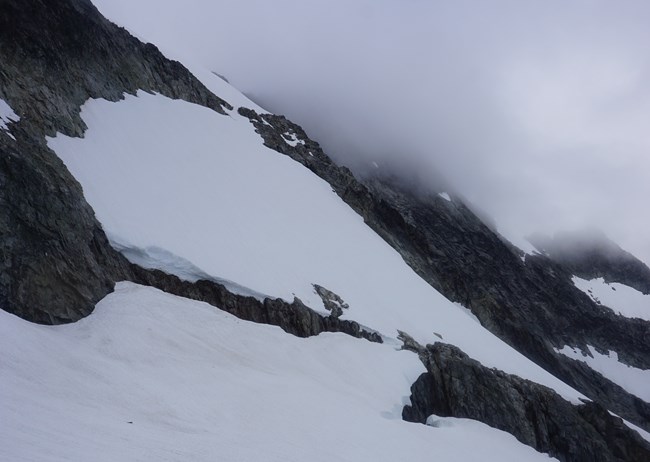 Assessing the North Ridge involves additional problem solving across a moat and hanging snowfield to reach the ridge, advise visitors going this way to take the time to get a good look at the snow-bridges on the upper snowfield from the bottom, assessing them from above would be more challenging. The Forbidden Glacier is steep and heavily cravassed, but currently presents only minor navigation issues to the base of the NW Face of the North Ridge. An easily negotiated bergschrund guards the face, which currently involves about five pitches of moderate snowclimbing and is in excellent condition. There is a constriction at the top of the face which is starting to get a little hollow and could require more problem solving in the next few weeks.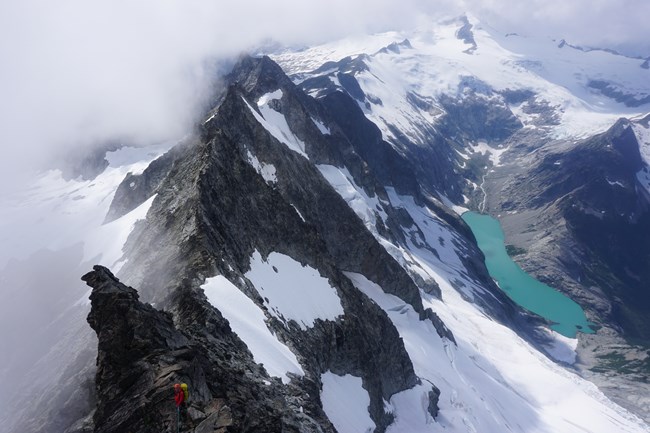 Both the Upper North Ridge and the West Ridge are in standard summer condition, the approach gully for the West Ridge has a large moat in the middle, not visible from below. Advise climbers to approach via Cat Scratch Gully. All of the rappels along the West Ridge and Cat Scratch Gully are in good condition. The Boston Basin approach trail is melted out almost the whole way to the Upper Bivy sites. There is still quite a bit of snow at the upper bivies, and only the high sites on the rocks have melted out. Both composting toilets are free of snow and functioning well. While servicing the toilets, rangers noticed a number of wet wipes in the lower toilet. Please remember that wipes do not break down like toilet paper, they should be considered trash and packed out.
Marmots and other animal are awake in the Basin. Bears have also been seen in the Basin this time of year. Please use a bear can to store all of your food!
July 28, 2020
Boston Basin, Torment and Forbidden
The approach to Boston Basin is in standard condition and mostly dry now. Creek crossings at low elevations are now melted out. At treeline, the creek crossing to gain the Lower Bivy Site is challenging due to high water flow, so be careful. Both the Upper and Lower Bivy sites are in great shape. The Upper Bivy currently is halfway melted out, with several dry sites. Please make sure to camp on durable surfaces in this fragile environment, choosing snow if there are no more impacted dry sites available. The composting toilets are also both operable and in good condition. Please do not put anything but solid human waste in there. There are ample water sources available now in the alpine, even higher up in the basin as snowline has receded. We have had several bear sightings in the Lower Basin, so please remember to keep all food and trash in animal resistant containers. Overall, the moat transitions from rock to snow in Boston Basin are now a significant crux. Snow bridges gaining the Cat Scratch gully are becoming hollow, and ascending the Forbidden couloir is now not recommended. The glaciers in this dynamic zone still have adequate snow coverage, but crevasses are now beginning to open up. Conditions are changing rapidly, so be certain to make thorough assessments during your trip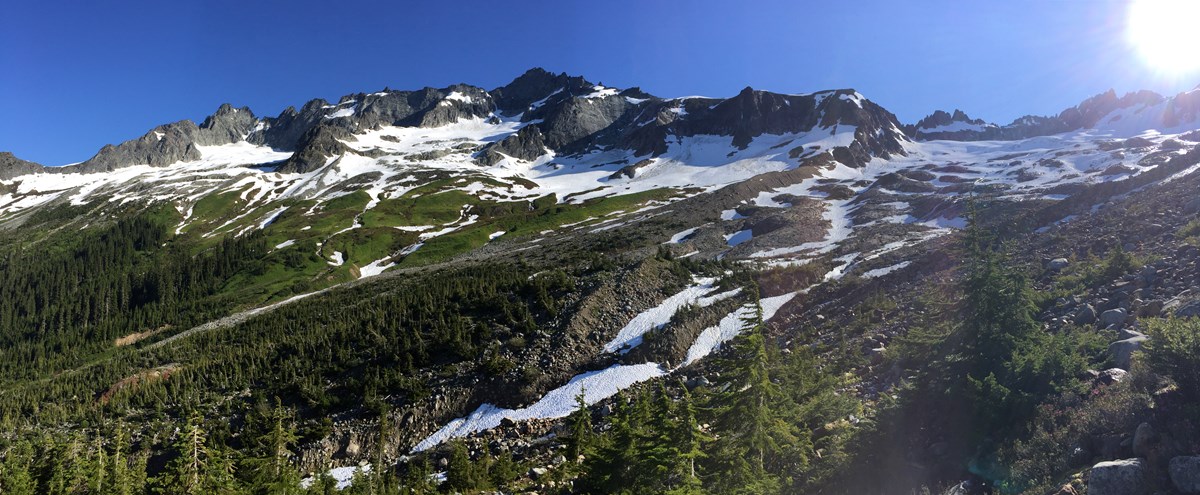 July 18, 2020
Boston Basin, Shark Fin and Quien Sabe Glacier
Approach to Boston Basin is in good condition, the lower creek crossings are straightforward and the route has melted out to treeline. The final crossing of both the South and North branches of Boston creek still have solid snow bridges, but current warm weather trends will change this rapidly. Climbers should exercise extreme caution and assess all snow bridges well.

The lower bivy sites have melted out and the backcountry toilet is open for use. Most of the upper bivy sites are still under 5 to 8 feet of snow, but climbers can go a little higher to bivy on rocks. The upper toilet is also melted out and ready for use.

Climbers reported that the couloir to the West Ridge of Forbidden is still filled with snow, but that the moat at the bottom is forming rapidly. Assess conditions well to determine the safest approach to the ridge. Good climbing conditions were reported on the West Ridge.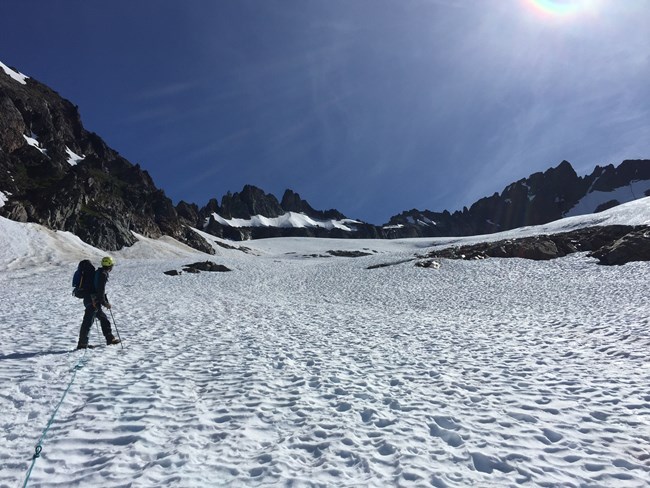 Quien Sabe glacier is currently in good condition, though some crevasses are starting to open up. The moat at the saddle between Boston and Sahale peak is starting to open up a bit as well. Current conditions make accessing Sharkfin Tower from the Quien Sabe glacier challenging. Climbers left of the access gully is wet with overhanging ice. The right side currently provides better access through a snow finger. As before, expect rapidly changing conditions and assess well.
Rangers report seeing multiple mountain goats and a bear in the alpine. Goats crave salt and will destroy fragile vegetation to get at the salt in urine, please pee away from your tent, preferably on rocks or snow. Bring an Animal Resistant Food Storage Container and store your food properly!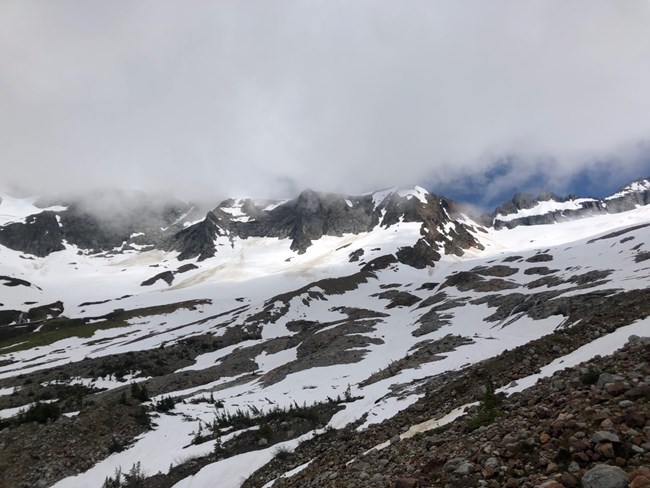 July 7, 2020
Boston Basin Conditions
Expect brushy conditions and early season creek levels on the approach into the basin. The lower Boston Basin camp is starting to melt out and the toilet is available for use. Conditions in the upper basin remain snowy, plan on packing out all human waste if you want to stay at the upper bivy site. Climbing approaches and the basin's remaining glaciers are still in early season conditions.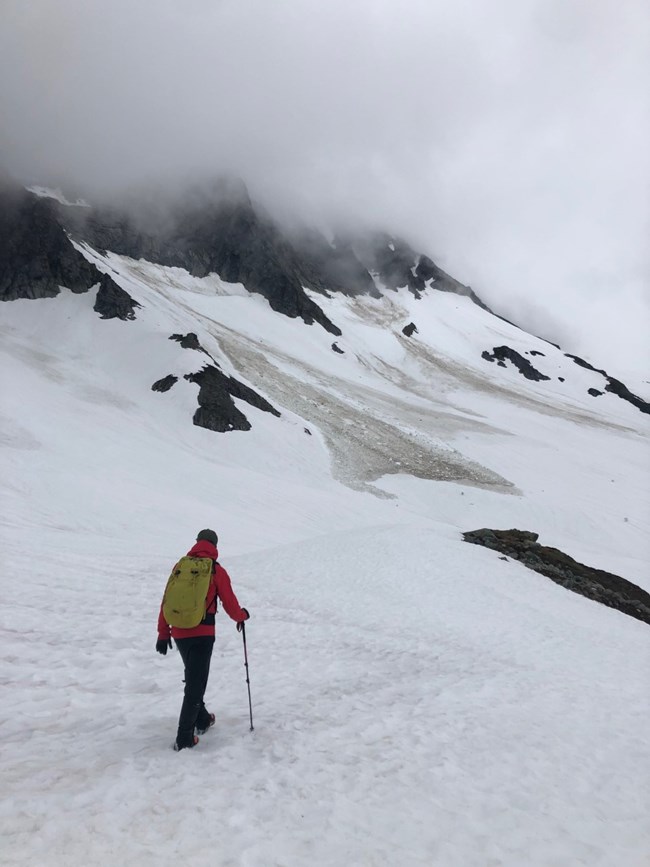 June 28, 2020
Boston Basin Conditions
Early season conditions continue to persist in the Boston Basin area. Rangers assessed the lower bivy sites and found the compost toilet melted out and available for use. There was also one melted out bivy site and running water nearby. The upper Boston Basin bivy sites are snow covered, no running water was observed and the upper compost toilet is still buried in snow. Plan accordingly and please bring Blue Bags.
Consistent snow starts at around 5,500ft, close to treeline. Some ridge lines in the basin are starting to melt out, but the majority of travel is still on snow. Due to wet weather and poor visibility rangers did not get a good look at the snow in the West Ridge of Forbidden approach gulley or other route features, but we did observe previous wet loose avalanche activity. Please plan ahead and be prepared and enjoy the wilderness.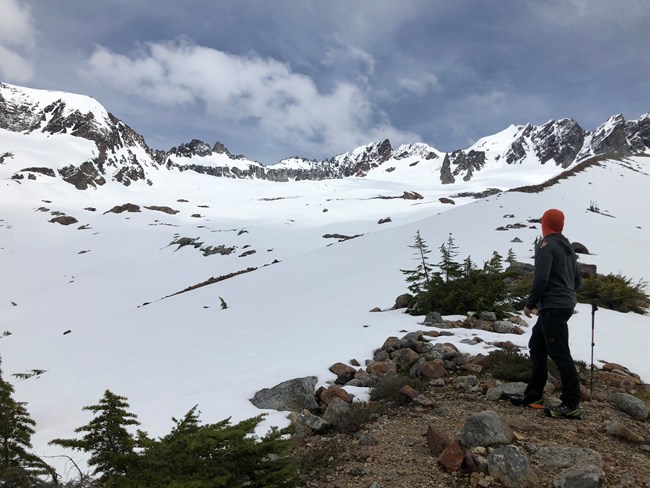 June 11, 2020
Boston Basin Conditions
Early season conditions exist in the Boston Basin area of the Park. The un-maintained climbers trail is snow free from Cascade River Road to approximately 4,500', where visitors will encounter patchy snow. At 5,000' visitors will encounter sustained snow coverage and the trail is completely obscured by snow. Be prepared to navigate up steep snow slopes to reach the Basin. Estimated snow depth at the Lower Bivy site is 4 to 5 feet. The composting toilet is completely buried in snow and all visitors should carry and plan to use Blue Bags for removing human waste. There is extensive snow cover in the Basin and visitors should be prepared for snow travel across steep slopes and be aware of possible wet slide avalanche activity later in the day as the slopes warm up. We observed signs of a large avalanche that occurred in the Boston Basin lower bivy site area over the winter. The west ridge couloir on Forbidden appeared to be in good condition and we also observed fresh snow on the ridges and summits of Peaks in Boston Basin.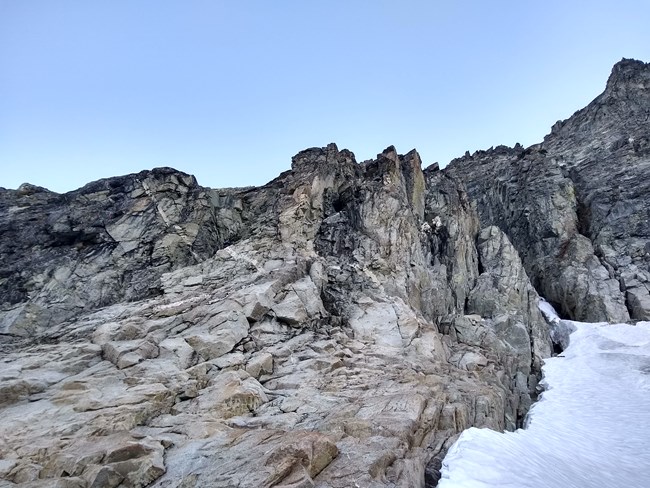 September 1 , 2019
Boston Basin and Forbidden West Ridge Conditions
Trail to Boston Basin is in standard condition. Most creek crossings are easily fordable and can be crossed on rocks. Use care when crossing Morning Star creek as it can be difficult to cross in the afternoon. Plenty of huckle berries are available on the approach to Boston Basin. Composting toilets located at the lower and upper camps are in good condition. If camping overnight in Boston Basin, please store food properly. The snow couloir leading up to the West Ridge has melted out and climbers are accessing the West Ridge via the Cat Scratch gully. The approach gully to reach the base of the Cat Scratch gully is loose and in some places wet.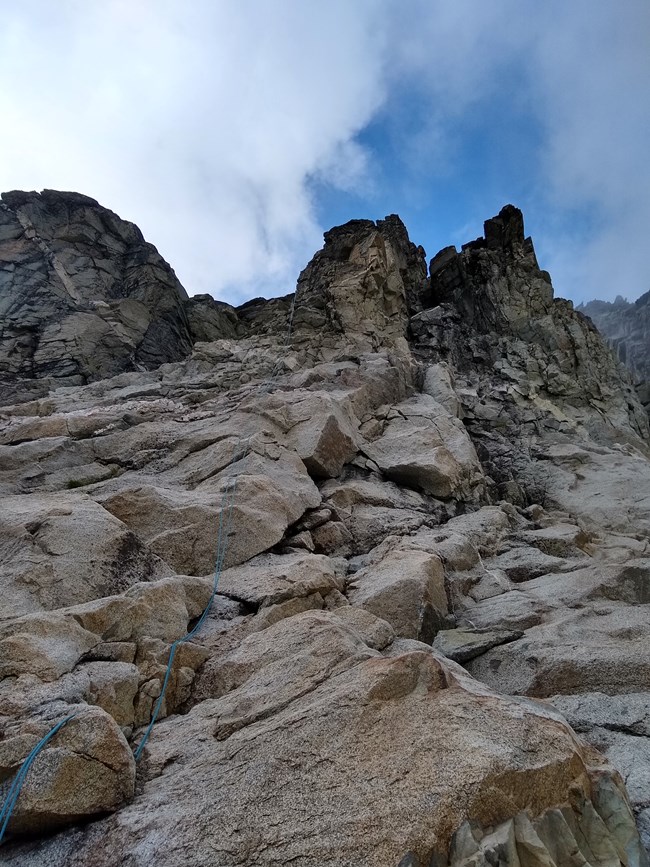 Cat Scratch gully is in good condition, please be aware of party's above you as they may inadvertently knock rocks down. The west ridge climbing route is in standard condition and rappel anchors are in good shape. Use caution when rappelling down the Cat Scratch Gully as it is easy to knock rocks down from the West Ridge notch. Rappel anchors in the Cat Scratch gully are in good shape. 5 single rope (60 meter) rappels will get you down to the base of the Cat Scratch gully. If planning to bivy at the West Ridge notch, there is no running water, be prepared to melt snow if staying there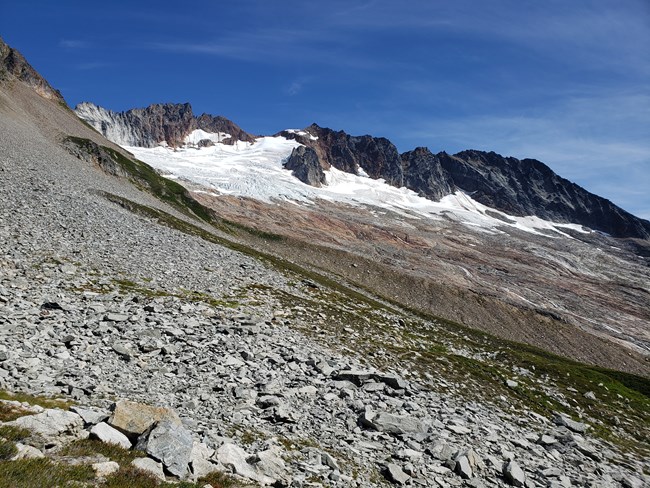 August 28th, 2019
Boston Basin Approach
Approach to Boston Basin is in standard condition and mostly dry now. All creek crossings were straightforward with many options available. Both the upper and lower bivy sites are in great shape and snow free. The composting toilets are also both operable and in good condition. Please do not put anything but solid human waste in there. There are ample water sources available now in the alpine, even higher up in the basin as snowline has receded. We have had several bear sightings in the Lower Basin, so please remember to keep all food and trash in animal resistant containers. I spoke with one group who was coming off the West Ridge of Forbidden and reported that snow bridges gaining the Catscratch gully are becoming hollow, so assess conditions with caution. The Quien Sabe glacier has many open crevasses at this point in the summer, but still appears to remain passable.

August 7th, 2019
Boston Basin and Forbidden Peak Conditions Update
The approach to Boston Basin is in standard condition (brushy, many downed trees and stream crossings). Recent sightings of bears walking through Low Camp area in Boston Basin! Please use bear canisters to help keep bears and all other wild animals wild. Climbers report that the W. Ridge Couloir was climbed on 8/6, but that they would not recommend going up that way from now on as the snow was barely navigable. Plenty of amazing wildflowers in bloom in the Basin! Monkey flower (Mimulus) and Epilobium are abound! Please camp on durable surfaces (rock or snow).
July 20, 2019
Boston Basin – Torment Peak Conditions
Parking at the Boston Basin pull out is very limited – please carpool when possible. Be aware of steep drop off on South side of Cascade River road across from the parking area!

Approach to Boston Basin is in good shape. Crossing Midas and Morning Star Creeks is relatively easy. Crossing the South fork of Boston creek on the other hand is a different story! Later in the day, as temperatures climb and flow rate increases the challenge goes up. Safest way to cross is to ford the creek where the route crosses over. Some chose to go up in the basin and find rocks to hop over and keep feet dry. You take your chances doing that. Be especially cautious of the unstable sides of the creek. There are many large boulders partially embedded in dirt just ready to roll down at the slightest pressure.

Lower and Upper Bivy sites are mostly dry. Composting toilets are available and in good shape. Several parties reported seeing a bear nearby so please use the required animal resistant containers. And since you brought them up, please secure all your food while left unattended! We observed several cans with lids off while the owners were away from camp.

South Ridge of Torment: Taboo glacier is in good shape. Virtually no crevasse navigation required. Crampons recommended for early starts. Gully leading up to the start of the South Ridge is steep and loose. With lower snow cover start of the route required few awkward mid 5 th class moves. Rest of the climb is as described in various books. Rappelling the Southeast face is straightforward. 7 to 8 rappels will get you down to the glacier. A single 60m rope works just fine. 4 th or 5 th rappel is 20 to 25 feet short of the next anchor but easy 3 rd class scramble will get you there.
Forbidden's West Ridge: Climbers reported that the snow finger in the couloir has developed a break half way up and is probably no longer passable at this time. Alternative "Cat Scratch" gully is the recommended way to access the West Ridge. Normal/Good conditions reported on the climb.
June 16, 2019
Boston Basin Area (W. Ridge of Forbidden and Sharkfin)
Both upper and lower composter toilet melted out and useable. Please use the toilets or blue bag human waste and toilet paper. A few of the upper bivy sites are melted out, but many remain under snow. Some snow on approach to upper camps. Climbers report the couloir on the W. Ridge of Forbidden is in climbable shape as of 6/16/19. Many parties climbed up the couloir on 6/16/2019. Climbers report nothing particularly notable on the climb of Sharkfin and report the approach gully in okay condition. Marmots found chewing on trekking poles and backpacks at high camp.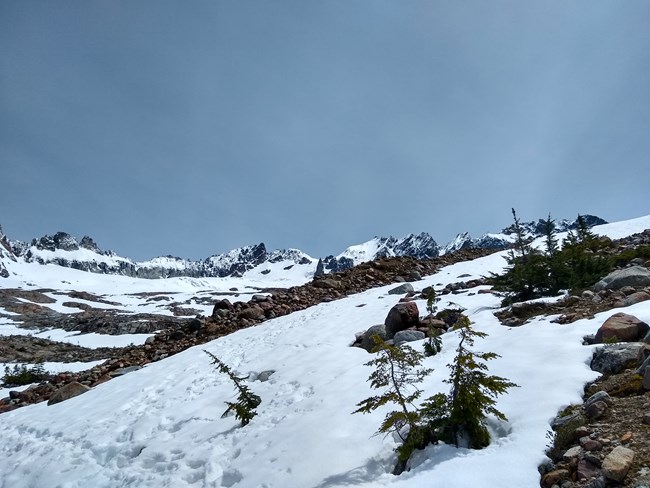 June 9th, 2019
Boston Basin standard approach route is in typical condition (brushy per usual) and snow free until just before tree line at approximately 5400'. The South branch of Boston Creek (the creek just before reaching low bivy area) is partially snow covered, but dependent on water level it is possible to cross on rocks. A number of the sites at the Lower Boston Basin bivy area are snow free. The lower composter toilet is snow free and ready for use. Please put nothing but toilet paper and feces in the toilet. Urinate on rocks near the toilet. Bear tracks seen within 200 yards of the lower bivy area. Remember your bearcan as you enjoy the basin.
Attention Climbers: A bear has obtained food from a vehicle as Boston Basin Trailhead, please store extra food/gear in a hard sided vehicle with all windows and doors locked.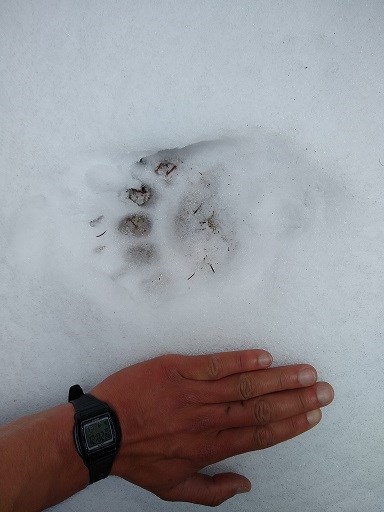 From June 1 to November 15, Interagency Grizzly Bear Commitee approved food canisters are required for camping below the vegetation line in
Boston Basin
,
El Dorado
, and
Sulphide Glacier
cross-country zones.
For old climbing conditions blog posts, check out the links below.
Last updated: September 7, 2020