Fishing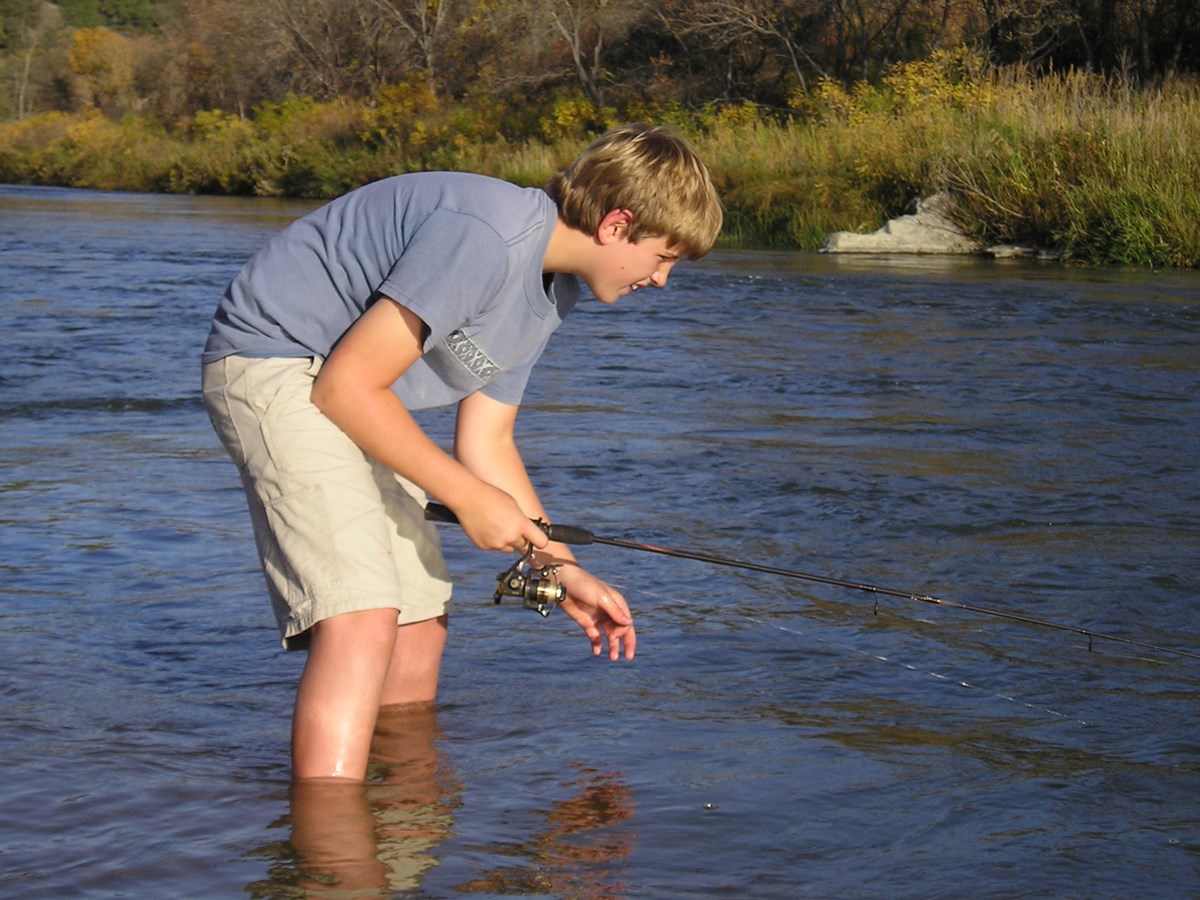 Fishing on Niobrara National Scenic River
Fishing is allowed on the Niobrara National Scenic River and is reminiscent of the traditional use of the river by Native Americans and Homesteaders who settled on the banks.
The fish community of the Niobrara River is the richest in the state, with over 30 species documented thus far. However, the river is not considered popular for recreational fishing. Channel catfish is the most popular game species, and may be caught in deeper, slow moving waters. Common carp, an exotic species, can also be angled, but are much less sought after. Trout, all introduced, occur in some of the cold-water tributaries of the Niobrara, and are sometimes pursued.
Licenses
Visitors fishing within the Niobrara National Scenic River must follow the fishing license requirements in accordance with the laws and regulations of the State of Nebraska.
Locally, fishing licenses can be obtained at the Valentine State Fish Hatchery, the Sinclair Gas Station in Valentine, Wright's Bait Shop in Valentine, and online at Nebraska Game and Parks Commission.
Fishing Regulations
Fishing shall be in accordance with the laws and regulations of the State of Nebraska. (36 CFR 2.3). For state fishing regulations go to the Nebraska Department of Game and Parks website.
Most Common Fishing Violations:
No license
Fishing from private land without permission
Fish Consumption Advisories in National Park Waters
There are No Fish Consumption Advisories for Niobrara National Scenic River.

To learn more about this topic, the National Park Service maintains information about Fish Consumption Advisories and Mercury and Toxins in Nature.
Aquatic Invasive Species
Aquatic invasive species are not native to an ecosystem. Their introduction causes, or is likely to cause, harm to the economy, the environment, or to human health. Aquatic invasive species are a growing risk to parks and their values. In the United States alone, there are more than 250 non-native aquatic species.

For many centuries, humans have contributed to spreading non-native species around the globe. You can make a difference. To learn more about Aquatic Invasive Species in the National Park Service, visit the Fish & Fishing website.
How You Can Help – Stop Aquatic Hitchhikers
Consider not using live bait or dumping bait into the river at the end of your trip. Accidental introduction of an invasive species can happen this way.

Using minnows or bait from the river that you are fishing from is one of the best effective ways to avoid introducing an invasive species by accident. (These types of bait are already loved by the fish you are trying to catch!)
Fishing Throughout the National Park Service
We invite you to visit the Fish and Fishing website for more information about fish and fishing in the National Park Service. Most national parks allow fishing but there can be specific rules for different national park sites, so remeber to know before you go.
Last updated: March 18, 2021