THING TO DO
Bike the Cowboy Trail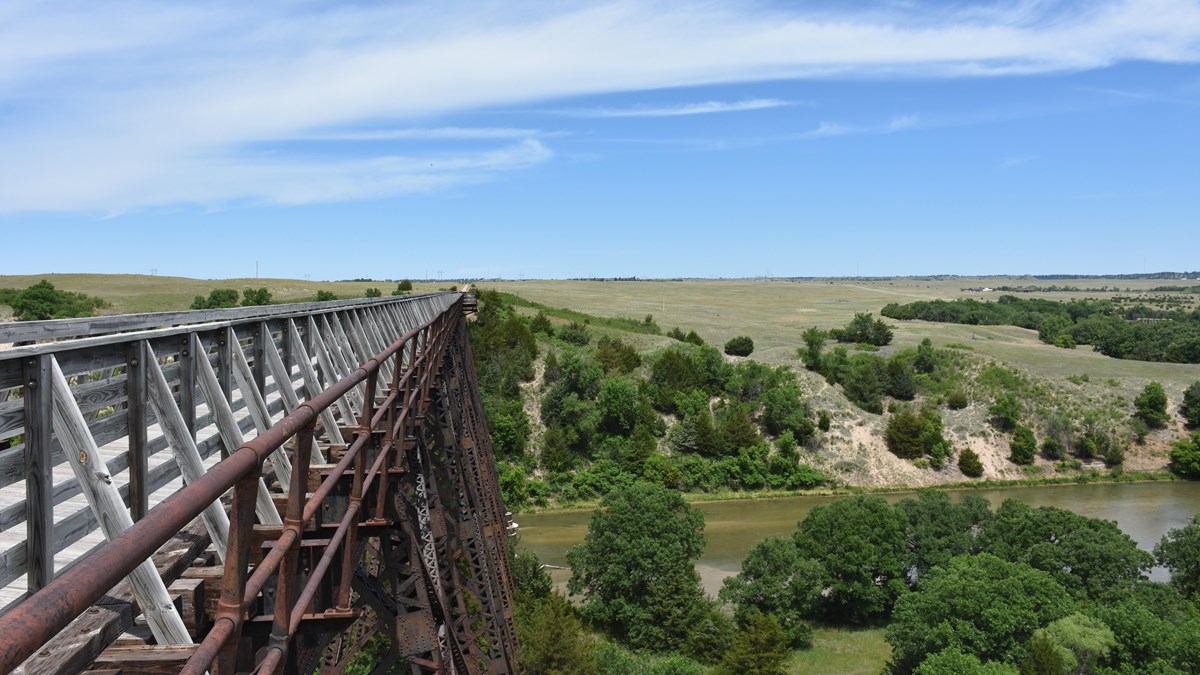 The Cowboy Trail is a
Rails-to-Trails
conversion. What used to be part of the Chicago and Northwestern Railways that crossed the Sandhills through Valentine, Nebraska, is now a crushed gravel biking trail that stretches 192 miles from Valentine to Norfolk, Nebraska.
More sections of the the
Cowboy Trail
are being constructed with the goal of crossing the state of Nebraska and eventually the entire United States! 
The section that begins in Valentine, just blocks from the
Niobrara National Scenic River Visitor Center
, crosses mixed grass and tall grass prairies, Sandhills prairie, and over the Niobrara National Scenic River by way of a 148 foot tall, historic railroad bridge that spans 0.25 miles.
What to know before you go:
The Cowboy Trail is maintained by the Nebraska Game and Park's Commission, more information can be found on their Cowboy Trail page and interactive trail conditions map.
Many bikers recommend bringing extra tire tubes for the Sandhills section of trail. Sandburs, also known as puncture-vine or goat's head, are a common nuisance and can puncture bike tires. Replacement tubes can be hard to find in Valentine.
There is a bike share station in Valentine, NE, where visitors can rent a bike for just a few hours without reservations for a quick trip on the Cowboy Trails.
Remember to pack your own snacks and water for your trip. There are very few trailheads, except for the ones where the trail crosses through a city, where trail users will find food and water for refueling.
For hiking and walking the trail, whatever footwear you find most comfortable on a hard surface will work well.
If through biking the trail, some communities have camping along the route, and all communities welcome Cowboy Trail users. Towns and trailheads are an average of 10-15 miles apart, but some are further, so plan your stops ahead.
The cowboy trail is used for biking, hiking, walking, equestrian, snowshoeing, cross country skiing, and dog sledding. Trail users should know the rules of trail etiquette and yield to other users so that everyone on the trail stays safe and enjoys their time.
Accessibility Information
The Cowboy Trail is handicap accessible, though the crushed gravel of the trail can be quite rough or wet depending on the recent weather. It is recommended that users check
trail conditions
 before setting out on the trail.
Last updated: February 8, 2021