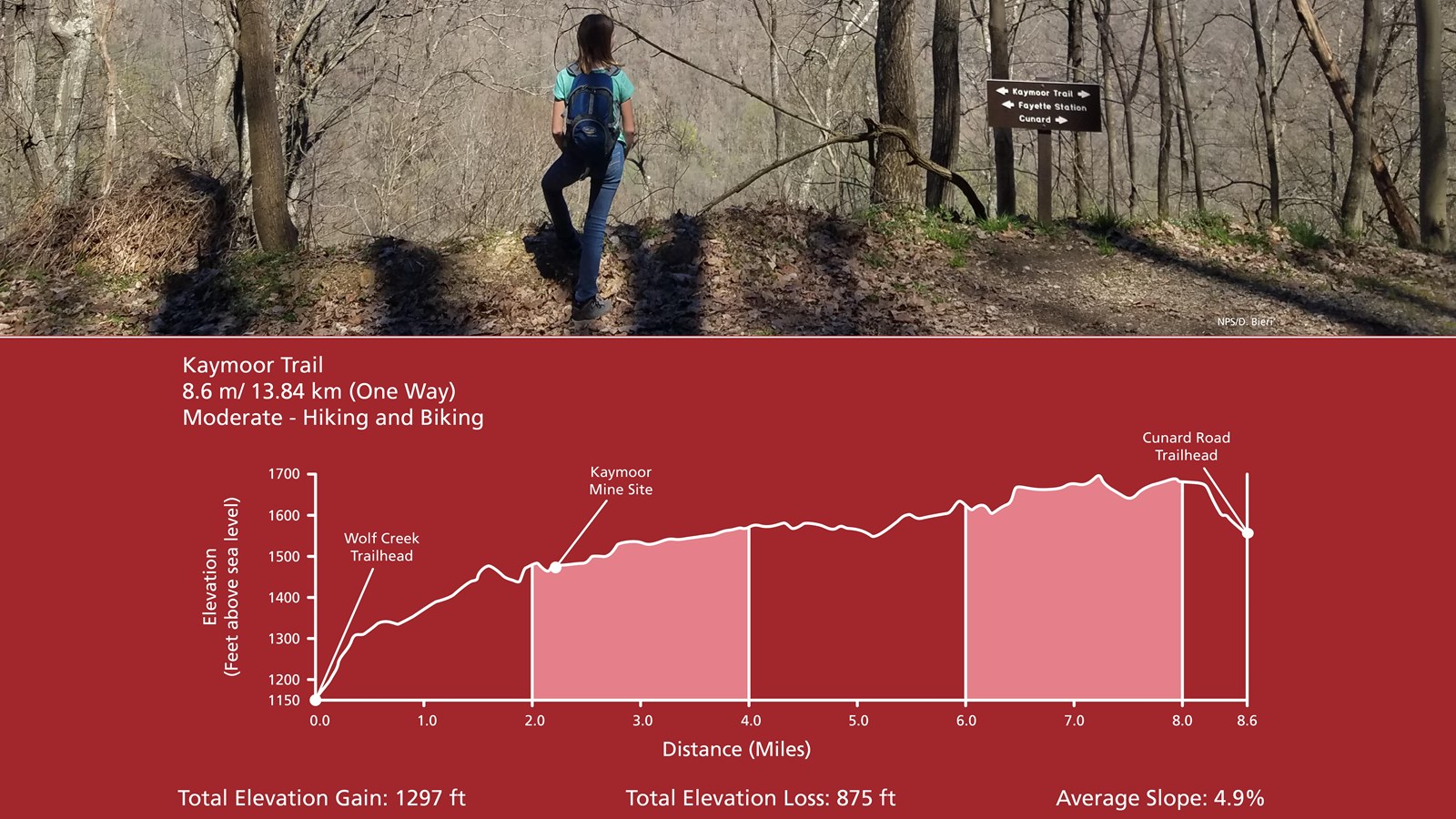 Labeled (8) on the Fayetteville - Lansing Area Trails map

(Formerly part of the Kaymoor-Cunard Trail)
Length
8.6 miles/13.84 km (One-way)
Difficulty
Moderate
Trail type
Hiking and biking
Total Elevation Gain 
1297 ft
Total Elevation Loss
875 ft
Average Slope
4.9%
Trail Description
The Kaymoor Trail runs parallel with the middle of the gorge, passing the historic coal mine site at Kaymoor. The northern two miles of the trail, from Wolf Creek trailhead to the old mine site, follows an old road. Wayside exhibits interpret the Kaymoor mine operation and community along the way. After passing the mine site the forested trail continues toward Cunard. Connections can be made with the steep Kaymoor Miner's Trail at the mine site, or the Craig Branch Trail, 1.74 miles further down the trail from the mine site.
Note
For your safety, please do not enter any of the abandoned structures in the Kaymoor area.
To reach the Wolf Creek Trailhead
Turn off U.S. Route 19 onto Lansing-Edmond Road (Route 5), just north of Canyon Rim Visitor Center. Follow signs for County Route 82, turning right onto Fayette Station Road (a very narrow road with hairpin turns), then fork to the left. Follow the one-way Fayette Station Road to the bottom of the gorge. Cross the New River on the Tunney Hunsaker Bridge and continue for 1.2 miles to the small parking area at the trailhead. There are specific "No Parking" areas near the trailhead, please observe and obey the parking signs.
NOTE
There is VERY LIMITED parking at this trailhead. Please park directly in front of the trailhead or past the trailhead, around the hairpin turn, in the pullouts on the right. DO NOT PARK on the left side of the road on the approach to the trailhead. Parking here is not allowed and prevents larger vehicles from making the hairpin turn and can cause traffic jams.
To reach the Cunard Road Trailhead
From US 19, follow Route 16 south through the town of Fayetteville. Take a left on Gatewood Road (sign indicates Kaymoor and Cunard). Follow Gatewood Road for 4.6 miles and turn left at the sign for Cunard. Go 1.8 miles and turn left at both of the signs indicating Cunard River Access Road. Parking for the Kaymoor Trail is located 0.5 miles further on the right. The trail begins about 50 yards back on the other side of the road.

 
Last updated: February 3, 2023