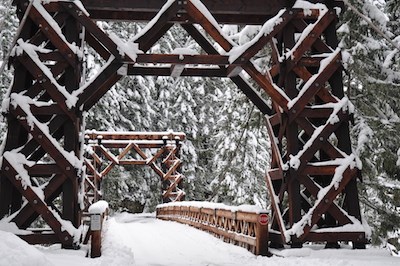 With the arrival of snow in late October, Mount Rainier's beauty changes and so do its challenges. Visitors planning to travel to the park in winter should familiarize themselves with winter travel tips, road status, and be prepared for potential winter hazards.
Mount Rainier National Park is open all year, although in winter only two park entrances are open: the Nisqually Entrance, in the southwest corner of the park, and the Carbon River Entrance, in the northwest corner of the park. The Carbon River Road is closed to vehicles just inside the entrance due to flood damage. It remains open to bicycle and pedestrian traffic.
Most of Mount Rainier's roads are closed for winter. The road from Nisqually Entrance to Longmire is open year-round, but may close during extreme weather. During the winter season the road between Longmire and Paradise closes nightly, though it may also remain closed during the day due to extreme weather or high avalanche danger. The daily opening/closing status of the gate at Longmire is posted on Twitter at MountRainierNPS.
Longmire Gate Closure Schedule, Winter 2018-2019:
Date

Day

Gate Opens

Uphill Gate
Closes

Gate
Closed

March 15, 2019 - April 15, 2019
After April 15 closures are dependent on weather

Daily

9:00 am

4:30 pm

5:30 pm**
The road may open late, close early, or remain closed during the entire day due to poor road conditions or severe weather.
Daily updates of the opening/closing status of the Longmire-Paradise road are posted on MountRainierNPS on Twitter during the winter season (account not required to view). The opening status is posted by 9:15 AM.
**Departing Paradise no later than half an hour (5:00 pm) before gate closure is recommended to safely drive down the hill before the gate closes for the night.
While you're waiting for the road to open, please park in the parking lot, not in a traffic lane.
The Road to Paradise: Winter Access - A short video about the many aspects of opening and maintaining the road to Paradise during the winter.
---
Make sure you're properly equipped for winter weather and travel before leaving home:
Chain Requirements: All vehicles are required to carry tire chains when traveling in the park during the winter season (Nov 1 - May 1). This requirement applies to all vehicles (including four-wheel drive), regardless of tire type or weather conditions. Review the Tire Chain Frequently Asked Questions for more information.
Travel with a full tank of gas and bring extra food and fuel for your car in case you have to stay out an extra night. Gas is not available in the park.
Designate a contact person who knows when to expect you to return home.