Paradise Winter Access FAQ
Mount Rainier National Park has historically provided public vehicle access in winter to Paradise seven days a week - weather, staffing and equipment permitting. Effective November 29, 2022, for the winter of 2022-2023, public access to Paradise will be limited to Saturdays and Sundays, weather, staffing, and equipment dependent. Due to staffing shortages the park does not have the capacity to maintain public access seven days a week.

Alternative Winter Destinations and Activities
Paradise April Access Frequently Asked Questions
Updated March 31, 2023

When will the park open Longmire to Paradise Road seven days a week?
Estimated to open daily, with nightly closures, on weekdays in mid-April, weather dependent. Nightly closures are probable until early May. Expect 100% snow cover. Check webcams for current conditions.

What is causing the change to Paradise winter access this year?
Safety is a priority for the park and limited access to Paradise during the 2022-2023 winter season is due to the lack of staffing necessary to safely open the road.
Why is there a staffing shortage and what is being done to address the issue?
Like many other organizations and businesses, Mount Rainier National Park is having difficulty filling our vacant positions. There are several challenges in recruiting new employees including finding people with the skill set necessary for some of our positions, the remote location of the park, and local housing costs and availability. Critical vacancies exist in custodial services, utilities, search and rescue, emergency services, and road crew, which currently has only half the capacity needed for winter operations. We continue to try to hire more staff and will revisit the Paradise access schedule this winter if staffing levels change. Park leadership is also discussing future staffing solutions. Current job opportunities can be found here.

Can I get to Longmire seven days a week?
The Longmire area is open every day barring major storm events.

What makes snow removal at Mount Rainier challenging and time consuming?
Unlike typical mountain roads, the road to Paradise was designed and built over a century ago to take visitors through tall trees and highlight the glacially-carved valleys and spectacular views of Mount Rainier. Compared to modern roads it is narrow, steep, and winding. This road is correspondingly difficult to maintain in the winter months, and specialized training is required to operate the modern, heavy equipment that is specially modified for the park's 107-year-old road.

Snow on this road cannot simply be plowed to the edge or pushed over the side, it must be blown off with a massive snow-blower. Mount Rainier creates an extreme and sometimes dangerous environment. It's not unusual for a single storm to dump 30 inches of snow or more in 24 hours.
The risk of avalanches on the road to Paradise can be high even on a sunny day and is a hazard to park road crews working to clear the road. The park does not use explosives or cannons to mitigate avalanches, but snowpack and the resulting slides are left to occur naturally as are other processes in this natural environment.

How many visitors come to Mount Rainier National Park?
In 2021, 1,670,063 visitors accessed Mount Rainier National Park through entrance stations. Visitors in December, January and February 2021 totaled 69,692 visitors, or 4.17% of calendar year 2021 visitation. June, July, August, September and October typically see the highest number of visitors. Staffing levels peak during the highest visitation summer months and are at their lowest levels during the winter season, making winter vacancies particularly impactful as there are fewer overall employees available to assist.

Could anything prevent the road between Longmire and Paradise from opening on a Saturday and/or Sunday?
Some factors could cause access to Paradise to close on weekends including adverse weather/road conditions, a motor vehicle accident, avalanche, or other emergency.

Where can I recreate inside the park this winter?
Conditions permitting, the entire park will be open as usual to winter access on weekends. On weekdays, all areas of the park will be open to winter use except for vehicular access to Paradise. Information on winter activities within the park and nearby areas outside the park is available on the park website.

Can I access Paradise by foot when the road is closed?
Paradise is accessible by foot when the road is closed by using the existing trail system. The Wonderland Trail connects Longmire to Narada Falls and the unplowed Paradise Valley Road. Consider this to be a true wilderness outing, as it requires trail-breaking, navigating avalanche terrain, fording icy rivers, and camping overnight. It is critical to have a high level of skill with winter terrain and navigation.
Do not walk or ski in the roadway—use the trails. Use caution when crossing the road. Vehicles, including snowplows, could be present at any time and cannot stop quickly in winter conditions.

If you are plowing the road to Paradise on weekdays, why are public vehicles not permitted?
Snowplow operators will attempt to clear as much as possible of the 12 miles of road to Paradise on a daily basis. Parking lots may not get fully plowed or lanes may not get fully cleared or sanded. While this effort will allow park employees with appropriate equipment to access the area to conduct necessary utilities maintenance, minimal weekday plowing and staffing levels will be insufficient for safe public access.
On days that Paradise is open to public vehicles, park rangers are often called upon to respond to and/or conduct search and rescue operations for lost or injured visitors and respond to motor vehicle accidents. The health and safety of visitors requires a higher minimum level of capacity for emergency response.

Why won't the sledding area be open this season?
The staff who remove the snow from the road also maintain the sledding area at Paradise. With the staffing shortage, the priority is working on the roads and parking lots.

Can I access Paradise during the week if I have a winter camping permit?
Winter camping at Paradise is available Saturday nights only, road conditions permitting. Sunday-Friday nights are not permitted due to the closure of the Longmire to Paradise road.

How does the change in access affect tire chain requirements?
The change in access does not affect tire chain requirements. Between November 1 and May 1, all vehicles are required to carry tire chains when traveling to any location inside Mount Rainier National Park. This requirement applies to all vehicle types in all weather and road conditions. More information on tire chain requirements.

Are you changing the cost of park entrance fees on the days Paradise is not open to vehicles?
Entrance fees will remain the same regardless of the status of the road to Paradise or any other roads in the park. Entrance fees, which include park passes, allow the park to make road repairs, enhance trails, and maintain the campgrounds. Entrance passes are non-refundable and non-transferable, and cannot be replaced if lost or stolen.

How can I provide comments about this change?
You may contact us on our website. The superintendent's office receives all submitted comments.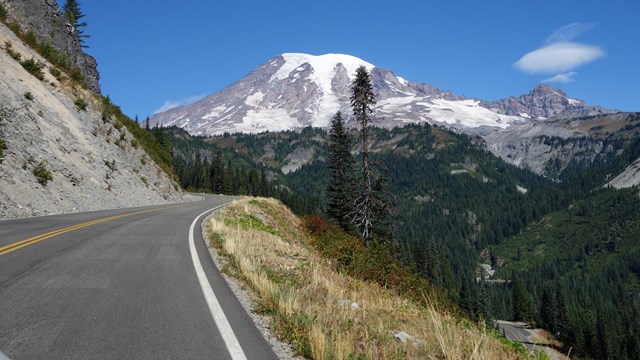 Road Status
Find out current road conditions, including access to Paradise during the winter season.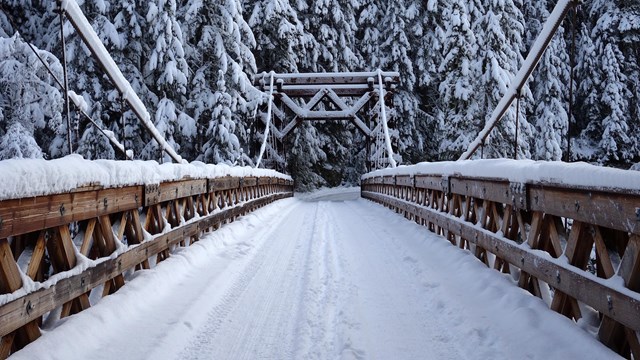 Winter Travel
Be prepared for winter travel, when roads can be closed or have quickly changing conditions.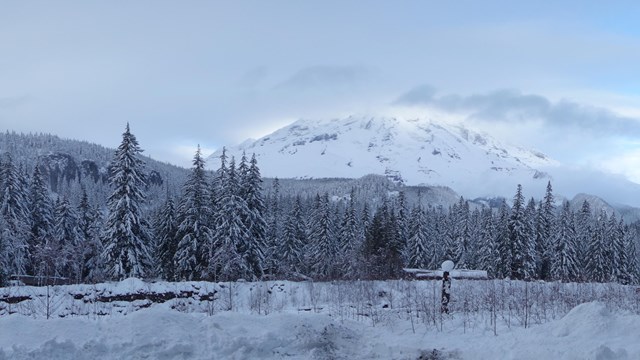 Alternative Winter Destinations
Longmire, Carbon River, and nearby communities offer many options for winter recreation.
Last updated: March 31, 2023