Commercial Services
Welcome to Mount Rainier's Commercial Services Information Page
Approximately 80 companies provide a wide variety of commercial services in Mount Rainier National Park. These services are limited to those companies having specific authorization, usually in the form of a Concessions Contract or Commercial Use Authorization (CUA).
Federal regulations prohibit engaging in or soliciting any business in the park areas, except in accordance with the provisions of a written agreement with the United States. As in other National Park Service areas, commercial services may be provided only by those holding an authorization from the United States.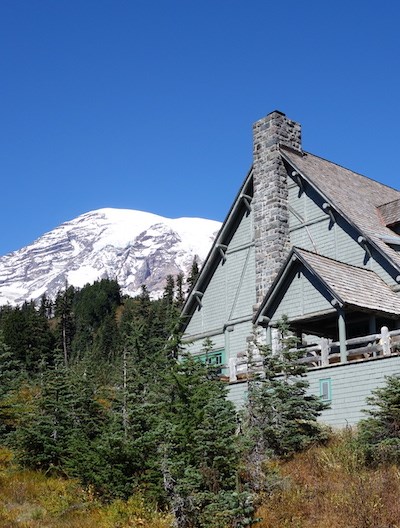 Mount Rainier Authorized Commercial Services
Concession Contracts
Commercial Tour Entrance Fees
Commercial tour fees are charged only to commercial organizations, such as tour companies. The fee is determined by the seating capacity of the vehicle, from sedans to motor coaches. For prices, see the Fees & Passes webpage (commercial tour fees listed under Entrance Passes).

Commercial Use Authorizations
Current CUA holders
Regulations for Guiding on Mount Rainier

CUAs are issued for the following activities at Mount Rainier:
Single trip summit climbs
Summer overnight (backpacking)
Drive-in campground use
Guided day hikes
Photography and art courses
Winter day and overnight use
Bicycle tour
CUA Applications - Please read the Application Instructions and Attachments A through G before applying for a CUA. Applications must be emailed to the park at mora_commercial_services@nps.gov. All items listed for your activity in the Application's Special Park Conditions and Attachments A through G, must be in your application packet to qualify for a CUA.

CUA Application - Form 10-550
CUA Annual Report - Form 10-660 (Annual Reports are required for each CUA activity on a separate form.)
CUA News Release - June 7, 2023

Date CUA applications are accepted: Mount Rainier National Park begins accepting applications annually starting September 1 for CUAs. Note the alternate years depending on the activity as follows:
Starting September 1, 2023, the CUA program will begin accepting applications for:
2024-2025 Single Trip Guided Climbing (15)
2024-2025 Photography & Art Workshop (20)
Starting September 1, 2024, the CUA program will begin accepting applcations for:
2025-2026 Guided Backpacking (5)
2025-2026 Guided Bicycle Tours (5)
2025-2026 Guided Day Hiking (20)

2025-2026 Drive-in Campground Use (10)
2025-2026 Single Trip Guides Climbing (15)
Starting March 1, 2025, the CUA program will begin accepting applications for:
November 2025 - March 2027 Guided Winter Day and Overnight Use (7)
Monthly rounds: The park limits the number of CUAs issued for each activity. Applications for CUAs will be accepted in monthly rounds. The September round will accept applications postmarked between September 1 and September 30. Any remaining CUAs that were not issued in September will be available for the October round. Those applications postmarked October 1 through October 31 will be considered in the October round. After October, it is first-come, first-served for any remaining CUAs.

Pay.gov: To pay your CUA or SUP in lieu of a CUA
Application Fee and Adminstration Fee
$26 Wilderness Reservation Fee

Monitoring Fee
Annual Climbing Fee
For Application, Management, and Annual Fee - Go to Pay.gov. In the Pay.gov search bar type "Rainier" to pull up a list of Pay.gov choices for Mount Rainier National Park. Select the fee you would like to pay. The Wilderness Reservation Fee and Monitoring Fee will be invoiced directly.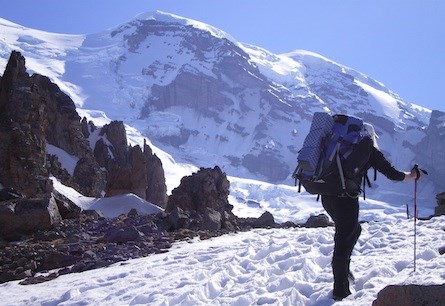 ---
National Park Service Commercial Services
"Through the use of concession contracts or commercial use authorizations, the National Park Service will provide commercial visitor service that are necessary and appropriate for public use and enjoyment. Concession operations will be consistent to the highest practicable degree with the preservation and conservation of resources and values of the park unit. Concession operations will demonstrate sound environmental management and stewardship." (NPS Management Policies, Chapter 10).
NPS Commercial Services
---
Frequently Asked Questions
Can you explain a bit more?
We understand that regulations are sometimes difficult to understand at first. If you think your activities might be "commercial", or if you have questions about how your activity will be defined, would like clarification about the need for an authorization, or think your activity might conflict with rights already granted to a park concessioner, please contact our Concessions Office at (253) 307-6361 or by email.
How do I apply for a Commercial Use Authorization?
CUA applications become available in August of each year. The park begins accepting application packets for CUAs in September. If you would like to request an application packet or have a question about the CUA program, please contact us at (253) 307-6361 or by email.
What about Non-Profits?
Organized groups in which participants exchange money for a service within Mount Rainier National Park are required to get a Special Use Permit in lieu of a CUA (SUPilCUA). This includes organizations that are non-profit; city, state, and collegiate recreational programs; military morale, welfare, and recreation (MWR) programs; or those that offer fundraising climbs. Please complete the CUA Application Form 10-550 at the link above for a SUPilCUA. The park will begin accepting applications for SUPilCUAs starting September 1 for the following year for all activities. Applicants can apply for any of the activities listed under a CUA. SUPilCUAs will be issued on a first-come, first-served basis. SUPilCUAs are for one year and will continue to be limited under this program. Once limits have been reached, applications will be considered on a case by case basis, as determined by carrying capacity. Please contact the Commercial Services Office at (253) 307-6361 or email mora_commercial_services@nps.gov for more information.
Last updated: June 13, 2023