Things To Do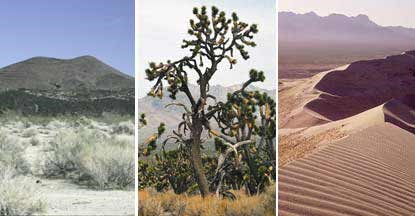 Have a little time to stop? Take a hike!

Mojave has several maintained trails, as well as miles of old roads and wilderness you can explore. Here is a list of some popular hikes.

Just passing Through?: Take the I-15 Scenic Detour

A visitor to Yosemite National Park once asked long-time park ranger Carl Sharsmith, "I have less than one day to visit. Whatever shall I do?" Ranger Sharsmith thought for a moment and replied, "Madam, if I were in that sort of a fix, I'd go down to the river and have myself a good cry."
Well, if you plan to drive between Las Vegas and Los Angeles and have even an hour to spare, you can at least sample some of Mojave National Preserve's spectacular scenery. Heading northeast toward Las Vegas, exit I-15 at Kelbaker Road in Baker, Calif. Travel south for 34 miles past cinder cones and lava flows to Kelso. The Kelso Dunes are visible in the distance. Be sure to stop at the Kelso Depot Visitor Center. From Kelso, turn north on Kelso-Cima Road and travel along the Providence Mountains. You'll see more Joshua trees as you gain elevation up this easy grade. At Cima, bear right onto Morning Star Mine Road for a ride up the Ivanpah Valley. After 22 miles, turn left on the Nipton Road for a 4 mile drive back to I-15 just south of Primm, Nev.
You may well want to weep as you merge onto I-15, leaving Mojave National Preserve behind. Keep in mind, however, that you'll have to do your crying elsewhere—we have very few rivers...


Last updated: May 30, 2020