Camping and Traveling with Horses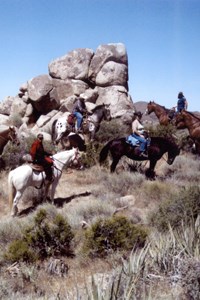 Horses and riders are welcome in Mojave National Preserve! Horses and/or other pack animals (llamas and mules) are permitted on all trails, backcountry roads, and open country (including wilderness areas) within the preserve.
Developed camping facilities are available at the Black Canyon Equestrian & Group Campground. Backcountry users should familiarize themselves with guidelines and regulations for backcountry travel and camping, as well as the following:
Free-trailing or loose-herding is prohibited throughout the preserve

Ranging/grazing is prohibited; Livestock must be fed certified weed-free hay or pelleted food before arrival and during their stay in the preserve.

All manure should be raked out and spread over a large area.

Horse camps should be at least 200 yards from a water source.
Horse rentals are unavailable in the preserve. So, bring your own horse (B.Y.O.H.).


Last updated: April 22, 2021